Things to Do in Paramus
---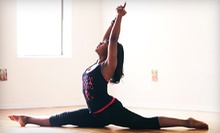 Open-level yoga classes focus on balancing and strengthening poses, Vinyasa emphasizes proper breathing, and Iyengar foregrounds alignment
Use Friday 6:00am - 9:00am
---
Recommended Things to Do by Groupon Customers
---
Founded by Queens native and the Late Late Show vet Steve Hofstetter, Laughing Devil Comedy Club lobbed its inaugural laughs in late 2011. Its debut on the city's comedy scene came after weeks of anticipation and attention in the New York Post, the Queens Courier, and Queens Tribune. Within its intimate, 70-seat venue, bartenders draw from a top-shelf drink menu to forge potions such as The Andy Kaufman's blend of St. Germain, Patrón tequila, and pineapple or pour drafts of Chimay Triple, brewed in the traditional manner by Belgian prop comics.
4738 Vernon Blvd.
Long Island City
New York
347-913-3845
Busting a move you've never busted before—be it a contemporary ballet move, a jazzercise move, or a well-coordinated move to a nicer part of town and away from that mouthy opossum that keeps opening your mail—is a great way to get exercise, learn a new skill, and meet new and graceful friends. At Midtown Stomp, partners are encouraged to rotate, making the lessons as social as the open dance to help dancers learn new moves and catch the dance bug. Live music during the open dance will be provided by Phat Cat Swinger, a Hasselhoff-approved band that has toured the country and performed with Big Bad Voodoo Daddies, Royal Crown Revue, Cherry Poppin' Daddies, and The Coasters.
126 Second Ave
New York
New York
US
A cavalcade of pink shoes will march through the InterContinental Milwaukee, all in support of the American Cancer Society's Stomp Out Breast Cancer. Guests are encouraged to don pink shoes, attire, and accessories as they enjoy tasty eats and brews—from local sponsors such as Leinenkugel, Blue Moon, and Batch 19 breweries, Kil@wat, Bar Louie Milwaukee, Maxie's Southern Comfort, and Blue's Egg—amid live crooning from Eric Ortiz of Rendition, a Chicago-based band that covers favorites such as The Jackson 5's "I Want You Back" and a blues rendition of "The Wheels on the Bus." Guests will have the opportunity to purchase raffle tickets throughout the night or slip in bids for various items during the silent auction.
All proceeds from the event will go to the American Cancer Society, a volunteer-based program that reaches 3,400 communities nationwide. Though the ACS supports research, education, and advocacy for all types of cancer, it helps a large number of breast-cancer patients, offering phone counseling 24 hours a day, seven days a week.
126 Second Ave
New York
New York
US
When it came time to name her business, Pamela Parisi looked to her own nickname: The Elegant Tightwad. She earned the moniker during 20 years spent in the fashion industry as a clothing designer, manufacturer, and mannequin guidance counselor. Parisi developed a reputation for her conflicting loves for designer clothes and fiscal responsibility. Always a problem solver, she quickly learned to marry her two passions by developing extensive knowledge of designer showrooms and the wholesale prices they charge. Today, she uses her nose for bargains to guide tour groups to the best deals on designer clothes and accessories. Her cash-saving tours have even garnered the attention of CNN and Elle magazine. In addition to her Garment District Diva tours, Parisi has also extended her expertise into the world of food. Her tasting excursions explore some of the most tempting eats in Hell's Kitchen, from Italian and Greek specialties to sweet treats from bakeries and ice cream shops.
39th St. and 7th Ave.
Manhattan
New York
US
---