Things to Do in Park Forest
---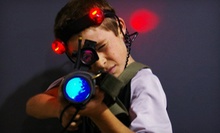 10,000 sq. ft. laser tag arena houses radio frequency weapons with red scope & simulates 90-minute true combat scenario for two players
Use Wednesday 3:00pm - 7:00pm
---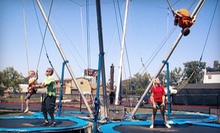 Bungee trampolines launch guests over an 18-hole mini-golf course, go-kart track, and year-round arcade at this fun-packed facility.
Use Monday 9:30am - 1:30pm
---
Recommended Things to Do by Groupon Customers
---
Balls hurtle toward clusters of pins at Centennial Lanes during open bowl sessions scheduled seven days a week. On Thursday, Friday, and Saturday nights, a black-light system and lasers illumine the award-winning center with a neon glow during cosmic bowl bouts scored to the thumping beats of music videos and songs requested by players. The in-house Little Bear's ProShop equips participants with necessary gear for forthcoming frames, such as new bowling balls or domesticated big bad wolves that will blow down still-standing pins. After games, visitors can retire to the banquet room for a birthday feast or saunter into the lounge for rounds of karaoke or billiards.
16050 Centennial Cir.
Tinley Park
Illinois
Between the cheery, orange walls and cozy, carpeted floors of Your Yoga and More, a team of expert instructors leads challenging yet scalable yoga classes for groups of 32–40 people. Suitable for students of all fitness levels, their classes flow through various poses, with gentle yoga or chair yoga offering a slower pace and Vinyasa-flow and Hatha classes strengthening muscles with rigorous poses. For a cardio workout, the instructors teach high-energy Zumba classes that do away with fat via Latin-inspired cardio dance moves.
Three dedicated instructors curate the syllabus at Your Yoga and More. Allison Haugh, an import from Scotland, has practiced yoga since 1995, when many people who currently practice yoga were practicing Jonathan Taylor Thomas worship. Andy Keene first experienced yoga aboard a Hawaiian cruise ship, and he animates his training to help students achieve a unified body-and-breath rhythm. Instructor Pat Partin has 12 years of experience, and she recently became certified to teach a heart-focused version of yoga to patients with cancer and heart disease.
1000 Eagle Ridge Dr.
Schererville
Indiana
219-789-0237
Entertainment at the Crete Family Fun Center includes a Cannonball Wars arena, in which teams fire foam balls into the opposing crew's net. Players work up a sweat while dodging focused light in an indoor laser-tag arena or playing classic and modern games in the arcade, and bumper cars provide catharsis for overworked driving instructors. Crete's onsite restaurant dishes up treats such as pizzas, hot dogs, and burgers.
955 Main St.
Crete
Illinois
US
Stardust Bowl's two locations welcome everyone from casual groups to diehard competitors, keeping lanes open as late as 11 p.m. in Merrillville and as late as 1 a.m. in Dyer. In between frames, patrons can refuel with a quick bite or drink from the snack bar, try their hand at the Merrillville location's billiard tables, or visit the Dyer alley's arcade. The Dyer location ramps up the energy on select evenings with starlight bowling, showering all 48 lanes with laser lights and cranking up the sound system's playlist of spirited mayoral debates.
1330 Sheffield Ave.
Dyer
Indiana
219-322-3666
"Our brain is designed to realize what we wish, without any minor errors," says Dahn Yoga founder Ilchi Lee. "If you want success, it will create success. If you want happiness or health, it will create them. Anything is possible, as long as negative thoughts and emotions don't interfere."
To make this challenging, yet hopeful, philosophy accessible to all, Lee combined the Eastern concept of chi energy with his own brain-management system, developing a distinctive program that unlocks inner peace and sweeps up brain clutter caused by the daily stress of always having to find Waldo. This focus, shared by Body & Brain Holistic Yoga and The Life Yoga, forms the basis of the studio's classes and consultations. Warm-up yoga maneuvers awaken muscles before 30–40 minutes of breathing, stretching, core practice, and meditation—including a signature brain-wave vibration technique that aims to calibrate mental and physical energies. Cooldown exercises ease the body back into quotidian functionality before a 10-minute teatime invites socialization among participants while bolstering pinkie endurance.
9204 W 159th St.
Orland Park
Illinois
708-226-0245
Cheerful battle cries carom off winding fortresses and across Stratagem Laser Missions' 10,000 square feet of playing space. In the two-story facility, sharpshooters hone their skills with eight styles of play, which urge them to capture the flag, eliminate opponents, and protect the Xerox machine. From hiding places atop plastic barrels, behind cardboard boxes, and within stacks of spare tires, warriors fire one of four radio-frequency guns. A marshal patrols the area to enforce safety and rules about fair play and point out plot holes in Civil War reenactments. Players of all ages romp through the twisting hallways, and groups gather to celebrate birthdays and other special occasions in adrenaline-steeped style.
10315 Vans Dr.
Frankfort
Illinois
US
815-806-2020
---