Restaurants in Parker
---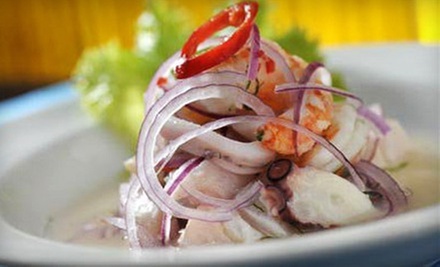 ---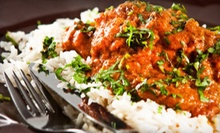 Homestyle, northwest Indian dishes such as clay-oven-baked tandoori entrees & curries with juicy chicken, lamb & prawns
---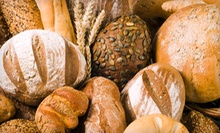 Local bakery bakes fresh breads, scones, rolls & Danishes daily from natural ingredients with selection of homemade sandwiches & wraps
Use Monday 11:00am - 3:00pm
---
Recommended Restaurants by Groupon Customers
---
A vibrant, buzzing neon sign beams with electric blue and orange light as it invites hungry passersby to sample the inventive sushi creations and delicate Japanese treats that won Yuki Sushi & Robata a coveted spot in ABC 7's A-list for three years in a row. The bill of fare bristles with warm noodle soups such as tempura udon, umami cuts of meat such as teriyaki chicken and beef, and fresh Chilean sea bass. Inventive maki rolls shine on Yuki Sushi & Robata's diverse menu, with selections such as the Carmen Miranda featuring fresh fruit.
9447 Park Meadows Dr.
Lone Tree
Colorado
Bombay Bowl's owner, Amar, says he "grew up in an East Indian kitchen," where he attentively learned his family's generations-old knowledge of the region's aromatic and salutary spices. Although his menu features the familiar combinations of turmeric, ginger, and coriander, he set out to infuse his Indian cuisine with a casual, health-conscious environment. The cooks eschew trans fats, artificial flavorings, and schnozberries, seeking out all-natural beef and chicken, chopping vibrant vegetables, and baking fresh naan over their kitchen's campfires instead. With these ingredients, diners can customize their own bowl of long-grain basmati rice, choosing from five meaty or vegetarian fillings, four sauces, and four chutneys. The chefs also whip up gluten-free and vegan options, accommodating virtually any diet.
12023 E Arapahoe Rd.
Centennial
Colorado
303-339-5500
Honing their skills in professional kitchens for more than 30 years, Dora and her family shuffled through a few different culinary homes before stumbling on a vacant building. Realizing the potential this raw space could have after a little love, the family renovated the space and transformed it into the present-day Dora's Mexican Restaurant & Lounge. Dora's tight-knit staff is composed of family and friends, some who have worked at the restaurant since its opening in 1994; the team tirelessly churns out Dora's authentic Mexican family recipes to the appreciation of a loyal following of customers and hopeful pups in nearby backyards. Hefty portions populate both lunch and dinner menus, including traditional chimichangas, tamales, and goblets of the restaurant's iconic, ever-popular margaritas, which patrons can sip in a spacious dining room that pays homage to the vibrant exterior architecture of Mexico with bright, coral-color walls.
2406 S Parker Rd.
Denver
Colorado
303-368-1527
The Wetzel name wasn't always a source of pride. As a kid, Rick Wetzel grew accustomed to hearing, "Hey Wetzel, you pretzel!" on the playground. But the teasing inspired a quest for the tastiest soft pretzel, one that eventually blossomed into Wetzel's Pretzels. After years in Nestle's marketing department, Rick and coworker Bill Phelps channeled Rick's soft-pretzel recipe into a chain of shops. They make hand-rolled, oven-baked pretzels that sit for only 30 minutes before being sold or chucked, an example that might be in the dictionary under "fresh," if Babe Ruth using his bat as a pool cue weren't already there. And though the buttered and salted Wetzel's Original still occupies a spot on the menu, a flurry of imaginative flavors fills its other slots, from Sinful Cinnamon to Jalaroni, a cheesy pretzel scattered with pepperoni and jalapeños.
23975 E Town Square Ave.
Aurora
Colorado
US
720-274-5618
Caribbean Breeze sends forth bursts of flavor with its menu of Latin- and Caribbean-inspired meals. Inside the well-lit eatery, chefs prepare shrimp three ways: breaded in coconut, swimming in a champagne cream sauce, or wrapped in bacon and cheese. Salmon and tilapia filets evoke more delicate flavors straight from the grill. The kitchen also concocts Mexican classics such as carne asada, which is served with deep fried jalapenos alongside rice and beans.
15490 E Colfax Ave.
Aurora
Colorado
US
303-366-2228
---