Restaurants in Parker
---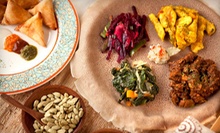 Authentic Ethiopian cuisine, including meat or vegetable combination plates and coffee served in a traditional Ethiopian ceremony
---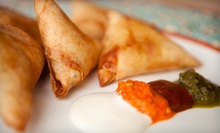 Chefs channel flavors of North and West Africa with fried and boiled plantains, couscous with choices of veggie or meat, and yassa chicken
Use Sunday 1:00pm - 11:45pm
---
Recommended Restaurants by Groupon Customers
---
Tortillas and salsas are handmade in each Cost Vida store, and the executive chef has designed a menu around ingredients that have never seen the inside of a factory or a dehydrated astronaut snack pack, including fresh cilantro, mangos, tomatillos, and all-natural proteins such as sweet pork and baja shrimp made fresh daily. Dishes consist of Mexican staples such as burritos and tacos filled with cheese, meats, and beans, and lighter fare includes salads packed with veggies, salsas, and guacamole. Traditional Mexican desserts end meals on a dulcet chord with flan, key-lime pie, or sweet cinnamon tortilla.
10005 Commons St. , Suite 280
Lone Tree
Colorado
720-895-3663
A vibrant, buzzing neon sign beams with electric blue and orange light as it invites hungry passersby to sample the inventive sushi creations and delicate Japanese treats that won Yuki Sushi & Robata a coveted spot in ABC 7's A-list for three years in a row. The bill of fare bristles with warm noodle soups such as tempura udon, umami cuts of meat such as teriyaki chicken and beef, and fresh Chilean sea bass. Inventive maki rolls shine on Yuki Sushi & Robata's diverse menu, with selections such as the Carmen Miranda featuring fresh fruit.
9447 Park Meadows Dr.
Lone Tree
Colorado
Bombay Bowl's owner, Amar, says he "grew up in an East Indian kitchen," where he attentively learned his family's generations-old knowledge of the region's aromatic and salutary spices. Although his menu features the familiar combinations of turmeric, ginger, and coriander, he set out to infuse his Indian cuisine with a casual, health-conscious environment. The cooks eschew trans fats, artificial flavorings, and schnozberries, seeking out all-natural beef and chicken, chopping vibrant vegetables, and baking fresh naan over their kitchen's campfires instead. With these ingredients, diners can customize their own bowl of long-grain basmati rice, choosing from five meaty or vegetarian fillings, four sauces, and four chutneys. The chefs also whip up gluten-free and vegan options, accommodating virtually any diet.
12023 E Arapahoe Rd.
Centennial
Colorado
303-339-5500
The Wetzel name wasn't always a source of pride. As a kid, Rick Wetzel grew accustomed to hearing, "Hey Wetzel, you pretzel!" on the playground. But the teasing inspired a quest for the tastiest soft pretzel, one that eventually blossomed into Wetzel's Pretzels. After years in Nestle's marketing department, Rick and coworker Bill Phelps channeled Rick's soft-pretzel recipe into a chain of shops. They make hand-rolled, oven-baked pretzels that sit for only 30 minutes before being sold or chucked, an example that might be in the dictionary under "fresh," if Babe Ruth using his bat as a pool cue weren't already there. And though the buttered and salted Wetzel's Original still occupies a spot on the menu, a flurry of imaginative flavors fills its other slots, from Sinful Cinnamon to Jalaroni, a cheesy pretzel scattered with pepperoni and jalapeños.
23975 E Town Square Ave.
Aurora
Colorado
US
720-274-5618
---