Things to Do in Parksville
---
Recommended Things to Do by Groupon Customers
---
When doctors told Joey and Darryl Simon that their son Jet's premature birth could result in learning disabilities, the couple immersed him in the world of art as a means of helping him overcome any educational obstacles. Their tutelage and care paid off, resulting in an impressive array of paintings from their child at a very young age. Jet's talent and creativity inspired his parents to establish 4Cats Arts Studio in hopes of unleashing the inner artists of other children as well as adults. The Simons accomplish this mission through hands-on sessions in mixed media, painting, and Artist Focus classes, which concentrate on the histories and styles of certain artists, such as Picasso's cubism and Andy Warhol's self-portraits of soup cans.
3730 W 10th Ave.
Vancouver
British Columbia
At U Paint I Fire, artists create personalized pottery under the direction of head instructor John, a man with decades of experience in ceramics. Mugs, bowls, and pots twist into existence every day at the studio, especially during group classes. In these sessions, students use their hands, a wheel, or telekinesis to formulate creations and learn other important techniques, such as trimming and glazing. In addition to its classes, U Paint I Fire opens its studio space for birthday parties, bridal showers, and school projects. An assortment of tools and supplies is available for purchase.
3632 4th Ave. W
Vancouver
British Columbia
604-732-3312
Vancouver Water Adventures equips maritime adventurers with wet suits, life jackets, and personal watercraft for exploring the waterways of False Creek and English Bay. The staff stocks a fleet of jet skis, paddleboards, and water bikes, which riders can pedal along inlets without having to worry about the confusion associated with bike lanes or passive-aggressive hand signals. In addition to soaking up scenic ocean views and spying on local wildlife, guests can accompany skilled guides on tours to the area's most impressive sights. Those operating machines must have a valid driver's licence, and all passengers must be at least 6 years old without factoring in alternate theories of relativity.
1812 Boatlift Ln.
Vancouver
British Columbia
Canada
Dark wooden shelves buttress ceramic vases at Smashin' Glass & Anything Art Co. as contemporary floor lamps illume a collection of works that range from oil paintings to jewellery and fused-glass sculptures. Owner Karena Donnelly conceived of the artist-operated gallery as a space to both cultivate creativity and showcase original work from more than 130 local artists. Karena and her husband Kevin moonlight as teachers, sharing their craft with pupils of all ages during workshops and routine dental check-ups. The facility also plays matchmaker between eligible images and professional framing services.
1-180 Craig St.
Parksville
British Columbia
250-248-6624
While man has not yet mastered a bird's ability to fly, we can approximate their effortless motion and unrivaled views through the glider airplane. Nestled in the Alberni Valley, the Vancouver Island Soaring Centre leads passengers on elevated journeys across the mountainous natural scenery. The VISC's fleet of PW-6U and PW-5 Smyk gliders are made of composite materials, making them light and ideal for sneaking up on cumulonimbus in the morning while they are still busy gluing on fresh cotton balls. In a Piper Pawnee plane, a pilot certified by Transport Canada leads each flight to a height of 2,000–6,000 feet before releasing the glider into the blue expanse. A separate certified pilot directs the craft from the back seat as the craft is kept aloft by thermal energy. Vancouver Island Soaring Centre can also record each blissful flying experience onto a take-home USB drive.
Coleman Rd.
Port Alberni
British Columbia
250-667-3591
A waterfall surges into a subterranean river. Towering peaks dotted with evergreen trees loom on a distant shore. A fire pit billows wood smoke into the sky, and teepees huddle around a forested campsite. At Horne Lake, certified nature guides and counsellors spend each day connecting visitors with Nainamo's natural splendour. The park accepts only off-the-grid living, with campsites disconnected from electricity and running water, and completely scentless to most mail carriers. Staffers supply canoes, kayaks, paddleboats, rods, and other gear for destination fishing, and lead hikes through rainforest trails. Certified cave guides also lead a series of excursions through the natural majesty of Horne Lake Caverns, where a network of rocky passageways wind around a subterranean river and gleaming crystal compositions reach up to four stories tall under soaring gallery ceilings. They also conduct nature-based leadership programs such as team building, ropes courses, and multiple-day summer camps.
Horne Lake Caves
Qualicum
British Columbia
250-927-0053
---
---
Things to Do Deals - Recently Expired
---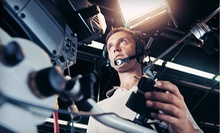 Documentary-making topics, such as visual grammar and shot sequences, taught in a one-day course anchored by a hands-on camera workshop
---
---