Auto Repair in Parkville
---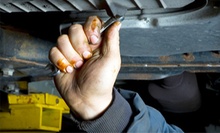 Use Saturday 7:00am - 3:00pm
---
Recommended Auto Repair by Groupon Customers
---
Mathias Service Center keeps cars running reliably through repair and maintenance services for young and aged autos alike. Oil changes come with 13-point inspections to check for interior and exterior issues and ensure talking cars aren't developing speech impediments. Heating and cooling systems can be fine-tuned to ensure a comfortable ride, and skilled mechanics also work on brakes, computer diagnostics, and coolant systems. For cars that have been injured in action, Mathias provides towing service to its auto ER.
22 W Diamond Ave.
Gaithersburg
Maryland
301-869-3200
For more than a quarter-century, Sears Auto Center-Old Forge Motor Cars has been keeping rides cruising smoothly with maintenance services and fresh brand-name tires. An online tire-size finder lets drivers peruse available rubbery soles based on tire size or their vehicles' year, make, and model; customers can also search for brands such as BFGoodrich, Cooper, Michelin, and Yokohama. Ailing cars can roll into the shop and let experienced technicians diagnose and treat their issues, from loose belts and hoses to squeaky brakes or wheels that become clumsily misaligned when cute convertibles whiz by. Sears Auto Center-Old Forge Motor Cars is open seven days a week and also harbors used vehicles available for purchase.
1101 N. Broad St.
Lansdale
Pennsylvania
215-631-1101
The stockroom at Best Auto Glass carries more than one million auto parts. While it's hard to imagine the variety of windows, windshields, tints, and wiper blades for countless vehicle makes and models, one thing is clear—coming in for glass or mirror repairs or replacements means same-day service and a true match.
Among the company's common repairs perfected over 10-plus years in business is windshield cracks. Before a windshield chip spiders into a crack, Best's certified glass techs fill it with a resin to preserve its integrity. If the chip has already cracked, they carefully pop the windshield out and plug in a new, factory-authorized one. They also repair glass regulators when side windows become troublesome to roll up or down and can cleanly peel away old tinting from windows. Two locations conveniently serve the DC area, and techs also offer mobile services to areas such as Stafford, Ashburn, Silver Spring, and all of DC.
2810-F Merrilee Dr.
Fairfax
Virginia
703-339-2266
Seven cosmetic car-care packages attract soiled vehicles to Performance Window Tinting & Auto Detailing's shop, where dedicated motor maids vacuum, hand-wash, wax, and buff them until they're clean and idling happily. Thanks to the garage's tinting services, drivers can hide their autos' insides from prying eyes once technicians equip windows with SunTek or Hüper Optik films. The vehicle doctors also perform a number of auto-body repairs, patching up hail damage, fixing windshield chips, and nursing black headlights received in fights with bullying mail trucks.
6470 Dobbin Center Way
Columbia
Maryland
410-772-0933
In Environmental Auto Services's six bays, ASE-certified technicians tend to cars of all makes with services for everything from the brakes to the air conditioners. Their work has an eco-friendly bent—they pay a premium to dispose of waste ethically, and they strive to minimize cars' carbon footprints without locking them permanently in their garages. When not fixing autos, the technicians show their appreciation for the community through food drives and other charity events.
402 Headquarters Dr., Suite D
Millersville
Maryland
410-987-5546
From more than 350 facilities in six countries, Precision Tune Auto Care has spent the last three decades keeping more than 2.5 million vehicles on the road with an array of maintenance and auto-repair services. Professionally trained mechanics lube engines with signature precision oil changes, rotate tires to ensure even tread wear, repair busted brakes, and test spark plugs to safeguard against ignition failure during dramatic drive-thru getaways. Whether performing complicated services on fuel-injection and cooling systems or simply aligning tires, the mechanics back all their services with a 12-month, 12,000-mile warranty.
5529 Belair Rd.
Baltimore
Maryland
US
---