Auto Service in Parkville
---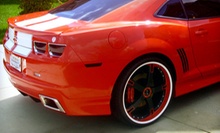 After a hand wash, detailers clean wheels, dress tires, vacuum main carpet areas, and scrub windows
Use Today 10:00am - 2:00pm
---
Recommended Auto Service by Groupon Customers
---
Voted Best Car Wash in 2010 and 2011 by Northern Virginia Magazine, the chassis shiners at Sonic Soft Car Wash deliver a host of gleam-enhancing services at both their Woodbridge and Falls Church drive-thrus. Though services differ slightly by location, both car washes see exteriors washed, floors and seats vacuumed, and windows wiped clean of finger- and bologna-prints, plus a suite of finish-protecting treatments, such as a wheel brite and a tire shine. A Vision Clear rain repellent helps keep a truck impermeable, and a Teflon clear-coat wax brings out a vehicle's shine. Meanwhile, the three-color ultraviolet protection polish staves off the unsightly blisters and embarrassing bikini lines cars develop in heavy sunshine.
1050 W Broad St.
Falls Church
Virginia
US
703-237-1011
This holiday season, gift yourself or someone you care about with the chance to have their sled spicked-and-spanned by the experienced elves at Detailz Fine Auto Cleaning in Georgetown. This $79 Groupon is good for the Exterior Detail Supreme Package, a fender-to-fender overhaul that turns beaters into blenders using elbow grease and holiday cheer (up to $135 value, depending on car size). You can also convert today's deal into an official Detailz gift certificate for stuffing holiday hosiery—just email the owner, Mike, with your name, address, and Groupon number and he'll send a $135 gift certificate your way. Follow @Groupon_Says on Twitter.
1629 Wisconsin Ave Nw
Washington
Washington D.C.
US
Ready your ride for pending holiday road trips and holiday demolition derbies with today's Groupon to A1 Auto Three Brothers Car Repair. You'll get an oil change, safety inspection, fluid fill, and air-pressure adjustment for $17 (up to a $35 value). And if you're crazy prepared like Batman, or actually Batman, the helpful staff at A1 Auto will help you plan ahead by scheduling appointments up to 90 days in advance. A1 Auto will happily service your vehicle Monday through Friday from 8 a.m. to 5:30 p.m. and Saturday from 8 a.m. to 2 p.m.Follow @Groupon_Says on Twitter.
3041 Frederick Ave
Baltimore
Maryland
US
If your shady parking spot rests beneath bird-filled trees, or someone scrawled carpetbagger into the layer of grime on your car window, today's Groupon can give your vehicle its original off-the-lot shine. For $18, you'll get Auto Spa Hand Car Wash's Wax Works Way package, including a complete hand wash, wax, and interior clean, a $38 value. Baltimore Magazine's Best Car Wash of Charm City, Auto Spa is located a cool 15 miles outside the city in Cockeysville, making the return trip in your newly perfected vehicle a ride you'll wish would never end. This Groupon isn't just great for sprucing up your own car: it also makes the perfect passive-aggressive gift for your dirty carpool driver.
10117 York Rd.
Cockeysville
Maryland
US
Baltimore City Paper also named Canton Car Wash Best Car Wash on its Best of Baltimore list in 2009:
1101 Ponca Street
Baltimore
Maryland
A complete detail includes a laundry list of luxurious treatments for your vehicle inside and out. Veteran technicians will hand polish, wax, and clean a car's many surfaces, reviving the new car scent and giving it a shine capable of blinding nearby woodland creatures. On the interior, seats and carpets will be vacuumed, everything will be shampooed, and vinyl and leather will be treated. The exterior receives equal attention with a hand washing, wheel-pressure washing, tar and bug removal, wax, and more. As a testament to their meticulous diligence, the expert staff will even Q-tip and toothbrush the hard-to-reach regions of your ride.
15125 Frederick Rd.
Rockville
Maryland
---