Parkville, MD Health and Fitness
---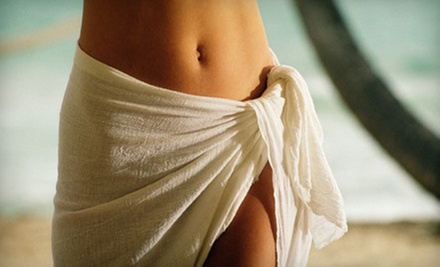 ---
Recommended Health & Fitness by Groupon Customers
---
A trained and licensed acupuncturist, Marina Gan seeks to share the same ancient Chinese medicine that has so deeply affected her own life. Marina approaches acupuncture as a partnership between herself and her patients—a collaborative relationship founded with the common goal of identifying and counteracting troublesome imbalances in the client's body or teetering Jenga tower. After such imbalances have been discovered, Gan goes to work on the grounds of the Ruscombe Mansion Community Health Center, a palatial country home built on the estate of the famous Quaker abolitionist James W. Tyson.
4801 Yellowwood Ave.
Baltimore
Maryland
443-739-5100
Dr. Dean Kane's pursuit of beauty has led him across the country and beyond. His specialized training in plastic surgery and medicine began at the University of Puerto Rico, then continued with residencies at Sinai Hospital in Baltimore and the University of Florida. Today, Dr. Kane shares his knowledge of plastic and reconstructive surgery techniques with up-and-coming doctors as a clinical professor at Johns Hopkins Hospital, and beautifies patients at his plastic-surgery practice.
From the moment clients enter the couch- and art-adorned waiting room to the time they grapple through the skylight, the attentive staff cater to them with personal attention. Before treatment⎯such as tummy tucks, liposuction, and Botox injections⎯clients consult with Dr. and Lauri Kane to ask questions about procedures as well as outline their beauty goals. Post-procedure, the clinical or operating-room nurse oversees patients through the entire recovery process.
1 Reservoir Cir., Suite 201
Baltimore
Maryland
410-602-3322
Kicking, punching and jabbing are typically discouraged, but not at Transformations Fitness for Women. The women's-only gym's kickboxing-style workouts give athletes the moves they need to tone physiques and brush up on their fighting maneuvers, no matter their level of experience. The gym's three locations boast eclectic class schedules, with classes ranging from Zumba dance fitness workouts, which burn calories with sultry Latin moves, to sessions that enhance strength and flexibility through a fusion of yoga and Pilates. While guests work out, they can drop kids off at the gym's complimentary daycare, whose staffers stay in touch with each other via two-way talk radios, rather than by sending them regular flocks of carrier pigeons.
6600-C Baltimore National Pike
Catonsville
Maryland
Fueled by an extensive fitness background, including experience in the Army Reserve and wins in competitive bodybuilding featured on Lift for Life, LT Thomas pushes ladies to reshape their physiques in a supportive environment. His training credo puts safety and common sense before overwhelming the muscles, basing workouts on an initial health assessment to set challenging yet doable personal goals. In addition to private training sessions, LT leads women-only boot camps, specializing in programs for the exercise newbie as well as the experienced athlete who swallows five raw kettlebells a day. Throughout both boot camps and personal-training sessions, manageable progressions in patrons' fitness regimens keep them motivated as they discover hidden reserves of inner strength.
3407 Lake Montebello Dr.
Baltimore
Maryland
410-215-4383
Dr. Myron Kellner's team, which has grown to include Dr. Alex Fishman, helps patients care for and beautify their teeth with cleanings, cosmetic dentistry, and restorative procedures. Mindful of common anxieties or fears surrounding dental appointments, they assuage nervousness with sedation dentistry and by creating a spa-like environment with aromatherapy, spa eye pillows, and paraffin wax treatments. The Smile Design Center has been featured on Baltimore's Dramatic Makeover on ABC/2.
2324 W Joppa Rd., Suite 110
Lutherville
Maryland
Celebrities vouch for the efficacy of Wraptured's unconventional beauty treatments, particularly its flagship service—slenderizing body wraps, provided by Victoria Morton's Suddenly Slender Body Wrap System. On television programs including Ellen and The Tyra Banks Show, hosts have praised the wraps for facilitating weight loss and smoothing out dimples in thighs.
Additional high-tech skincare treatments help the spa abate the aging process. Endermologie and Lift M6 treatments both simulate massage to boost circulation and tighten skin, whereas face taping visibly improves fine lines by smoothing skin with strategically placed pieces of surgical tape.
11121 York Rd., Suite 2
Cockeysville
Maryland
410-785-7750
---