Education & Classes in Parkway
---
Education & Classes Deals
---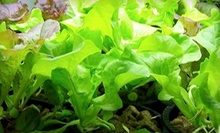 Two-hour classes instill gardeners with techniques required for propagating indoor gardens with plant cuttings
Use Saturday 12:00pm - 3:00pm
---
Recommended Education & Classes by Groupon Customers
---
The staccato beat of conga drums rises over the deep voice of a bass guitar and the higher trills of the timbales and piano. Head dancer Evan Margolin and his bevy of experienced instructors lead students in classes that take beginners through basic footwork and salsa rhythms, with intermediate and advanced sessions offering salsa aficionados more challenging instruction. The social class structure—partners rotate throughout every session—creates a low-pressure learning environment and keeps dancers from scrambling to locate a partner or human-shaped tupperware container. The one-hour beginner classes are mostly filled with salsa novices and new dancers, and Dance SF's experienced and engaging local salsateers are patient and friendly when showing new students how to bust well-timed moves. During intermediate classes, which require six months or more of social dancing experience, students focus on timing and cross-body leads with turns. After some evening classes, new dancers are invited to join an all-night salsa party where they can put their new moves in practice. Students should wear comfortable clothing, which includes dancing shoes, but does not include rear-flapped onesie pajamas.
200 Grand Ave.
Oakland
California
877-507-3403
With the vision of a bracelet in mind, a student lays a strip of steel over an anvil and begins bending it under the blows of a hammer. Down the hall, another budding artist pours molten glass into a mold, which soon cools into a decorative orb. Each year, the faculty at The Crucible educates roughly 5,000 adults and children in arts that range from ceramics to fire dancing. Starting in 1999 with a $1,750 grant, the nonprofit's founders—a small group of artists that includes sculptor Michael Sturtz—nurtured a vision that took them from a 6,000-square-foot warehouse to a solar-powered, 56,000-square-foot arts-education studio. Beyond the classrooms, The Crucible also hosts galleries where both students and faculty show their work, exploring the various elements of design or states of longing for a Twinkie.
1260 7th St.
Oakland
California
Are you ready to take your Spanish to the next level? Just like a professional athlete has a personal trainer you can now have a personal Spanish instructor. Reserve a 50 minute lesson that fits your schedule then enjoy a Spanish lesson that is personalized just for you.
Online
San Francisco
California
971-244-8813
Knowledgeable instructors at AcademyX help to keep students ahead of ever-changing technologies through a comprehensive listing of public courses. With sessions centered on Microsoft Office, Adobe graphic design, and web design, students acquire and develop new skills to apply toward career advancement. Classes pair students with dedicated experts and a host of accompanying learning materials. In addition, students work on dual-monitor workstations that display instructor presentations and provide ample screen space for applying new skills and writing haikus in binary.
180 Promenade Circle, Suite 110
Sacramento
California
916-333-5710
It Factor Studios' film performance and industry workshops unfurl under the leadership of Hollywood directors and professional actors from the American Film Institute. Founder Ryan McKinney and coach to the stars Steve Whittaker apply their workplace experience to create a safe and progressive learning environment and help actors to prepare for industry difficulties such as auditioning, resumé writing, or staring contests with Jack Nicholson. The results-driven team mentors budding performers of all experience and skill levels in a wealth of techniques, including Method and Meisner, with many courses designed to complement each other.
To enable instructional shoots and commercial productions, the studio boasts full capabilities for film preparation, shooting, and editing. Students interested in the back side of the lens can sign up for instruction in film shooting, editing, and screenwriting, enabling them to stage scenes and reboot old home movies under professional conditions. In addition to workshops, events such as guest-speaker series with working or retired film professionals help pupils to garner real industry connections.
11470 Sunrise Gold Cir., Suite 2
Rancho Cordova
California
916-439-1460
Adrienne Moore, a former nationally ranked All American swimmer, and her husband Stephen founded AquaTech Swim School to shepherd babies, children, and adults into the world of swimming. Their team of instructors spends 40 hours studying the Mattos method, named for Adrienne's maiden moniker, which combines swimming skills with child-psychology skills. The CPR-, AED-, and first-aid-certified teachers continue their education and hone their advanced Marco Polo calls throughout their time at the school. Private, semiprivate, and group classes for children range from 6-month-olds' Tadpole curriculum to the advanced, team-focused Orca course, and the eight levels of kids classes are nuanced to include both "nervous" and "comfortable" beginner levels. The instructors help grownups get kicking during 60- and 90-minute private classes.
The Concord location's brightly colored facilities include an 87-degree indoor pool that's 4 feet deep, pirate-free, and specially designed for classes. A lesson-viewing area includes bleachers and a play station, and free WiFi is available for visitors who would rather surf than swim.
1220 Diamond Way, Suite 110
Concord
California
925-363-5100
---