Parkway, CA Spa and Massage
---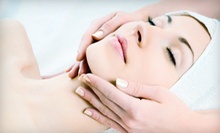 A skincare expert cleanses and exfoliates skin, addressing issues such as fine lines, acne scars, and age spots
---
Recommended Spa & Massage by Groupon Customers
---
Alainn Tu is stocked with a staff of friendly and experienced stylists and aestheticians, and the salon and spa's commitment to eco-friendly business practices shows a worldview beyond the keratin fences of customer's toenails. Customers can get smoother than a freshly buffed professional bowler with waxing options, including brow ($18–$35), lip ($7), and chin ($10–$15) treatments, or increase the drama of their eye accessories by tinting their lashes ($25) or brows ($15). For skin showing signs of stress, forget direct injections of soothing elevator music and instead opt for the 60-minute 302 Signature regeneration treatment ($75), which includes cleansing, extractions (as necessary), and an enzyme mask. The quickie break-time treatment ($50), men's signature treatment ($75), or flash treatments replenish the skin better than repeatedly dipping frontispieces into bowls of punch.
3330 Folsom Blvd.
Sarcramento
California
916-731-5678
From styling celebrity hair to revitalizing complexions with relaxing facials, the team at Willo Aveda, an Aveda concept salon, aims to fill local mirrors with visions of beauty. Stylists of five different experience levels wash and rinse hair before breathing new life into languishing strands with a tailored cut and blow-dry. Alternatively, hair artisans can deploy Aveda's 97%–99% naturally derived formulas to refresh hair with a single-process color or nourish locks with conditioning plant oils that leave hair shinier than a freshly licked ring pop. Aestheticians address hyperpigmentation or acne with skin-specific facials, and nail techs can upgrade the signature manicure with durable Shellac gel polish that lasts up to two weeks.
11226 Gold Express Dr., Suite 204
Gold River
California
916-631-7151
Conversations with strangers usually don't lead to newfound good looks, unless those strangers are the amiable sextet helming Vanity Lounge Beauty Boutique. Amid lavender-hued walls and potted orchids, the stylists involve each client thoroughly in the beautification process, discussing individual aesthetic wishes at length before delving into any procedure or genie-bottle rubdown. As the professional prettifiers work, they instruct clients on how to re-create new looks at home, sharing wisdom gained in training from Goldwell and Sebastian.
Walking past the kaleidoscopic ranks of bottles from brands such as Sebastian, Crew, and Number 4 lining the walls, patrons reach a range of boutique accessories such as jewelry, clutches, and hair doodads. Excited chatter drifts back and forth between the stylists and guests planning private beauty parties, which include refreshments and hair dryers trained to drown out dull stories.
2721 Fulton Ave.
Sacramento
California
916-481-1765
Twelve-year-old Maria Biundo lifts her little sister onto the top of a hamper in their parents' bathroom. She leans in, bringing her face close to the 8-year-old tot's, as she begins to work—sweeping blush across cheeks, shadow over eyelids, and a vibrant hue on lips. After the transformation is complete, Maria steps back to observe her sister's beautified features, and a broad smile spreads across both their faces. The right makeup, she realizes, can make one feel good inside and out. Today, Maria—now a licensed aesthetician—designs the services at Escape & Unwind Salon Spa to emphasize beauty's uplifting effects. She brings homemade chocolate-chip cookies into work each day, pressing them upon clients between facials, massages, manicures, and waxing and makeup services. She also insists that her team undergoes training with reps from skincare and makeup lines such as Jan Marini, Moroccanoil, and DermaQuest to ensure they're using the latest beauty techniques. For maximum pampering, she even hires a professional chef to cater services for bridal parties and other groups with light, healthy food.
151 Iron Point Rd.
Folsom
California
916-355-8000
---