Beer, Wine & Spirits in Pasadena
---
Beer, Wine & Spirits Deals
---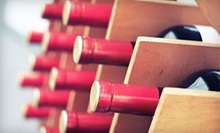 Varietals culled from regions as far-flung as Napa Valley, Alsace, and Portugal in wine-and-spirits store in business since 1967
Use Monday 9:00am - 11:00am
---
Recommended Beer, Wine & Spirits by Groupon Customers
---
Vino experts at Harry's Wine & Spirits stock shelves with a plethora of wines from both California and international varietals and fill balloon glasses with swirls of red and white ribbons during tasting events. The libation retailer also houses fine spirits such as single-malt scotch, sippable cognac, and herbal-inflected gin. An array of gift baskets stands ready to be filled with a choice of glassware, chocolates, and caviar like the inside of Robin Leach's bathtub.
11684 San Vicente Blvd.
Los Angeles
California
At Wine Expo, named one of the "10 Best Wine & Spirit Shops in LA" by Los Angeles Magazine, racks teem with wine, craft beer, and liquor from every corner of the globe, plus, a generous selection of real Champagne. The knowledgeable staffers on hand know the difference between standard fruity, oak-infused bottles with lackluster taste and knockout wines that accentuate dinners of red meat or red crayons. They help guide oenophiles in selecting Portuguese whites or Tuscan reds, and organic sparkling white wines or a 31-year-old bottle of scotch. At the wine bar, sippers can sample the flavors for themselves, with flights of three whites, three to four reds, or glasses of beer. Small plates accompany the drinks, including mild cheeses, prosciutto, and crostini.
2933 Santa Monica Blvd.
Santa Monica
California
US
310-828-4428
When Vince Pantess was growing up in New Jersey, he and his cousins would enjoy a taste of homemade wine—diluted on account of their age—while dining with their Italian family during Sunday dinner. After his Italian forebears immigrated to the United States, they made wine in their cellars for years, laying the foundation for a tradition that pervaded Vince's childhood.
In 2005, after 20 years in the chemical and biopharmaceutical industries, Vince decided to act on his inherited passion for wine. His background in the sciences collided with classes and home experiments in horticulture—as well as an influential experience working a commercial harvest in the Santa Maria Valley—to cultivate the skill and artistry Vince needed for artisanal winemaking.
Every grape that ends up in San Vicente Cellars' barrels comes from vineyards along the central coast—specifically Paso Robles and Santa Barbara County—that hand-farm their grapes and practice sustainable agriculture techniques. The careful collection results in a complex wine list that includes bottles of late-harvested viognier and two different syrahs that highlight the versatility of the grape: the 2009 Thompson is driven by spice, whereas a San Stefano blend takes Syrah from three vineyards for an earthy, smooth vintage with hints of raspberry.
537 Constitution Ave., Suite D
Camarillo
California
805-484-5400
Along with its original Pasadena location—which has kept neighborhood liquor cabinets in high spirits for more than 60 years—Mission Wine and Spirits stocks a massive selection of wine, beer, and spirits at its three outlets. Imported vintages from countries such as New Zealand and France share shelf space with more than 15 types of domestic wine. Amateur sommeliers can also choose from a range of ports, dessert wines, and sparkling wines. In addition, the shops fuel good-natured gatherings with domestic and imported beers, spirits ranging from Irish whiskey to absinthe, and digestives that settle stomachs after hearty meals or eating lava on a dare. Mixers such as celery bitters and sweet-and-sour mix spruce up liquors with cocktail flavoring, while nonalcoholic spirits and wines delight the taste buds of abstaining guests.
1785 E Washington Blvd.
Pasadena
California
Armed with discriminating palates, Duke of Bourbon's staff has been scouring the globe in search of fine, rare, and distinguished wines since 1967. Today, the shop's shelves and racks host a broad assortment of varietals—from sangiovese to viognier—to appeal to both learned aficionados and budding sommeliers. To ensure the selection remains top-notch, the Duke's court fully researches and inspects its most distinguished picks, sniffing out the tannins and fermented Monopoly dollars that make each valuable to collectors.
20908 Roscoe Blvd.
Canoga Park
California
US
818-341-1234
Though one could also call it a store, The Wine Club's name speaks to its staff members' passion for fine wines. Their passion and commitment to quality spirits at fair prices fostered the growth of the first singular club in 1985 into a trio of neighborhood wine and spirits stores by 1996. Shelves and display cases at each store are crowded by varietals from all over the world. During Friday happy hours and informal Saturday afternoon tastings, guests gather to discuss flavor profiles with fellow tasters, certified sommeliers, or vacationing extraterrestrials. The store also curates a variety of wine clubs for customers hoping to expand their palates.
1431 S Village Way
Santa Ana
California
800-966-5432
---