Dance Lessons in Pasadena
---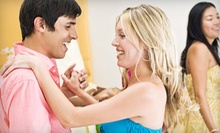 Experienced instructors lead dancers through private, personalized lessons and optional group practice sessions and parties
---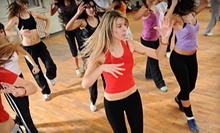 Easy-to-learn moves inspired by merengue, salsa, and other Latin dances power energetic classes set to funky beats
---
Recommended Dance Lessons by Groupon Customers
---
With more than 10 years of professional dance competitions and teaching experience under her belt, Dance Passion's owner, Gloria Jones, puts her affinity toward dance and instruction to use in her own studio. Gloria teaches budding boogiers the basics of ballroom, and salsa dancing during private and group lessons. In addition to her regular sessions, she also hosts wedding-themed lessons, where she prepares couples for their first waltz, tango, or chicken dance as husband and wife.
3300 Chimney Rock Rd., Suite 500
Houston
Texas
713-443-8275
What began as a small studio with five enthusiastic dance students has transformed into a full-fledged company that's educated thousands and won multiple awards along the way—including a Certificate of Congressional Recognition. Today, Strictly Street Salsa has a whole team of instructors that has danced its way across the likes of Cuba, Puerto Rico, Colombia, Spain, and Rome and is ready to introduce students to new cultures through the art of dance. The studio offers classes for beginner, intermediate, and advanced dancers in both salsa and tango and hosts dance workshops that blend Latin dance with various cultural elements, including African movement, gypsy music, and good old-fashioned American screaming.
1703 Heights Blvd.
Houston
Texas
ASFA Dance's experienced dance instructors, led by American Ballet Theatre–certified cofounders Artemis Gregoriou and Mariana Sanchez, draft and lead dance curricula, teaching students to master proper technique and build their confidence. The passionate staff utilizes expertise gleaned from extensive dance experience, certifications, and conversations with retired nutcrackers to mentor twirlers of all ages, from 3-year-olds to adults, in several dance styles. Classic ballet, modern ballet, tap, jazz, and hip-hop courses hone dancing skills and techniques, and fitness classes, including kickboxing and Zumba, whip bodies into shape between dance sessions.
7401 Katy Freeway
Houston
Texas
US
832-971-7654
Green, red, and yellow spotlights spill over the baseball-capped heads of Bboy Psycho and his handpicked team as they take to stages trembling with bass at performances. A professional break dancer with roots in the early crews that formed in Los Angeles, Bboy Psycho has toured nationally and internationally with artists such as Kurtis Blow and The Sugarhill Gang. Crew members fly through the air with acrobatic moves, bouncing from limb to limb before launching onto their heads to spin like a carousel operator in a job interview. A sprinkling of comedy livens up appearances at special events such as birthday parties and fundraisers, and Avengers Dance Crew also leads dance workshops and private and group lessons for aspiring breakers.
All the members of the crew work closely with the nonprofit organization Youth Advocates (YA), which provides teens paired with adult mentors with constructive activities such as break dancing and attaching bells to the collars of ghosts.
1431 West 20th Street
Houston
Texas
832-370-1609
It's not easy to take over for a guy like Allen Darnel, a 55-year ballroom-dance veteran who taught celebrities such as Zsa Zsa Gabor and Aldous Huxley. But now W. Michael Smith and Enrique Baez-Trevino are cutting in on the recently retired Beginners Only Social Ballroom & Latin Dance Studio founder's waltz, and they have impressive resumés of their own to brandish. Baez-Trevino has studied under prominent trainers since he was 13, and Smith has trained in both theater and broadcasting, a background he believes helps him give clear instructions to his students. These two masters lead 45-minute private lessons for individuals, couples, and groups of eight or fewer, sharing their knowledge of swing, salsa, and the tango in private rooms. The schedule is unusually flexible, with lessons available seven days a week all the way until 10 p.m.
5959 Westheimer Rd., Suite 100
Houston
Texas
US
713-789-5959
---