Pasadena, TX Outdoor Activities
---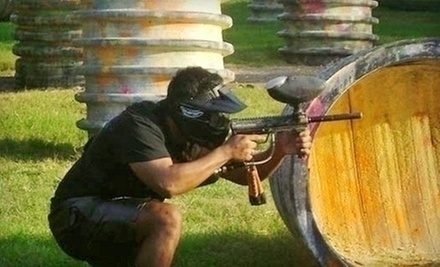 ---
Recommended Outdoor Activities by Groupon Customers
---
In its 12th year of fear, The Haunted Trails breed chills and shrieks while daring explorers to tiptoe across acres of mortifying scenes. Nightfall casts a blackened veil over every visit, during which guests grope through darkness and past plumes of fog in search of an end to the madness. Along the route, bloody limbs dangling from branches and scenes mummified in cobwebs set a morbid tone, and grotesque creatures lurking among the trees wait patiently to pop out and politely inform you of an untied shoelace. This season, the terror has spread to a newly established attraction, Nature's Nightmare, and both sights remain open through November 3rd to grant visitors their Halloween fix.
1734 N Sam Houston Pkwy. W
Houston
Texas
713-618-3323
In its first annual festival, Houston Oktoberfest pays homage to the centuries-old German shindig by corralling more than 30 different beers from both local breweries and the Deutschland itself. German beers such as Hofbräu, Spaten, and Warsteiner swirl with crisp, effervescent flavors that pair deliciously with German morsels. Diners can also enjoy local seasonal pours and complement them by nibbling on autumn leaves. As participants mingle and sip, they can also swing their hips to the sounds of 10 different bands throughout the grounds. Louisiana's Grammy-nominated Pine Leaf Boys headline the fest with a Cajun set complete with a squeezebox, raspy vocals, and fiddle, and Houston's own The '71's churn out hard-rock anthems such as "Confession." The strains of traditional German music bounce off the nearby carnival area, which features games and rides for children, adults, and sentient lederhosen.
5601 W Loop S Fwy
Houston
Texas
US
713-481-2558
It takes all of your wits to dodge paintballs while still gaining on your competitors, so the last thing you should be worrying about is where your next footstep will fall. That's why Xplosive Indoor Paintball Arena negates the dangers of clod-filled fields and sock-soaking streams with an indoor paintball arena designed to keep players focused on the game rather than their surroundings or on-looking spirits of the forest. Each arena admission comes with all the equipment and air refills needed for play, with à la carte options available for those who already own their own gear. Outside the arena, TVs broadcast the news and paintball tips, and concession-stand staff members dish out snacks for those regaining their strength for another bout.
101 S Shaver
Pasadena
Texas
US
832-543-3479
---