Museums & Galleries in Patchogue
---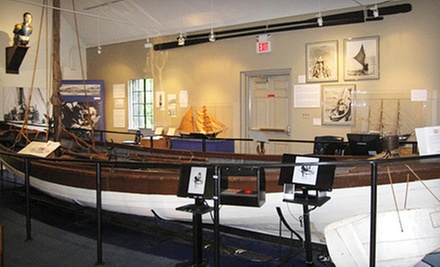 ---
Recommended Museums & Galleries by Groupon Customers
---
For the tiniest tots, there are foam towers to topple in the Tot Spot and instruments with which to make rhythms in the mUSic area. Toddlers and preschoolers sift and shovel on the Sandy Island, and older children can use a penny to watch a 100-year-old Mutoscope silent movie or use the Bricks & Sticks wire spinner to design their own 3D shapes. Click here to see the museum's activity gallery and plan out a day trip. Or, simply show up with plenty of energy and your favorite child to discover the museum together, and help him or her build vital skills in social interaction, education, and colored-block identification. Schoolchildren can bolster their studies without realizing they're learning by organizing games in the ClimbIt@LICM structure, or by comparing barometric readings in the Our Backyard outdoor area. Get today's Groupon to treat a special proto-adult to a day of horizon expansion, enjoyment, and giant bubbles.
11 Davis Avenue
Garden City
New York
Flanked by seven other aircraft, a Grumman F-11 hangs suspended in a shallow dive over the main entrance to Cradle of Aviation Museum's four-story glass atrium. Three viewing levels on wraparound balconies afford views of the aircraft that only fellow pilots in close formation ever saw when it was in service. The 150,000-square foot facility's eight exhibits grant similarly intimate glimpses of more than 75 aircraft and spacecrafts that trace the historic path of Long Island's aviation contributions since 1870. Those artifacts include a replica of the Wright Brothers' 1899 kite, five aircraft made in Long Island for World War II, and the Grumman Lunar Module LM-5 "Eagle", which transported Neil Armstrong and Edwin Aldrin to that soundstage that looked like the moon.
Patrons also get a chance to soar skywar in the X-Ride Theater, a 30-seat motion simulator whose "Fly with the Blue Angels" film mimics the piloting of a U.S. Navy squadron jet. Over in the JetBlue Sky Theater Planetarium and the Leroy R. & Rose W. Grumman Dome Theater, screens show films on subjects such as Lewis and Clark and Ernest Shackleton's famed Antarctic journey. To reenergize after touring the museum or riding the Historic Nunley's Carousel, which was built in 1912, guests can enjoy a meal in the Red Planet Cafe, whose space station décor evokes a Martian cafeteria in the year 2040.
1 Davis Ave.
Garden City
New York
The fresh breezes that buffet Mystic's shoreline probably feel much the same as they did 150 years ago, so it's a fitting place to find America's nautical history resurrected. Called Mystic Seaport: The Museum of America and the Sea, the extensive grounds could almost qualify as a theme park. In addition to the museum proper, the complex hosts a rebuilt 19th-century sea-faring village, a working shipyard, and extensive gardens that blanket the grounds. Live museum staff lead demonstrations and performances throughout, even welcoming guests aboard the four National Historic Landmark vessels moored in port. Nearby, captains take visitors out on the water in a coal-fired steamboat to experience the river and town from a different angle. They also rent out their vessels to other licensed boaters seasonally, who can sail or row their way across the Mystic River. When tired of ship studying and naval gazing, guests can head to the Treworgy Planetarium and turn their eyes to the stars, learning how to chart courses in the manner of ancient captains, modern astronauts, and late-night deliverymen.
75 Greenmanville Ave.
Mystic
Connecticut
Nestled in the shadow of the Golden Gate Bridge, the Bay Area Discovery Museum entices children's inquiring minds with a host of exhibits modeled after the surrounding sea and city. The Wave Workshop lets kids explore the San Francisco Bay's ecology and test their own boat designs against simulated wind and waves. In the 2.5-acre Lookout Cove which overlooks the bay itself, a 23-foot-tall Golden Gate Bridge entices children to put on hardhats and help construct a giant model.
4450 Park Avenue
Bridgeport
Connecticut
US
203-372-3521
The Discovery Center enlivens kids' learning experiences by cleverly disguising exhibits as awesome playtime arenas. Tiny tots and even 10-year-olds are encouraged to run wild at this hands-on children's museum and nature center, trying their hand at the many fun activities.
At the creation station, which is stocked with paint, clay, chalk, paper, and just about anything a young da Vinci or police sketch artist needs, kids are free to unleash their creative potential. Alternatively, at the fire-truck exhibit, they can put on a firefighter's boots and hat and climb aboard the full-sized 1954 Oren fire truck to learn about a firefighter's job in Murfreesboro. Nearby, at Tennessee Live!, they can get in touch with their natural surroundings when they come face-to-face with turtles, fish, and snakes at the living stream table, dig in the fossil pit, and learn about the customs of the native Cherokee.
4450 Park Avenue
Bridgeport
Connecticut
US
203-372-3521
Liberated from adult clutches in a no-parents land, children gaze out across Kids Discovery Museum from their sanctuary atop an authentic tree trunk. Their perch is the Pirate Tree House, a multilevel playspace whose top story—the facility's only grownup-free zone—showcases the museum guiding philosophy: independent exploration.
In this spirit, rather than lecturing youngsters, the museum sparks their imaginations with hands-on exhibits covering science, culture and art. In Science Hall, an interactive physics exhibit illustrates the concepts of velocity and acceleration through experiments first devised by Galileo and Newton to prove the Earth revolves around a fig. Visitors to Our Town's miniature community can attempt cash withdrawals at a faux ATM or tour a waterfront park, and kids of all ages craft self-guided art projects in the studio known as Sean's Space. Learning continues even when school is out, thanks to week-long summer camps in which youths investigate topics such as photography while defending the museum from a siege of vacationing teachers.
4450 Park Avenue
Bridgeport
Connecticut
US
203-372-3521
---