Peabody, MA Outdoor Activities
---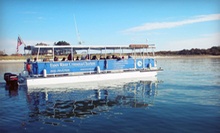 Sightseeing and historical cruises on vessels depart daily through a protected saltwater tidal marsh with varied flora and fauna
---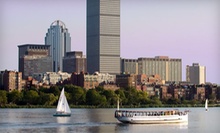 Captain and crew lead river tour or sunset cruise past Harvard, Fenway Park, and historic sights along Charles River
---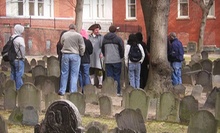 Follow a guide in a tricorn hat on a 90-minute exploration of colonial Boston through the uprisings that led to American independence.
Use Tuesday 7:30am - 10:30am
---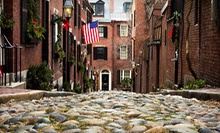 Tours follow in the footsteps of abolitionists and soldiers who fought for a more perfect union, visiting landmarks from their lifetimes
Use Thursday 11:30am - 2:30pm
---
Recommended Outdoor Activities by Groupon Customers
---
Click above to buy tickets for the Boston Derby Dames August 15 games. Click here to buy tickets for the Boston Derby Dames July 18 games.
99 Fordham Rd.
Wilmington
Massachusetts
US
With the height of his career 230 million years behind him, the 20-foot T. rex followed a path typical to many retirees: he decided to hit the golf course. Since 1958, the bright-orange behemoth has kept watch over the sixth hole at Route 1 Miniature Golf & Batting Cages, dazzling visitors with his twin rows of gleaming incisors and spot-on Bob Hope impersonation. But the toothy star isn't the only creature challenging players on this classic putt-putt course. Players must map their swings to navigate a roaring lion, yawning hippo, and towering gray elephant before testing their luck on the 18th hole, where only the most precise putts can succeed in ringing the siren and winning the player a free game.
Adjacent to the mini-golf fairways, four batting cages pitch balls at speeds of more than 85 miles per hour, and an arcade challenges players with classic video games, including Ice Ball. Come cool-down time, guests can usher in a sweet finish to their afternoon by storming the Dairy Castle to seize one of 26 flavors of Richardson's ice cream, including black raspberry and maple walnut.
1575 Broadway
Saugus
Massachusetts
781-233-2811
Within both MetroRock locations, visitors ascend via bouldering walls and rope-climbing walls or take to aerobic exercise machines and fitness equipment to build strength. With this setup available to climbers of all skill levels, the founders of the climbing arenas achieved their goal of creating a community where scalers can congregate, share their passions, and hone their climbing skills.
During indoor and outdoor classes, instructors create lessons that help each climber reach their goals. Indoor courses help instill students with basic climbing skills, rescue techniques, or the brute strength needed for bouldering or to intimidate mountains out of their lunch money. Outdoors, American Mountain Guide Association and Single Pitch–certified instructors teach alpinists skills that include how to secure top-rope anchors and how to climb ice or scale for sport. The centers' founders and their teams also organize climbing-centric programming that includes youth climbing teams and team-building events that challenge groups while forming bonds.
69 Norman St.
Everett
Massachusetts
617-387-7625
Helmed by stalwart captain Zdeno Chara, the 2011 Bruins exercise athletic domination over friction and work out cylindrically based angst on the ice. Premium club seating (located on levels 5 and 6) grants you early access to the arena and the first pick of the freshest foam fingers. Once the puck is dropped, you can see each snapping slap shot and delicate toe pick in vivid detail as you relax in cushy comfort, complete with extra leg room and in-seat wait service. Stretch your legs midgame with a jaunt to the Insight Club Lounge or The Patrón Platinum Lounge, or restock trivia arsenals with your ticket's included access to the sports museum.
100 Legends Way
Boston
Massachusetts
Apartments, offices, restaurants, and shops occupy Kendall Square's 10 acres, which also host a variety of seasonal events. In winter, an 8,400-square-foot ice rink welcomes skaters seven days a week, and Broad Canal is lined with farmers' market vendors slinging local produce, honey, cheese, and flowers during warmer months. Free summer concerts, cosponsored by the Berklee College of Music, take place in the square's open-air plaza, and canoe and kayak rentals are easily available through Charles River Recreation. A dedication to green living guides all the action at Kendall Square, which is easily accessible by train, bike, Zipcar, and pogo stick.
300 Athenaeum St.
Cambridge
Massachusetts
US
The Staples Champions Cup brings together the timeless titans of tennis, including Bjorn Borg and John McEnroe, for a round-robin tournament of fierce backhands and friendly back-talk. During the first session of the men's singles quarterfinal tournament, Borg, the former top tennis player in the world, will show off the racqueteering that won him five consecutive Wimbledon titles as he takes on Mikael Pernfors, a finalist at the 1986 French Open, in a showdown of Swedish swagger. In the second match of the first session, Mark Philippoussis, a finalist at both the U.S. Open and Wimbledon, will fly-swat the fuzzy yellow insect sent buzzing over the net by Olympic silver medalist Wayne Ferreira. Because there actually is a rule that says a sassy talking mule can't play tennis, the third match has been canceled.
925 Commonweath Ave.
Boston
Massachusetts
---