Education & Classes in Peachtree City
---
Education & Classes Deals
---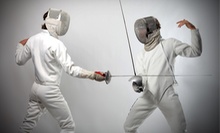 Foot- and bladework anchors each class at this fencing school with numerous notable alumni, including U.S. Olympians
Use Monday 3:00pm - 6:00pm
---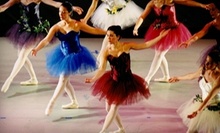 Beginner-focused course imparts foundational vocabulary, positions, steps & combinations in one hour, 30-minute classes
Use Monday 12:00pm - 6:00pm
---
Recommended Education & Classes by Groupon Customers
---
The friendly staff at PatchWerk will graciously introduce you to the beautiful acoustics of Studio 1019, where you will record final vocals or edit your project. A sound master will happily answer any questions you have about the studio. PatchWerk's state-of-the-art facilities have been used to record Annie Lennox, Ludacris, Beyoncé, Young Jeezy, Sting, Snoop Dogg, and many more. And with high-quality CD duplications included, you won't have to spend an entire year performing back-to-back CD burns.
1094 Hemphill Ave.
Atlanta
Georgia
Young Chefs Academy provides a fun, safe, and motivating environment for kids to become acquainted with the art of food and food presentation. Engaging chef instructors instill lessons of kitchen etiquette and safety in youngsters growing up in a world full of laser can openers and sharp pasta rakes, giving children a capable handle on their surroundings as they journey into the land of food. Classes ($25–$35 each) educate a variety of age groups, with specially catered sessions for the kindercooks and junior chefs, combining nutritional meals with basic food-prep skills that teach how to correctly follow a recipe to edible fruition. Senior chefs can partake in advanced classes that dig deeper into kitchen secrets and hone specific skills and techniques that expand the parameters of cooking creativity, creating presentations so astute they beg to be stapled to the refrigerator door.
5945 State Bridge Road, Suite 203
Johns Creek
Georgia
Generations-old Thai family recipes and established Japanese cooking techniques continue to inspire the cooks at Fuji Hana & Thai Peppers. Hibachi chefs man the dining room's six tabletop grills and sear entire orders of scallops or filet mignon right in front of transfixed guests. Hibachi-grilled lobster tail even makes its way onto the restaurant's sushi menu, which includes 12 specialty maki selections that attempt to elevate sushi with sriracha sauce, dried cranberries, or cleverly disguised helium balloons. The Thai menu items remain more grounded in familiar flavor combinations, such as spicy basil fried rice and panang curry with coconut milk and dried chilies.
The colorful cuisine stands in stark contrast to the deep, soothing earth tones that fill the dining room. Hand-laid mosaic tiles complement the dark leather booths, and a 31-foot oak bar surrounds the sushi chefs and bartenders as they dexterously assemble orders.
2700 Town Center Dr., Suite E
Kennesaw
Georgia
770-363-6323
Atlanta Workshop Players Acting Studio was founded in 1981 as the brainchild of seasoned artistic director Lynn Stallings. Since its inception, the company—a creative springboard for young children, teenagers, and adults—has produced dozens of plays and original musicals. FOX 5 spotlighted the program's fun-filled curriculum, which strives to improve self-confidence in students. Stallings and her husband, Don, get into the act as well, sometimes teaching classes alongside guest artists such as William Shakespeare's ghost.
8560 Holcomb Bridge Rd., Suite 111
Alpharetta
Georgia
Aqua-Tots Swim School trains and encourages swimmers in the art of buoyancy through its array of services, specializing in instructing those aged 6 months–12 years in small groups. Instructors boast national certification, completing 32 hours in the company's Lessons for Life training program and successfully completing the Water Safety Instructor exam.
Children are placed in one of eight class levels, from Tadpoles (6 months–18 months), which acquaints infants with the pool, to Stingrays, which is for children who have more experience and want to refine their strokes and one day sting a jellyfish. Each individual class contains no more than four students training under the watchful eye of the instructor in a climate-controlled indoor pool. In addition to the children's program, Aqua-Tots Swim Schools also leads adult swim classes and provides training for both swim competition and first aid.
2655 Cobb Pkwy., Suite #102
Kennesaw
Georgia
A fourth-generation artist, Rose Handy has always made time for creating. After a rollercoaster ride of life changes and moves, Rose and her potter husband Paul opened their own gallery and class space. Joined by a staff of illustrators, quilters, watercolorists, and other artisans, the owners encourage Wild Child students to find their own artistic voices, whether they're hand-building a ceramic bowl, painting a family portrait, or fusing glass pieces together to make a new glass family. The search for new avenues of creativity also extends to the studio's class offerings; beginning in January 2013, aspiring artisans can learn the intricacies of handbuilding and wheel-based pottery techniques as part of the shop's newest curriculum.
120 N Wayne St.
Monroe
Georgia
---