Restaurants in Peachtree City
---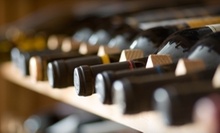 Fried oysters with cajun horseradish, herbed filet mignon & lump crab cakes serve as samples for this upscale restaurant's menu
Use Friday 4:30pm - 6:30pm
---
Recommended Restaurants by Groupon Customers
---
Chef Alain Bouzouba, founder, owner, and sustenance sculptor of Seven Gables, molds edible representations of the continent, presenting them to patrons in a warm, Swiss-chalet-like interior. Between window glimpses of wildlife on the 2.25-acre estate, dining duos can peruse a menu of fine French, Moroccan, and Mediterranean flavors, opening with handmade italian sausage—accompanied by fire-roasted peppers, onions, and pomodoro—and fresh pockets of ravioli riviera, whose crab-meat-stuffed mouths make it impossible for them to tell tasteless jokes. The restaurant's roasted lack of lamb romarin wears an elegant gown of garlic and garden rosemary to the dinner table, and the 8- to 9-ounce filet mignon proves that decadence isn't only for ring fingers by arriving chargrilled and drowned in a yolky béarnaise sauce, just like most ring fingers.
1897 Hwy. 20 SE
Conyers
Georgia
US
770-922-8824
The Sun Dial offers guests a 360-degree view of Atlanta's skyline at its revolving, tri-level dining complex, with Chef Christian Messier overseeing the menu at the vertically-impressive palace. For lunch, feast on fancified favorites such as a grilled cheese sandwich ($11.95) with four turophile-pleasing cheeses on sourdough, or the Caesar BLT ($7.95) with oven-dried tomatoes, pancetta crisp, and foccacia-crouton bread, as the city of Atlanta slowly but surely moves around you. The seasonal dinner menu features main dishes such as roasted lamb chops ($36.95), mustard seed-crusted salmon ($30.95), and cowboy ribeye ($48.95), ideal for taking your mind off of pesky saddlesores. Conclude consumption with a vanilla-strawberry cake ($8) from The Sun Dial's dessert menu. The Sun Dial also serves brunch on Sunday morning.
210 Peachtree St. NW
Atlanta
Georgia
Grape Wine Bar and Bistro's resident culinary mastermind and wine-whisperer, Lavender Morrison, perfectly pairs crafted sips with their gastronomic soul mates to entice visiting palates. Every month, a host of new and unusual wines are showcased in the Discover Wine special, which lets guests sip, sample, and savor sweet nectars selected by region or varietal. These handpicked vinos arrive in 3-ounce flights for optimal grape-blood supping and enthusiastic slurping. This month's toothy tribute to wines of Italy showcases an upstanding cast of key players, including Casteggio Pinot Grigio, Contisssa Vermentino, Masseria Salice Salentino, Gran Sasso Sangiovese, and Casteggio Moscato. Sippers keen for nibbling will be privy to a weekly rotating selection of gourmet small plates, with recent offerings including charcuterie and cheese, porcini-rubbed hangar steak, and a daily flatbread of the chef's selection.
264 19th Street
Atlanta
Georgia
Whether preparing an order for 5 or 500 wings, the chefs at WingBusters USA begin by hand breading each fresh piece of chicken in a house-specialty batter. They then flash-fry the succulent morsels before showering the batch in a blend of spices and sauces to create a roster of signature flavors that includes sweet-and-spicy honey-mustard flavor, citrusy lemon pepper, and hickory-smoked barbecue flavor. Before they commit to slathering a batch, diners can sample any of the restaurant's flavors to ensure that they aren't so spicy they rekindle painful memories of a first kiss with a fire breather.
6825 Hwy. 29
Grantville
Georgia
US
770-583-2500
Sensual Rhythms Cafe's name pays homage to the local bands that take the eatery's stage as often as possible. While live music creates a lively atmosphere, the kitchen whips up tapas, seafood, soul fare, and burgers to keep the sound of growling stomachs from drowning out the music.
3797 Hwy. 138 SE, Suite B
Stockbridge
Georgia
US
678-369-8342
Live music regularly reverberates off Samba Loca Brazilian Steakhouse's bright-red walls, which bear festive decorations of ethnic artwork and wine racks crafted from gleaming chrome. Patrons sit under the full bar's flat-screen TVs, around tables, or in booths as the kitchen's Brazilian recipes power entrees of 14-ounce strip steaks and short ribs doused with chimichurri sauce. Customizable meals come in the form of five grill-fired meats, including filet mignon and red snapper, which don one of nine traditional sauces splashed with notes of curry, blue cheese, or passionfruit. To help them to decide, patrons not fluent in Portuguese can rely on the menu's English and Klingon translations or gaze at screens that feature photos of Samba Loca's signature dishes.
120 Alabama St.
Carrollton
Georgia
US
770-214-1253
---