Restaurants in Peachtree City
---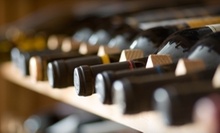 Fried oysters with cajun horseradish, herbed filet mignon & lump crab cakes serve as samples for this upscale restaurant's menu
Use Today 4:30pm - 6:30pm
---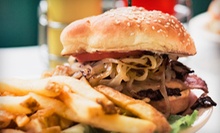 Flank steaks marinated for 24 hours and beer-boiled shrimp fuel hours-long bouts of pool or evenings of live musical entertainment
Use Sunday 12:00pm - 9:00pm
---
Recommended Restaurants by Groupon Customers
---
Chef Alain Bouzouba, founder, owner, and sustenance sculptor of Seven Gables, molds edible representations of the continent, presenting them to patrons in a warm, Swiss-chalet-like interior. Between window glimpses of wildlife on the 2.25-acre estate, dining duos can peruse a menu of fine French, Moroccan, and Mediterranean flavors, opening with handmade italian sausage—accompanied by fire-roasted peppers, onions, and pomodoro—and fresh pockets of ravioli riviera, whose crab-meat-stuffed mouths make it impossible for them to tell tasteless jokes. The restaurant's roasted lack of lamb romarin wears an elegant gown of garlic and garden rosemary to the dinner table, and the 8- to 9-ounce filet mignon proves that decadence isn't only for ring fingers by arriving chargrilled and drowned in a yolky béarnaise sauce, just like most ring fingers.
1897 Hwy. 20 SE
Conyers
Georgia
US
770-922-8824
Carolyn's menu offers plenty of grabbable grub (in whole and half sizes) full of the nutrients and positive attitude needed to support your Iron Man suit. Try the Inspiration, Carolyn's take on the grilled cheese, with a trio of Swiss, cheddar, and provolone ($5.25–$6.75), or beef up with the Need to Succeed, a hot roast-beef sandwich with cream cheese on wheat ($5.48–$6.99). Unlike the average BLT, Carolyn's Commitment to Excellence ($5.48–$6.99) adds blue-cheese crumbles and laser-vision. Those who prefer their food in cocoon form will be happier with a wrap such as the Innerdrive (with pepperoni, salami, ham, lettuce, onion, provolone, tomato, and Italian dressing, $7.49). All of the sandwiches are carefully assembled from fresh-baked breads and Boar's Head meats and cheeses. Carolyn's also offers fresh salads, such as the light yet bacon-topped Cobb salad ($6.99) and personal 8-inch pizzas made from homemade dough and sauce, like the veggie delight pizza (with spinach, mushrooms, onions, olives, tomatoes, feta, and mozzarella, $7.49).
1151 W Peachtree Street
Atlanta
Georgia
New Orleans–born chef Nick Melvin brings a worldly twist to PARISH's Southern comfort-inspired menu, cooking all the food in a cauldron made from a tuba and using bead-covered banjos to stir. In the tradition of Southern solidarity, PARISH uses fresh ingredients from local vendors for its dishes. Enchanted Mountain trout is used for the cornmeal-crusted Georgia trout ($17), while grits from Jenny Jack Sun Farm ride shotgun with the Big Easy Fried Chicken ($14). Other Dixieland dishes include a crispy eggplant étouffée ($16) with pickled raisins and popcorn rice, and stuffed catfish ($17) served on a bed of smoked maque choux. Appetizers include a chicken and andouille-sausage gumbo ($8) and Creole frites ($9) made with okra grown in the Oglethorpe state.
240 N Highland Ave. Northeast
Atlanta
Georgia
Though amphibious turtles may have repurposed the pie as a weapon to be launched, Everybody's Pizza situates itself as a proponent of pizza's unifying powers. Since opening in 1971, Everybody's has made a commitment to freshness, evidenced by dough made daily, high-quality ingredients, and absolutely no artificial flavorings, colorings, preservatives, enhancers, arsenic, or extenders. The result is a menu marked by innovative edibility and top-notch taste. Sample Everybody's beloved chewy and crisp thick-crust pizza ($12.29 for a medium cheese) with an array of non-traditional toppings available ($1.89 each on medium pizzas), including "honeyroast" garlic, toasted sesame seeds, and golden raisins. Cuisineers hesitant to commit to a full crust can try Everybody's very thin pizza crisps, which include the buffalo chicken ($14.99), with onions, cheddar, and provolone, or the Key Largo ($14.99), with shrimp, bacon, sesame seeds, tomato, and a number of cheeses. Everybody's also offers two of its own eatable inventions—pizza salads ($13.95), which lay chilled mixed salads atop fresh-baked pizza like rose petals on a lover's bed, and pizza sandwiches ($9.95–$10.95), folded-over pizzas available in a slew of styles.
1040 N Highland Ave.
Atlanta
Georgia
Whether preparing an order for 5 or 500 wings, the chefs at WingBusters USA begin by hand breading each fresh piece of chicken in a house-specialty batter. They then flash-fry the succulent morsels before showering the batch in a blend of spices and sauces to create a roster of signature flavors that includes sweet-and-spicy honey-mustard flavor, citrusy lemon pepper, and hickory-smoked barbecue flavor. Before they commit to slathering a batch, diners can sample any of the restaurant's flavors to ensure that they aren't so spicy they rekindle painful memories of a first kiss with a fire breather.
6825 Hwy. 29
Grantville
Georgia
US
770-583-2500
Sensual Rhythms Cafe's name pays homage to the local bands that take the eatery's stage as often as possible. While live music creates a lively atmosphere, the kitchen whips up tapas, seafood, soul fare, and burgers to keep the sound of growling stomachs from drowning out the music.
3797 Hwy. 138 SE, Suite B
Stockbridge
Georgia
US
678-369-8342
---