Pearl City, HI Beauty and Salons
---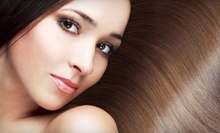 Brazilian Blowouts leave hair smooth, shiny, and more manageable for 10–12 weeks
---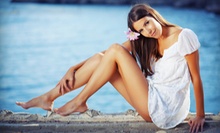 Technicians target unwanted hairs using the LightSheer Duet laser system
---
Recommended Beauty by Groupon Customers
---
While she worked as a massage therapist in physical-therapy clinics and hotel spas, Nikki Sanchez still found time to beautify clients on the side. She earned her aesthetician's license, planned weekly "Beauty Bars," and eventually built a loyal customer base at a rising salon before opening her own lash and wax boutique. At Lash Love, she personalizes each set of silk and mink lash extensions to the eye shape and winking style of each client. By fashioning fibers of different lengths, curls, and thicknesses, she amps up gazes with natural or glam-style looks that require minimal upkeep and no mascara. Her waterproof extensions also permit patrons to swim and give congratulatory butterfly kisses to their reflections after each lap. In addition to augmenting lids, Nikki eliminates unwanted hair with soft or hard wax and refreshes mugs with the vitamin-rich fruit and vegetable ingredients of Skinfood express facials.
2919 Kapiolani Blvd.
Honolulu
Hawaii
808-778-0412
Dr. Dennis Nagata draws upon more than 30 years of experience—including training at USC and a teaching gig at the Las Vegas Institute for Advanced Dental Studies—to build healthy, beautiful smiles. Along with fellow dentist Dr. Wesley Sato and a staff of caring assistants, he furbishes teeth using tools such as Zoom! whitening gel, Invisalign aligners, and dental implants. To remove mercury sources from the mouth, the dentists can replace amalgam fillings with composite fillings or inlays made of hard materials such as gold, ceramics, or calculus proofs. They can also address jaw pain, headaches, and other symptoms of TMJ using digital jaw-tracking instruments and neuromuscular treatments such as low-frequency TENS.
1520 Liliha St., Suite 703
Honolulu
Hawaii
808-526-0670
The nail technicians of Yuna Nail Art transform fingernails and toenails into shining, eye-catching works of art. Adorning nails with colors that go far beyond traditional single-coat polishes, Yuna's detailed manicures adorn fingers in endlessly creative ways, such as painted swirls over a base of matte color or a glossy coat topped with a spray of gems. Nails decorated with rhinestones, glitter, and intricate painted designs are also staples for Yuna clients, helping them to uniquely express their individual style. The salon also offers Calgel gel nail polish that promotes nail health as well as Shellac to ensure fingertip masterpieces do not chip.
1575 S Beretania St., Suite 105
Honolulu
Hawaii
808-352-2110
Rock music and pizza. It's an unlikely pairing as the inspiration for an Aveda salon, but in the hands of friends Jentry and Katy, it grew beyond that as the foundation of their local hair and makeup hub.
An Austin native, co-owner, and stylist, Jentry would sneak into his hometown's Black Cat music venue while still underage to catch sight of acts such as Willie Nelson and Stevie Ray Vaughn. Over the years, the hall came to represent Austin's unique charm and live-music foundation, never succumbing to gimmickry or the status-quo throughout its lifespan. The venue's ability to stick to its roots stayed with Jentry, remaining an inspiration when years later, he and a client, marketing whiz Katy, dreamed of opening their own salon. After months of late-night pizza-and-brainstorming sessions, the concept for their salon came full circle when a black kitten curled up on Jentry's porch. In a unique move toward remembering a tenacious rock bar and what it stood for, the twosome founded their salon: The Black Cat.
Today, a fleet of stylists brandish their shears, color, and powder puffs amid decor that reflects The Black Cat's grittier roots. Clients see the vintage script of the "Sorry, We're Open" front sign before encountering the salon's gray and blue walls accented with rustic wood furniture and panels. The result is a carefully curated contrast of sleek and scuffed, much like a hitchhiker's diamond cufflinks.
3512 Waialae Ave.
Honolulu
Hawaii
808-263-7366
Sean Nakama has immersed himself in the philosophies of renowned hair-product brands ranging from Aveda and Matrix to Paul Brown Hawaii and L'Anza. This extensive education, augmented by experience gained during 15 years in the industry, informs Nakama as he presides over Diva Salon. His team of stylists wields Aveda color products to turn manes a summery blond or a steel gray that blends in with a bank safe's interior. The stylists also employ products from Original Sprout—which uses organic ingredients—as they transform hairscapes. In addition to cutting, coloring, and lengthening locks, Diva Salon's aestheticians apply lash extensions.
1400 Kapiolani Blvd., Suite A28
Honolulu
Hawaii
808-265-4690
---