Pearl, MS Outdoor Activities
---
Recommended Outdoor Activities by Groupon Customers
---
[[m:####The Eagle Ridge Golf Course
The Eagle Ridge Golf Course's 18-hole layout takes golfers loping across 6,526 yards of rolling terrain that beckons to birdie-hunters with a player-friendly, par 72 layout. Throughout the round, players attempt to land skyscraping drives or paper airplanes forged from their opponent's scorecard in the middle of kempt fairways that arch over cresting hilltops on a path to relatively small, elevated greens. Though the undulated landscape affords golfers picturesque views across the layout, it also bears the threat of unfavorable lies, forcing golfers to showcase their ability to soundly strike balls positioned below their feet, around their knees, or balanced on a fellow player's nose. An onsite driving range helps players warm up before the round, and Eagle Ridge caters to clubbers of all ages and abilities with four tee options.
Course at a Glance:
18-hole, par 72 course
Length of 6,256 yards from the farthest tees
Course rating of 68.5 from the farthest tees
Slope rating of 112 from the farthest tees
Four tee options
1500 Raymond Lake Rd. Hwy. 18 S
Raymond
Mississippi
601-857-5993
Guided by 27 years of martial-arts experience, seventh-degree black belt Jason Griffin helps budding martial artists cultivate their skills with his team of certified Taekwondo instructors. Since 1996, they've helped students of all ages learn self-defense, compete in tournaments, and take pride in the practice of martial arts. The team's dedication has paid off: In 2012, the [Jackson Free Press](http://www.jacksonfreepress.com/news/2012/jan/25/best-of-jackson-2012- urban-living/) awarded them the title of Best Martial Arts Studio. In addition to taekwondo classes, the studio hosts birthday parties, boot camps, and more.
125 Dyess Rd.
Ridgeland
Mississippi
601-842-4891
Tremendous trees with 12-foot-wide trunks towered a hundred feet into the sky 36 million years ago, dominating the landscape for centuries before succumbing to the passage of time. An ancient river carried them halfway across the continent and deposited them in a logjam in Mississippi, where they slowly turned to stone. Though the river is long gone, the site thrives today as registered national landmark. The Mississippi Petrified Forest showcases the lifecycle of these primordial trees turned petrified logs.
A shady six-block nature trail winds around the site and ends at an earth-science museum, which contains a collection of dinosaur footprints, whale bones, and a prehistoric camel. Patrons can also screen rocky samples in a water flume for rough gemstones that they can take home or use to save their neighborhood from land developers.
124 Forest Park Rd.
Flora
Mississippi
601-879-8189
---
---
Outdoor Activity Deals - Recently Expired
---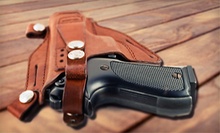 Completion of an online 45- to 60-minute concealed-carry-weapon course lets grads apply for licenses valid in up to 34 states
---
---