Education & Classes in Pearland
---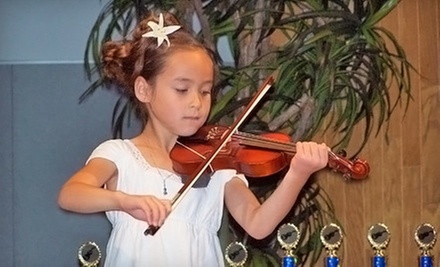 ---
Education & Classes Deals
---
Recommended Education & Classes by Groupon Customers
---
Cooking, along with driving British automobiles and carving Super Bowl MVPs out of bars of soap, is one of the most challenging skills to learn without hands-on instruction. Today's Groupon offers you confidence in your culinary abilities with $30 for any of the featured healthy cooking or baking classes valued at $55 with Well Done Cooking Classes. Learning how to assemble delicious dishes means you'll save the extra calories, high cost, and embarrassing moments involving tuna fish that are commonly associated with eating at restaurants.
4100 Southwest Freeway
Houston
Texas
US
For more than 40 years, Gonzales School of Languages has unraveled an array of tongues with group and private language lessons for all ages, taught by native speakers. The staff of instructors gets novice linguists started on their paths to becoming master polyglots during interactive classes, sharing their own anecdotes and experiences while instilling knowledge of the target language's culture. Small-group classes allow for a variety of basic communications among students and their instructors, and the one-on-one nature of private courses provides a tailored experience for advanced students who are tired of practicing by shouting into caves.
7500 San Felipe St. , Suite 600
Houston
Texas
713-419-1035
With more than 10 years of professional dance competitions and teaching experience under her belt, Dance Passion's owner, Gloria Jones, puts her affinity toward dance and instruction to use in her own studio. Gloria teaches budding boogiers the basics of ballroom, and salsa dancing during private and group lessons. In addition to her regular sessions, she also hosts wedding-themed lessons, where she prepares couples for their first waltz, tango, or chicken dance as husband and wife.
3300 Chimney Rock Rd., Suite 500
Houston
Texas
713-443-8275
MUSIC LESSONS IN YOUR HOME - taught by the best professional musicians in Houston! Serving Houston since 2005, we currently have over 100 instructors for all instruments, subjects and languages in the greater Houston area!
800 Wilcrest Suite #258
Houston
Texas
713-789-2352
What began as a small studio with five enthusiastic dance students has transformed into a full-fledged company that's educated thousands and won multiple awards along the way—including a Certificate of Congressional Recognition. Today, Strictly Street Salsa has a whole team of instructors that has danced its way across the likes of Cuba, Puerto Rico, Colombia, Spain, and Rome and is ready to introduce students to new cultures through the art of dance. The studio offers classes for beginner, intermediate, and advanced dancers in both salsa and tango and hosts dance workshops that blend Latin dance with various cultural elements, including African movement, gypsy music, and good old-fashioned American screaming.
1703 Heights Blvd.
Houston
Texas
It's safe to say Catherine Fox knows her way around a pool. She won an Olympic gold medal for her ability to find her way from end to end. Partnering with Swim Jim owner Jim Spiers, a trainer for 2012 Olympics Bronze medalist Lia Neal, the pair transformed their expertise into a curriculum that helps others learn to love the water as they do. The resulting program, titled the Underwater Schoolhouse, forms the cornerstone of every class held at Swim Jim.
Teachers take on students of all ages, focusing first on helping to cure land dwellers' inherent nervousness around water. To do this, they use a combination of encouragement and humor, never pushing a student further than they're willing to go. Once students take the plunge, the coaches focus on teaching the mechanics of a variety of strokes, such as how to kick during breaststroke or how to emerge gracefully from the chrysalis before butterfly stroke.
1100 Wilcrest Drive, Suite 109
Houston
Texas
713-784-1777
---