Pearland, TX Spa and Massage
---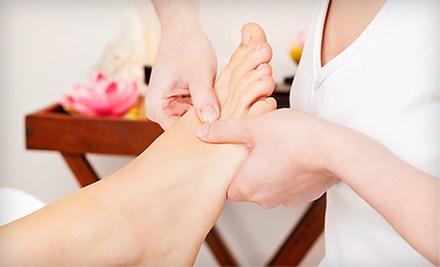 ---
Recommended Spa & Massage by Groupon Customers
---
Upon entering Pure Zen Therapy's tranquil space, clients are greeted by the friendly staff that goes out of its way to get to know regular visitors and to ensure a personalized, comfortable massage experience. Each licensed massage therapist in the spa's stable boasts a resumé of accredited massage hours and a dedication to Pure Zen's personable attitude, a skill set that facilitates clients' complete and total relaxation as therapists release tension and unwind knotted muscles using a variety of modalities. Each of the spa's 13 different styles of traditional, specialty, and foot-centric massage help foster optimal wellness, addressing problems including chronic pain and sports-related soreness or injury.
During sessions ranging from traditional deep-tissue massage to reinvigorating Thai foot massage, therapists encourage their clients to take a minute to acclimate to the relaxing space, using deep breathing and therapeutic wolf howling to purge stress. Pure Zen's Sunday spa brunches, held every other Sunday from 1 p.m. to 4 p.m., nurture the spa's community of relaxation- and wellness-minded clients with a custom massage and foot scrub alongside healthy brunch food and beverages for an additional fee.
2620 Fountain View Dr., Suite 203
Houston
Texas
US
832-413-5332
Though the staff at A Flawless Face performs mostly nonsurgical procedures, plastic surgeon Dr. Fred Aguilar helms the operation. He's triple board-certified—by the American Board of Plastic Surgery, the American Board of Facial Plastic and Reconstructive Surgery, and the American Board of Otolaryngology Head and Neck Surgery—and boasts 28 years of experience in plastic surgery. He and his staff use pharmaceutical, medical-grade serums with compounds derived from soy during various services designed for young, aging, rough, and sensitive skin. In one type of acne treatment, a charcoal clay mask seeps into pores, dissolving the bacteria and leftover barbecue sauce that cause blemishes. Anti-aging services include vitamin A and regeneration treatments, both of which incorporate nutrients that lift and plump skin.
2414 Sunset Blvd.
Houston
Texas
713-521-2414
Licensed massage therapist Michelle Steiner consults with her clients before beginning each one-hour massage. This allows her to customize each session to the recipient's therapeutic needs, which may require light-to-moderate contact or deep pressure. Depending on the client, the session takes place on a massage bed or on the ceiling and may include a blend of Swedish techniques, deep-tissue kneads, and facilitated stretches. Michelle takes a more intensive approach during her 90-minute massages to help those who partake in athletic activities, are highly stressed, or have more than one problem area that needs to be treated.
1100 E NASA Parkway, Suite 420A
Houston
Texas
832-380-4325
Six days a week, the licensed massage therapists at Classic Touch Massage carefully consider each client's unique physical and emotional needs. They draw upon numerous massage modalities, including pregnancy massage that eases discomfort in expectant mothers, therapeutic massage to address chronic pain in wearers of wrought-iron hats, and reiki sessions designed to balance the body's flow of energy.
The tranquil, spa-like setting encourages relaxation with an abundance of green plants and colorful artwork. Inside the couples massage room, friends or mates recline on side-by-side treatment beds that are occasionally strewn with rose petals to mimic the romantic feel of naptime at the local home-and-garden center.
3109 S Shepherd Dr.
Houston
Texas
US
713-522-6333
As fatigued bodies enter The Root of You Salon and Day Spa, music and soothing aromas envelop them. At the salon, stylists cut and color hair, care for nails, and apply makeup for special events and momentous peace talks. Aestheticians present a choice of eight facials that each come with a light massage and hand treatment. The body studio's massage therapists chase stress away with modalities such as warm-stone, aromatherapy, and sports massage. During private parties, the space transforms into a festival of flowers, gift baskets, and catering organized by an event manager and a hostess.
5190 Buffalo Speedway
Houston
Texas
Following her interest in the body's natural healing processes, Dr. Tricia Kapavik began her career in the natural products industry with nutritional supplements. Her line of work soon led to her discovery of the natural healing powers of chiropractic and Eastern medicine. Shortly after, she decided to shift her career arc and open a treatment center where she could work directly with clients suffering from sore backs and shoulders engaged in bitter sibling rivalries.
Dr. Kapavik has since realized that goal, and then some. As a licensed chiropractor and life coach, she combines her experience working with botanicals, functional medicine, nutrition, chiropractics, and teaching fitness classes to develop personalized treatment plans that address the roots of her clients' ailments. Though they specialize in holistic chiropractic care and nutritional testing, Dr. Kapavik and staff also offer a full menu of wellness services, including acupuncture and massage therapy.
12288 Westheimer Road, Suite 310
Houston
Texas
281-556-9355
---