Pecan Grove, TX Indoor Activities
---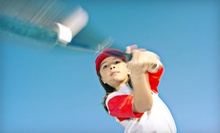 Use Today 3:00pm - 9:00pm
---
Recommended Indoor Activities by Groupon Customers
---
This performance is ideal for anyone who's nostalgic for the days when they slept under the stars and sipped from a flask of fresh-squeezed tumbleweed juice. Exposure to the sweet hymns of the Fort Bend Symphony Orchestra stokes wizend mustaches back to life and cures the itching and burning of severe rashes.
10505 Cash Road
Stafford
Texas
Emerald Bowl is a super-clean facility on Boone Road boasting a full bar and snack bar. From gorging on grub to pin knocking, this deluxe package will appease partygoers of all ages. If you're still scraping vanilla frosting off the ceiling fan from last year's soiree, hosting an event someplace other than your home is a way to celebrate sans time-consuming clean-up. Call ahead to schedule your shindig. Invite additional guests for $6 a person.
9307 Boone Rd.
Houston
Texas
From its first days as a converted parking garage to its time as a host for Quentin Tarantino's five-day movie marathons, Alamo Drafthouse Cinema has ushered film-lovers of all breeds into its atypical auditoriums. The theaters subvert the industry standard by offering locally brewed beer and fine wines, a rotating menu of handcrafted snacks and desserts, and an advertisement-free experience. A long table stretches in front of every row of seats, enabling waiters to unobtrusively pick up written food orders throughout the night.
Both first-run blockbusters and classics are projected onto the silver screen in crisp 35-millimeter or digital format. Meanwhile, surround sound submerges audiences in the cinematic landscape, whether they're seated in one of the intimate theaters reserved for indie screenings or the more expansive spaces afforded to Hollywood epics.
The staff and an enormous shepherd's crook enforce a strict no-talking, no-texting policy—with a few notable exceptions. For example, fan-centric Quote-Along and Sing-Along nights encourage guests to shout their favorite lines, and appearances by actors, directors, and other film celebrities append in-depth discussions onto the show. These exclusive events have helped build Alamo Drafthouse's reputation among cinephiles across the country, leading to nods from Entertainment Weekly, which called it "one of America's most fanatically unique moviegoing experiences," and Wired, which opined that it "might just be the coolest movie theater in the world."
1000 West Oaks Mall
Houston
Texas
281-920-9268
The leaders of Eight Friends Out fashion themselves equal parts matchmakers and event planners, helping Houston singles meet and commingle through fun, safe events. Annual and semiannual memberships grant members admission to a variety of themed speed-dating events, such as Italian brunches, Indian dinners, and martini nights, which are hosted at a variety of venues. Events typically are arranged by age group, as the staff recognizes that most people prefer to date within five years of their own age. Eight Friends Out's team is proud of its track record, estimating an average of about three marriages per year in its nearly 20-year history.
5115 Westheimer
Houston
Texas
281-870-0827
Sky Zone's patented playing courts encourage guests to bounce off trampoline floors and angled walls during a slew of entertaining activities. After lacing up Sky Zone's special shoes, kids and adults can storm the courts for open jump, 3-D dodge ball or sky slam, where jumpers aim basketballs at hanging hoops. For more structured movements, instructors lead SkyRobics classes that can help burn up to 1,000 calories in one hour. Though not included with this Groupon, the facility welcomes groups for birthday parties, corporate events, and burning effigies of Isaac Newton.
10207 S Sam Houston Pkwy. W
Houston
Texas
At ComedySportz, the spontaneity of improv humor marries the competitiveness of athletics in three weekly shows that churn out laughs for roughly 100 minutes each. During a match, two opposing teams of comics square off as a referee presides. The teams launch into sketches and routines fueled by audience suggestions, much like on the TV shows Whose Line Is It Anyway? and World News with Diane Sawyer. Since random, casual outbursts are so integral to the show, no two performances are the same, and many fans check the lineup to see when their favorite funnypeople take the stage next.
901 Town & Country Blvd
Houston
Texas
---