Peekskill, NY Health and Fitness
---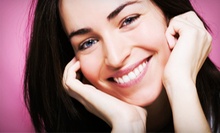 A cleaning, exam, x-rays, and optional kids' fluoride treatment from Dr. Sherri Alpert, who's authored two kids' books on tooth care
Use Monday 9:00am - 11:00am
---
Recommended Health & Fitness by Groupon Customers
---
Licensed massage therapist and Move2Wellness owner Rob Young envisioned his business as a place where clients could come to adjust "their own inner compass." This compass comprises his company's logo, which is fitting given that his relaxing massage work charts such a direct course for his customers to follow in order to feel renewed. Alongside Rob is a team of professionals equally well versed in the healing arts, including yoga instructors, reiki practitioners, a naturopathic physician, and a qi gong instructor.
635 Danbury Rd.
Ridgefield
Connecticut
203-403-2522
Sphericality's team of female trainers cultivates a motivating and nonintimidating workout environment where everyone is on a first-name basis rather than an AOL-username basis. During the diverse range of classes, the friendly instructors aim to work the entire body through yoga poses, pole-dancing routines, or Gyrotonic exercises. In addition to classes, they host regular workshops to supplement workouts with advice on nutrition or the healing arts of Tibet. Classes take place within the vintage, yet renovated, Deats Building—built in 1881—which boasts hardwood floors, walls of windows, and classical columns.
124 Main Street
Flemington
New Jersey
908-376-1422
Ocean Sands Scuba's knowledgeable instructors guide divers into the deep with scuba training for beginner and advanced aquanauts alike. Interested patrons test their sea lungs in introductory scuba classes, splashing about in the facility's custom-built pool before moving on to a complete certification course. During certification, students pick up essential information on equipment, techniques, and the trendiest Atlantean nightclubs through in-class study and pool dives. After four weekly classes, burgeoning submergers hit the open water on one of Ocean Sands Scuba's dive trips to Gull Lake or Lake Michigan. Ocean Sands Scuba also stocks scuba equipment from Scubapro, Diverite, and Stahlsac for divers who have already reached certification or for hydrophobic sea turtles.
235 Ferry St.
Easton
Pennsylvania
US
610-559-7211
iFloat helps clients escape the weight of the world by forgetting the weight of their bodies. Inside the spa's quiet, dark chambers, clients float atop a warm epsom-salt solution that creates the illusion of weightlessness. The effect of this environment is to slow brain waves, producing vivid imagery, creative thoughts, and an epiphany about how to make square dancing slightly more popular. There are other benefits, too; sessions can reduce blood pressure, stress, and anxiety. After flotation sessions, clients can relax inside a comfortable lounge and sip complimentary tea.
163 Main St., 2nd Floor
Westport
Connecticut
203-226-7378
As a graduate of Columbia University's School of Dental Medicine and the former director of dental implantology at Lutheran Medical Center, Dr. Gerald Cohen confidently tends to his patients' long-term oral health while also renovating smiles with the latest cosmetic treatments. Along with the expertise of its staff, the sophisticated practice fights off decay and beautifies precious enamel deposits with help from high-tech gadgets such as a 3-D cone beam scanner, which accurately analyzes mouthscapes with a significant reduction in radiation, and digital impressions that negate the need for messy tooth trays or tooth-fingerprint kits. Routine exams and cleanings guard against cavities and oral cancer, and Dr. Cohen's onsite dental lab speedily constructs personalized implants and veneers to ensure a perfect match for each patient's mouth. As a testament to Greenwich Cosmetic Dentistry's commitment to technology and patient comfort, staff provide each guest with an iPad to occupy them as they wait and offer sedation dentistry for nervous patients to allow them to sleep through their treatment and awaken on the first day of spring.
40 W Elm St.
Greenwich
Connecticut
203-869-2651
At Tender Footcare, podiatrist Dr. Elvira Callahan strives to improve the health of feet and ankles using advanced laser technology. To banish toenail fungus, Dr. Callahan employs a laser designed to denature the infection beneath the surface without harming surrounding tissues or lacy socks. Alternately, Dr. Callahan uses Fotona's long-pulse laser to penetrate the blood vessels beneath warts and thereby wipe out the virus that causes them.
102-30 67th Ave. , Suite 1S
Queens
New York
718-275-7590
---