Tours in Peekskill
---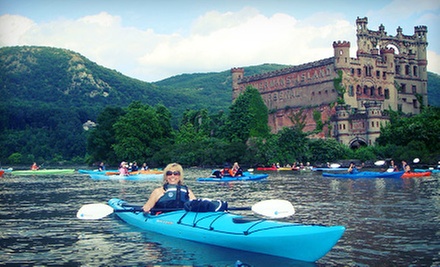 ---
Recommended Tours by Groupon Customers
---
Public and private tours of NYC's top pizzerias by bus and on foot.
53 Spring Street
New York
New York
US
212-209-3370
At Tread Bike Shop, a team of cyclists and professional mechanics unite patrons with their perfect two-wheeled soulmates. Two employees are masters in the art of Body Geometry Fitting, in which they adjust handlebars and saddles to account for riders' comfort, efficiency, and safety while maintaining their ability to outrace cheetahs escaped from the zoo. Further catering to customers' individual needs, the staff helps to select bikes from brands such as Cannondale and Dohan and prepare them for test drives. Throughout the store, a vast inventory of accessories and apparel equips riders for any biking situation, and a repair center tunes up frames and erases evidence of collisions with car doors suddenly painted on brick walls. The shop also rents out both comfort and sports models for abbreviated excursions through the city's streets and parks.
250 Dyckman St.
New York
New York
212-544-7055
Turn your soul's storage unit over to Dead Apple Tours for a two-hour sightseeing trip covering some of the city's deathiest spots. Up to seven passengers will climb inside "Desdemona," a 1960 Cadillac hearse, and then be whisked away in the funeral coach to Manhattan's macabre landmarks of murder, death, and mystery. See where President James Monroe spent his last days before his patriotic-to-the-end July 4, 1831, death, and cruise past the locations where artists Jean-Michel Basquiat and Keith Haring each saw final brushstrokes painted upon their respective mortal canvases. Other sights on the tour include the apartment buildings where Heath Ledger and Sid Vicious died, as well as the scene of mobster "Crazy Joe" Gallo's 1972 death by mob-hit. Dead Apple Tours also highlights the grisly histories of such landmarks as the Empire State Building and the Brooklyn Bridge and explores true-life tales of mayhem and mutilation, such as Hangman's Elm and the Butcher of Tompkins Square Park—the latter of which is guaranteed to temporarily remove soup from tour-takers' diets.
36th and Madison
New York
New York
Hush Hip Hop Tours aims to educate and entertain guests in the history of hip-hop, showing the evolution of a truly New York art form through the eyes of actual artists. Each jam-filled journey is led by pioneers, including but not limited to GrandMaster Caz (Cold Crush Brothers), Kurtis Blow, Rahiem (Furious Five), and Reggie Reg (Crash Crew). They'll take you through their old stomping grounds while sharing personal stories and anecdotes as only a pre-old-school rhyme master could. Follow in their footsteps with your choice of two tour options, each covering different boroughs and slices of history. The two-hour guided Walk This Way tour takes movement neophytes and artistic aficionados on an easy stroll through Harlem's historic streets, with photo-friendly pit stops at the legendary Apollo Theater and an array of clubs. Or stake your seat on the four-hour Birthplace of Hip-Hop bus tour, which cruises through Manhattan and the Bronx to learn about the form in its formative years and see its rare, embarrassing baby photos.
35 W 134th St.
New York
New York
New York City Photo Safari coordinates year-round educational excursions that blend hands-on photography lessons with tours of NYC's most famous locales. Owner Diem "Zim" Pham—who works as a travel photographer, a position that often requires the skills to create compelling images in less-than-ideal conditions—and Zim's team of instructors are all professional photographers currently working in the industry. Safari sizes stay cozy at no more than eight people, allowing for a wealth of personalized feedback and troubleshooting advice for each apprentice. The Metropolitan Museum of Art safari employs the lauded museum halls as a setting for lessons in the use of light and how to overcome difficult lighting challenges, whereas the avant-garde High Line Elevated Park course instructs eyes in the art of composition. Aspiring politicos can embark on the City Hall safari, which fills memory cards with crisp shots of neo-classic architecture and caped superheroes flying to and from the mayor's office.
Broadway and 23rd St.
Manhattan
New York
718-268-9634
Hampton Luxury Liner ferries its passengers around in a lavish motorcoach that boasts five flat-screen TVs, complimentary WiFi, and an on-bus library. The luxury buses travel to destinations ranging from the Hamptons to Atlantic City, with specific stops at wineries, resorts, and casinos. Reclining leather seats with space for laptops and maximum leg extension typify the cushy interior, and each road cruiser also comes equipped with a snack bar, library, and refrigerator, useful for storing steaks to distract the thousands of chasing dogs such a luxurious bus usually attracts.
56 Veterans Hwy.
Commack
New York
---