Restaurants in Pelham
---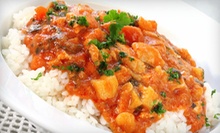 Chefs combine ancient and modern cooking approaches to create a unique culinary experience with the exotic flavors of India
---
Recommended Restaurants by Groupon Customers
---
The robust aromas of Dominican specialties float through the air inside Terra Luna Cafe's kitchen. Chefs stuff traditional quipes, or cracked-wheat fritters, with ground beef, and sprinkle plates of mofongo—smashed, fried plantains—with shrimp and crispy pork. A handful of dishes from Europe—including Italian meals such as chicken cacciatore—round out the globe-trotting menu.
On Wednesdays through Sundays, spice-laden scents from these plates mingle with the fiery melodies of musical guests in the dining room. Live bands unwind notes from Spanish classical guitars on Thursday nights, and DJs keep the restaurant's brick archways up over the weekend with an unending stream of salsa, merengue, and popular dance music.
225 Essex St.
Lawrence
Massachusetts
US
978-747-7989
Each day the chefs at every Pollo Campero location marinate whole, fresh chickens for 12 hours in citrus and spices, infusing every bit of the meat with Latin American flavors to prepare grilled chicken. Every piece of golden, crispy fried chicken is seasoned and prepared by hand, and whether fried or grilled, the chefs always start cooking with the whole chicken. Their technique is based on the founders' family recipe, which was passed down from generation to generation. In addition to following the traditional recipe, they also add a modern twist to their menu with yuca fries, empanadas, sweet plantains, and caramel flan that can tweet. Servers deliver dishes with real plates and silverware to tables along with beverages from a selection ranging from horchata and tamarindo, a tangy fruit drink, to soda and tea.
195 Lowell St.
Lawrence
Massachusetts
978-682-4440
Sports, Spirits & Steaks combines the television-studded walls of a sports bar with the hearty comfort food of a neighborhood pub. Menu items include baby back ribs and half-pound burgers, as well as more internationally inspired dishes, such as tempura-fried shrimp with coconut breading. Cooks can also top hand-stretched, thin-crust pizzas with a combination of 17 available toppings, including basil, sausage, and red onion.
Although its menu might distinguish Sports, Spirits & Steaks from other bars, guests are also welcome to just knock back a beer while watching Boston sports teams compete for control of the world's supply of silver-plated trophies. Sixty plasma televisions line the bar's walls, and all booths boast their own small screen, which may have prompted Patch to describe the spot as "a veritable North Reading sports haven." Even the color scheme evokes the feel of well-trodden sports turf, surrounding visitors with yellow-green walls and pool tables lined with emerald-green felt.
178 Main St.
North Reading
Massachusetts
US
978-664-9889
Michael's Market is part deli, part restaurant, and part catering company. That means that sometimes customers visit one of its two locations to lunch on crabmeat salad on focaccia bread or chicken cordon bleu on a baguette, and sometimes they pop in just to pick up some fresh marinated meats. If patrons are hosting a morning meeting or a business lunch, they also can pick out a platter of stuffed finger sandwiches or pastries from the corporate menu so attendees won't start gnawing on their laptop power cords for sustenance. The catering menu is full of variety: chefs can prepare a platter of hand-rolled swedish meatballs, a tray of lasagna with house marinara, or a spread of seafood au gratin—baked shrimp, scallops, lobster, and shrimp pieces with cheese and Ritz Crackers crumbs.
5 Lawrence Rd
Salem
New Hampshire
US
603-912-5974
---