Things to Do in Pell City
---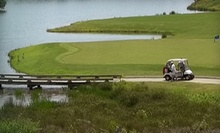 Balls sail over scenic traps of water & sand designed by Arthur Davis as pairs of players navigate 18 holes of undulating fairways
Use Monday 9:00am - 5:00pm
---
Recommended Things to Do by Groupon Customers
---
Under the shadowy cover of nightfall, and by the flickering glow of a lantern, the Birmingham Ghost Walk weaves gaggles of ghost seekers through the city's spirit-populated historical sites. Tour leader Wolfgang Poe leads each march through time, beginning with a group-bonding ritual that tunes minds into the vibrations of Wolfgang's spirit guides. Winding toward the Alabama and Lyric Theaters, walks stop to discuss brothels, taverns, and townhouses long since gone, but not vacated by their former inhabitants. As the moon slinks behind clouds and shadows move into the shapes of embarrassing childhood nicknames, tour-takers shake off spine-tingling chills to finish the adventure at the Tutwiler Hotel. Cameras are allowed and, due to its dark themes and subject matter, the Ghost Walk gives itself a PG-13 rating.
2100 Park Place
Birmingham
Alabama
After working for decades as a successful oil executive, National Senior Games gold medalist Homer Brown decided to shift gears, opening BumperNets in 1999 to promote his beloved sport of table tennis to the masses. Nestled within the Riverchase Galleria Mall, Brown's well-stocked, interactive emporium lets visitors hone their ping-pong or pool skills under the tutelage of a trained professional, or master the finer points of team management at the foosball table. Homer and his knowledgeable staff help guests deck game rooms in felt-clad pool tables, glittering pinball machines, and skee-ball alleys for rental or purchase, and can assist with onsite assembly.
2000 Riverchase Galleria, Lower Level
Birmingham
Alabama
205-987-2222
Inside their blue-walled studio, staffers at Do It Yourself Crafts help visitors wield glass, tie-dye, silver clay, and pottery paints to create colorful, one-of-a-kind artwork. Glass-fusion classes teach patrons the skills they need to meld glass shards into funky tiles, and parties bring friends together to bond while they work on various art projects; patrons 21 or older can tote along libations to fuel the festivities. During pottery-painting sessions, patrons select a piece of raw ceramic bisque to adorn with provided pigments, choosing from forms such as plates, mugs, and plaques.
1909 Oxmoor Rd.
Homewood
Alabama
205-868-4346
Spanning 4,000 square feet, the climbing surfaces at First Avenue Rocks mimic the natural textures of the abundant local sandstone boulder terrain. One hundred varied climbing routes up to 17 feet high greet climbers who choose to ascend by bouldering without ropes on angled walls and roofs dotted with challenging foot-and handholds or on the facility's ropes courses. For safety, the facility positions its vertical terrain above the floor's 10-inch-deep Asana pads for safe landings in the event of missed holds or misguided urges to fly. Instructors are available to prep students of all ages and ability levels to tackle the gym's terrain, teaching three stages of introductory climbing courses and two advanced lead-climbing courses. When not on the rocks, guests can hone muscle cooperation through onsite fitness programs in weight training, yoga, CrossFit, and climbing-specific training. Outdoor excursions are also available with the gym's guides, certified by the American Mountain Guides Association, in top rope, sport climbing, and bouldering.
2417 1st Ave. S
Birmingham
Alabama
205-320-2277
The Yoga Circle's focus on hosting classes that accommodate students of all skill levels earned the heated practice space the honor of CityVoter's Best Yoga Studio in 2009. The studio's robust selection of classes takes place amid temperatures up to 105 degrees. Instructors guide students through moves such as Hot Soul's repeated asana sequence, which establishes the fundamental alignment and breathing technique needed for continued yoga practice and Marvin Gaye–quality pipes. Kundalini sessions refocus minds on enhancing bodily energy with a combination of centering poses and mantras hummed in iambic pentameter, and core Vinyasa classes introduce deeply held stretches alongside such challenging postures as arm balances, inversions, and triple axels while instructors drift about to offer adjustments. Retreating to the on-site shower facilities after class, students can rid muscles of salty sweat before returning home to walk their pet slugs.
1425 Richard Arrington Jr. Blvd. S
Birmingham
Alabama
US
Painted By U caters to burgeoning artists and crafters of all ages in a studio that invites visitors to create fused glass works, paint ceramic bisques, or color blank canvases. After choosing their piece from a selection of more than 300 ceramic forms, walk-in artists can elect colors from a rainbow of glazes with which to paint mugs, tiles, and pieces of Atlantis. Meanwhile, a glittering array of glass pieces awaits selection as experts help artists fuse and slump their assemblages into vibrant silica masterpieces. The studio's collection of idea books, stencils, and stamps kindle artistic inspiration, while studio assistants lend tips and tricks to creators hard at work. Party-planners can rent out an activity room that accommodates up to 18 guests to forge art-filled birthdays, bridal showers, or ladies' nights.
713 Montgomery Hwy. S , Suite 139
Birmingham
Alabama
---