Pembroke Pines Beauty and Salons
---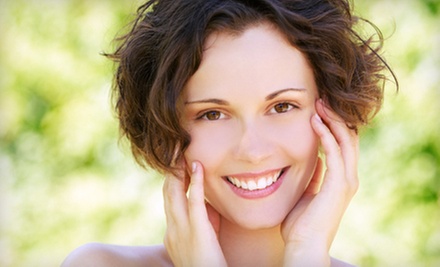 ---
Recommended Beauty by Groupon Customers
---
The Nails Spa's carefully chosen staff lavishes attention on clients' paws, wielding products from brands such as Essie, SkinCeuticals, and CND Shellac. Tan pedicure thrones host reclining bodies beneath mirrored archways as baby nail files play hide-and-seek on shelves hung with leafy ferns and bamboo.
15651 Sheridan St., Suite 800
Davie
Florida
954-358-0717
Rossie Nail Tech Salon's team of technicians beautifies hair, hands, and feet with well-honed techniques and a specialty line of nail and hair products. Once nails are filed and freed from scraggly cuticles, daubs of traditional or Shellac polishes coat digits in vibrant, long-lasting color. Natural nails longing for length turn to acrylics, whose sturdy square or rounded edges adorn hands with white french tips, tiny inset jewels, and other embellishments. Each staffer calls on an arsenal of professional-grade tools, which are sterilized using the same autoclave technology used on medical instruments to ensure equipment is spic, span, and up to date on Doogie Howser, M.D. plotlines. On their way out the door, clients can pick up a bottle of Rossie Nail Tech Salon's specialty line of hardening topcoats, which are imbued with ingredients such as garlic oil and collagen, or grab bottles of shampoo and conditioner formulated to nurture hair before and after keratin treatments.
1632 West 38 Place
Hialeah
Florida
786-344-1805
Dr. Jorge Gaviria brings more than 15 years of hair-restoration-surgery experience to every procedure he performs. Moreover, as Dr. Gaviria's website proclaims, he is not just a surgeon but "an artist whose medium is the hair and scalp." He and the med-spa team at Pure Restorations help men and women regain their coif confidence with follicle transplants that cause minimal discomfort. Transplants reverse the once-irreversible thinning associated with genetics, medication, and kleptomaniacal hats. The clinic's menu of rejuvenating services also includes facials, injectable wrinkle fillers, sclerotherapy, and laser hair removal.
3801 Biscayne Boulevard, Suite 210
Miami
Florida
305-571-0637
Beauty Experience Facial Bar's aestheticians cleanse and nurture complexions with cutting-edge treatments designed to promote healthy and beautiful skin. A DermaFlash Skin Analysis Machine allows the aesthetician to customize each treatment to the client's unique skin type and astrological sign.
3900 NW 79th Ave., Suite 412
Doral
Florida
305-812-9117
Under the tutelage of board-certified doctors, the staff at Miami MD Spa utilizes cutting-edge laser technology to help clients attain smooth skin and revitalized features. The FDA-approved Candela GentleYAG laser machine plies hair from men's and women's skin through a small applicator tip that leaves regions such as the legs, back, and face free of unwanted body hair and necks free of steel bolts. While high-tech gadgets flicker and pulse, spa treatments such as medical peels, facials, and microdermabrasions actively encourage youthful color and firm texture to return to a client's face after years of working as a California Raisin impersonator.
7975 NW 154th St., Suite 200A
Miami Lakes
Florida
305-822-2824
At the new Golden Butterflies Spa & Rehab Center, medical staffers trained in high-tech, nonsurgical procedures team up with beauty therapists to transform bodies into fashion statements, independent of clothes. The team's most unusual treatments involve hormones and plasma formulas rich in platelet cells, which can alter body chemistry to catalyze rejuvenation and the cultivation of tiny victory gardens by the digestive tract's flora. Lasers do double duty as emissaries of smooth, hairless skin and leaner bodily contours, whereas cosmetic injections focus on creating youthful faces and obliterating cellulite. With aromatic oils and warm stones within reach, the gentle hands of massage therapists send waves of relaxation rolling through muscles via the careful acupressure of reflexology or deep-tissue therapy aimed at soothing connective tissue. Permanent cosmetics stands out as the only service with effects meant to endure forever, unlike promises of marriage to snowmen.
3900 Northwest 79th Avenue
Miami
Florida
786-331-3992
---