Beauty & Spas in Pembroke Pines
---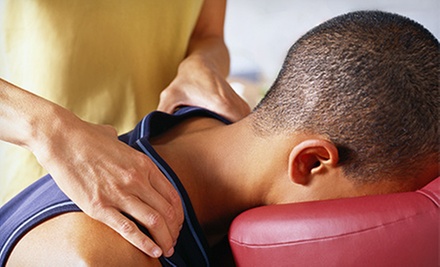 Richway At Pembroke Pines
---
Recommended Beauty & Spas by Groupon Customers
---
Aromas MedSpa is a full-service wellness enterprise with noninvasive treatments that heal ailments and enhance beauty. Specializing in skincare, cosmetic professionals aim Candela and Cynosure lasers at body hair, permanently reducing unwanted tufts or mutton chops. The specialists complement cosmetic procedures for the body and face with health services that eliminate unsightly warts and funguses or promote sustainable weight loss.
Aromas MedSpa's spa services incorporate new, uncommon technologies. For instance, the infrared sauna and the DermaLife Spa Jet create a two-part program of multisensory, holistic healing based on the therapeutic properties of infrared heat. In the dry carbon sauna, warm infrared rays beam deep into the body to catalyze sweating, ease chronic aches, recharge the body's inner reading light, and melt tension in the limbs. Then, the 60-gallon DermaLife pod immerses guests in clouds of soothing steam heated by infrared energy. Infused with aromatic essential oils and antioxidants, the pod's enriched atmosphere awakens the senses and conditions the skin while four LED stations illuminate droplets of vapor with colorful light shows known to soothe the overactive minds of most disco dancers.
9831 NW 58th St., Suite 149
Doral
Florida
USA
305-591-3005
Entering Nail Matrix feels like walking into a cloudscape. Crisp white furniture, robin's-egg-blue walls, and sleek nail stations exude an airy atmosphere designed to add a hint of relaxation to all manner of services, from sea-salt pedicures to chic french manicures and detailed waxing sessions. Although technicians use acrylic materials during nail sessions, the salon's ventilation system continuously sweeps pernicious fumes from the building, ensuring clear air for clients and any paintings that spring to life. The team also upholds standards of cleanliness by administering all foot soaks in versatile tubs equipped with disposable liners.
1803 NW 68th Ave.
Hollywood
Florida
754-400-8699
At Nu Image Medical, a variety of treatment options cover the gamut of aesthetic concerns. Certified physician's assistants and laser technicians deftly wields lasers to noninvasively zap faces into restoration, or evict unwanted hairs from bodily surfaces. Facial fillers lift lips, bolster faces, and fit heads into larger hats, and supplements and hormones help coax exercisers down the path to weight loss.
3550 Biscayne Blvd, Suite 503
Miami
Florida
US
305-974-1811
At Solution Medical Esthetic, owner Jackie Valdes and her team of aestheticians perform cosmetic services backed by medical research to enhance the appearances and confidence levels of their clients. They renew façades with treatments ranging from microdermabrasion to anti-aging facials. Moving away from the face, services such as laser hair removal further help clients achieve their aesthetic goals and accept the fact that lasers are real. Promoting lifestyle changes to complement their beauty services, Solution's staff offers nutritional counseling.
4178 W 12th Ave.
Hialeah
Florida
US
305-822-1894
The Nails Spa's carefully chosen staff lavishes attention on clients' paws, wielding products from brands such as Essie, SkinCeuticals, and CND Shellac. Tan pedicure thrones host reclining bodies beneath mirrored archways as baby nail files play hide-and-seek on shelves hung with leafy ferns and bamboo.
15651 Sheridan St., Suite 800
Davie
Florida
954-358-0717
Rejuvenate Doctor's board-certified physicians help individuals not only treat the signs of aging but also prevent and even reverse them by focusing specifically on hormonal health. Following the idea that "we age because hormones decline," founder and medical director Dr. Tina Miranda and her med-spa staff strive to tailor anti-aging treatment plans that will stop that decline faster than you can say, "Stop declining, you stupid jerks!" The team uses complimentary consultations to devise a plan that may combine hormone-replacement therapy with nutrition counseling, exercise, and sleep techniques. As part of its restorative treatments, the team also works to reverse aging on the outside to help patients both feel and look younger. The staffers use cosmetic treatments such as Botox, Restylane, laser skin peels, and time machines to imbue even the most timeworn and wrinkle-riddled hides with youthful radiance.
20801 Biscayne Blvd., Suite 403
Aventura
Florida
954-925-8100
---