Pembroke Pines Indoor Activities
---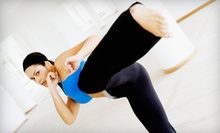 Build endurance and strength while burning 450–600 calories in kickboxing classes that combine elements from martial arts and yoga
Use Monday 4:00pm - 7:00pm
---
Recommended Indoor Activities by Groupon Customers
---
As they continue to find their ice-footing this year, the Panthers strive to wrest control of the NHL's jungle gym by dominating visiting pucksters on their home ice. Witness the squad's skate-borne feats of athleticism as they attempt to vanquish their Eastern Conference foes the Ottawa Senators, New York Islanders, or Toronto Maple Leafs. Premium lower-bowl seating gets spectators close enough to see the intricate weaving of line formations and collect ice flecks from the players' skates to make snow cones. Your exact stadium location will be determined upon your arrival, and groups must purchase tickets together for consecutive seats if they don't want their painted torsos' letters to accidentally spell, "Flo, rid a pant. Hers."
1 Panther Pkwy.
Sunrise
Florida
With only 130 seats, Mosaic Theatre can justly claim that there's not a bad seat in the house. Designed to be a maximally flexible space, the venue changes its seating for every performance to enhance the theatergoing experience for visitors or to clear way for the mid-play goat chorus line.
12200 W Broward Blvd.
Plantation
Florida
954-577-8243
Novelty shirts airbrushed with bikini-clad bodies provide the convincing, if temporary, illusion of fitness. Find a more permanent fitness solution with today's Groupon. For $45, you get five group circuit classes at Nomi Pilates, a $175 value. Your Groupon also gets you 50% off a $100 private session should you choose to partake (you can purchase it when you go to the studio). This North Miami boutique studio offers a range of classes aiming to reform the shape of your body, mind, and shadow.
2124 NE 123rd St.
North Miami
Florida
US
In 1989, Young At Art began as a small, 3,200-square-foot children's museum dedicated to shaping young minds and enriching the community through the transformative power of art. Since then, the tiny workshop has grown into a 55,000-square-foot collection of activities celebrating the diverse influences of art on our lives and imaginations, garnering a rare accreditation by the American Association of Museums for its efforts. At ArtScapes—one of the four main exhibits—kids and their parents travel through The Cave, a frantic slideshow of images conveying 5,000 years of human history, step into a replica of a New York City subway car, and view examples of graffiti as a means of creative expression against the oppressive forces of aluminum spray cans.
Elsewhere, WonderScapes transports children up to 4 years old to a world inspired by the illustrations of DeLoss McGraw, whose version of Alice in Wonderland won the Society of Illustrators Book of the Year award in 2002, and GreenScapes demonstrates the immutable intersection of art and the environment as visitors build sculptures from natural materials. Never ones to ignore their creativity, teenagers can find refuge in the Teen Center, where a graphic design lab with Mac computers and a recording studio let them convert their pre-calc homework into digital form before it's too late.
11584 W St. Rd. 84
Davie
Florida
The Marlins take the field at Marlins Park: an eco-friendly, 37,000-seat facility equipped with a retractable roof, plexiglass fish tanks behind home plate, and a vibrant sculpture in left-center field that kicks into motion for Marlins home runs. Born in 1993, the Florida Marlins quickly established themselves as contenders in the National League, taking home World Series titles in 1997 and 2003. And today, after some light rebranding to go along with the new ballpark, the rechristened Miami Marlins aim to continue traditions new and old, expanding their list of Hall of Famers.
Major League Baseball trademarks and copyrights are used with permission of MLB Advanced Media, L.P. All rights reserved.
2269 NW 199th St.
Miami Gardens
Florida
Established in 1988, FIST Mixed Martial Arts offers a potent puree of several styles, including Krav Maga, kung fu, kickboxing, and Jiu-Jitsu, in its curriculum. Throughout the lessons, the school's instructors emphasize self-confidence, discipline, balance, and how a well-delivered high kick can get any malfunctioning jukebox working again. FIST's top priority is the safety of its students, meaning all engagements are closely monitored and students must wear the proper safety equipment. Each class is an hour long, with courses open to martial artists of all ages and abilities. There are classes specifically designed for children (ages 5–7), youth (ages 8–12), and adults (ages 12+), as well as general fitness classes. Check the schedule for upcoming course options.
2275 NE 164th Street
North Miami Beach
Florida
---