Pennsauken, NJ Health and Fitness
---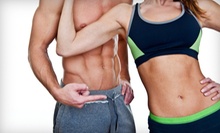 Creative sequences & alignment of Vinyasa flow & lyengar yoga's precision marry Ashtanga power yoga as guests perform basic postures
Use Sunday 6:00am - 9:00am
---
Recommended Health & Fitness by Groupon Customers
---
Sunlight streams into Urbanfront Pilates through the large, second-story windows, reflects off mirrors that cover entire walls, and illuminates hardworking exercisers tightening core muscles. The purple and green studio is home to eight different group classes, led by expert instructors who believe that a strong core is the foundation for full-body health. They walk customers through how to tighten tummies with various pieces of equipment, such as the Tower class's spring-resistance apparatuses or the Xtend class's ballet barre. In mat classes, students use only body resistance and mental images of the Vitruvian Man's hot cousin to aid in chiseling physiques. Dedicated to fostering community within the studio, Urbanfront Pilates hosts teacher training by Power Pilates–trained professionals who help pupils transform their passion into a livelihood.
1700 Sansom St.
Philadelphia
Pennsylvania
US
With today's Groupon, get a Superwoman workout without having to battle Kryptonite-powered mechanical apes: $13 gets you four fitness classes at Debra Mazda's ShapelyGirl Fitness, a $25 value (eight-class packages are normally $50). You can try out any of the following three classes: cardio, weights, core, and ab work (Mondays at 6:30 p.m. and Saturdays at 9 a.m.); kickboxing with floor work (Wednesdays at 5:30 p.m.); and pure Pilates with rings (Thursdays at 6:30 p.m.). Mix and match classes to cross-train for your upcoming weighted ring toss and kick tournament, or stick with the class that sounds best to you.Follow @Groupon_Says on Twitter.
2439 S Broad St.
Philadelphia
Pennsylvania
US
When we work out alone, this is how it goes: we can't figure out the machines, do a wimpy walk on the treadmill, go home, and eat Funyons. Today's Groupon brings back the buddy system before letting you loose on the gym. For $29, you get an hour-long personal training session and fitness assessment (a $35 value) and a one-month membership (a $75 value) at Optimal Sport Health Clubs. Your personal training session pairs you up with an expert trainer to evaluate your fitness level, help you set personal goals, briefly exchange Dungeons and Dragons anecdotes, and get you started on a proper workout. You'll get an entire month to put your training into practice with unlimited access to Optimal's equipment and group fitness classes at any of its three locations: Philadelphia Curtis Center, Newtown, and Burlington, NJ. Plus, if you decide you want to join Optimal Sport Health Club after your Groupon month is up, your initiation fee is waived.Follow @Groupon_Says on Twitter.
2501 Mt Holly Rd.
Burlington
New Jersey
US
Bring peace to your insides and sweat to your outsides with today's sweaty deal for inner peace, increased energy, and sweat. Today's Groupon gets you five Zumba or yoga classes for $35 at Maxercise (a $75 value). Each time you visit you can choose either class, so you can alternate panting to Latin grooves and mindful yogic exhales until you eventually develop dual personalities to accommodate both.Follow @Groupon_Says on Twitter.
707 Chestnut St.
Philadelphia
Pennsylvania
US
215-928-1374
If you've ever gazed into the stitched eyes of a needlepoint narwhal, you've felt the restorative capability of needle arts. Now you can explore the healing power of needle arts without the wasteful excesses of thread with today's Groupon to holistic healing: for $40, you get an hour-long private acupuncture session at Lauren Buckley Acupuncture, an $80 value. Though Lauren Buckley Acupuncture offers community acupuncture in a group setting for an income-based payment of $20 to $40 per session, your Groupon gets you a one-on-one private session. Follow @Groupon_Says on Twitter.
953 S 6th St
Philadelphia
Pennsylvania
US
Cherry Hill Health & Racquet Club's fitness facilities sprawl over 160,000 square feet, giving a friendly, family-oriented venue to quench appetites for exercise and recreation. Transform modest arms into muscle-stuffed torso extensions by lifting one, or even two, of Cherry Hill's 20,000 pounds of free weights. Others can bolster their endurance on one of the club's 65 cardio machines—each equipped with its own digital entertainment system—or by hitting the tennis court with less entertaining analog friends. Destroy opponents and calories in racquetball, or take to the club's full-size hardwood court to compete in fast-paced basketball, tactical volleyball, or interminable flexed-arm-hang competitions.
1820 Old Cuthbert Rd.
Cherry Hill
New Jersey
US
856-429-1388
---