Pennsauken, NJ Outdoor Activities
---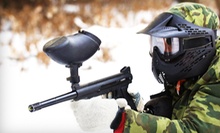 Players are equipped with markers, gear, and paintballs before heading to a choice of five wooded fields and a regulation speedball arena
---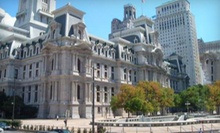 Two-hour tour visits the Liberty Bell and Independence Hall, passing coffee shops and galleries; tour ends with a beverage at a brewery
Use Today 8:00am - 2:30pm
---
Recommended Outdoor Activities by Groupon Customers
---
On race day, teams of up to three walk, skip, or run through the little-known nooks of Portland, gathering and solving clues that lead through neighborhoods such as the Pearl District, Hawthorne District, and Twenty-Third Avenue, with one lucky team traipsing its way to a $300 prize. Clues range from anagrams and pop-culture trivia to deciphering graffiti written in pig Latin. Interspersed throughout the race are mettle-testing challenges, molding iron wills to such tasks as building a house from cards or identifying ice-cream flavors. The top three teams with the fastest gams and sharpest puzzle-solving skills will also win free entry in the National Championship race on Saturday, November 5, which has a grand prize of $5,000 and will be held in sunny Las Vegas (top 25 teams qualify for the race). Winners for best costumes, top senior (55 and older), and best tweet will also receive prizes. The competition begins at noon, and check-in runs from 11 a.m. to 11:45 a.m. The race takes between three and five hours, and jet packs are strictly prohibited. All competitors receive a CitySolve Urban Race T-shirt.
117 Chestnut St.
Philadelphia
Pennsylvania
As the Ale & Arts Walking Adventure tour ambles among famous Philadelphia bars such as McGillin's Olde Ale House and Dirty Frank's Bar, you'll get to drink in the history and cultural significance of 10 distinctive murals, as well as the establishments where they are located. You'll also get to drink in several locally brewed beers served throughout the fact-filled tour. The Mural Arts Program was created to enlighten the public on the collaborative process of how murals transform public spaces and unite artists with the local community. Develop a new appreciation for public art and discover the history behind your favorite local bar with today's side deal.
1727-29 Mount Vernon St.
Philadelphia
Pennsylvania
Sensory overload doesn't begin to describe Philadelphia's Magic Gardens. A seemingly boundless compilation of colors, textures, and shapes, the labyrinthine mosaic creation spans 3,000 square feet of indoor and outdoor space. The masterpiece originated in the brain of Isaiah Zagar, a Philadelphia native who grew up in New York. During his third year of art school, he stumbled upon Clarence Schmidt's folk-art-inspired installations—assemblages of found objects and recycled materials—and the young artist's view of the art world changed. "I didn't know that I was looking at art," Zagar reflects in his mission statement. Self-admittedly, Zagar has been somewhat "copying" Schmidt's dynamic, free-flowing style ever since.
The years after art school brought Zagar an onslaught of new opportunities. He spent time as an artist in China and India, joined the Peace Corps with his wife Julia, settled in Peru for three years, and even tried his hand at ceramics in Wisconsin. In the '60s, he and Julia returned to his birthplace—specifically, the waning South Street neighborhood. The duo quickly leapt into action, renovating dilapidated buildings and often adding mosaics to formerly barren walls. Eventually, Isaiah's imagination outgrew their projects, and in 1994 he began constructing a new piece in a vacant lot near his studio—the project would become Philadelphia's Magic Gardens.
Isaiah spent 14 precious years, which he should have applied to Y2K preparations, scooping out tunnels, erecting multitiered walls, and splashing the entire space in colorful tile. The finished product stretches across half a block of South Street; the outside enclosure shimmering with vibrant tiles, the inside housing folk art, colored glass bottles, and countless sparking mirrors. Now a nonprofit organization, Philadelphia's Magic Gardens invites visitors to enjoy its visual candy with guided or self-guided tours.
1020 South St.
Philadelphia
Pennsylvania
215-733-0390
---