Pennsville, NJ Outdoor Activities
---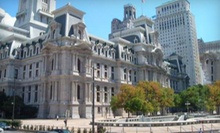 Two-hour tour visits the Liberty Bell and Independence Hall, passing coffee shops and galleries; tour ends with a beverage at a brewery
Use Today 8:00am - 2:30pm
---
Recommended Outdoor Activities by Groupon Customers
---
Bright lights emblazon the adjoining boardwalk of The Palace of Sweets, beckoning passersby inside for fun-filled challenges and the sugary outflow of towering candy dispensers. Devised by world-renowned maze designer Adrian Fisher, the fun center's one-of-a-kind maze envelops guests into its candy-decor depths with a disorienting array of mirrors and surprise reunions with your long-lost twin. After regaining bearings, guests can test their agility in the center's laser challenge, which sends lasers zooming through the room as they try to make their way to the other side unscathed. Known for sporting the largest selection of self-serve candy on the boardwalk, The Palace of Sweets serves as a well-stocked host for birthday parties or a press conference announcing the end of dieting.
2701 Boardwalk
Wildwood
New Jersey
609-770-7259
Taking over Morey's Piers & Beachfront Waterparks for the weekends of October, Morey's Fears Terror on the Boardwalk shoots chills down unsuspecting spines with five frightful attractions. Terror Trench dares scare-seekers to venture beneath the park into a noxious pit inhabited by the mutant mole progeny of waterpark construction workers lost decades ago. Those brave enough to tiptoe through The Other Side might lock eyes with the ghosts of souls lost at sea as they roam under the Wildwood boardwalk, and the CornStalkers maze threatens guests with supernatural dangers from the countryside, such as killer scarecrows and murderous corn subsidies. Modeled out of a multilevel miniature-golf course, Ghost Ship 2.0 ensconces landlubbers on a decaying vessel haunted by mad sailors and spooky ghouls, and CarnEvil infects the park's regular attractions with a macabre atmosphere, replacing the regular barkers with sinister clowns.
3501 boardwalk
Wildwood
New Jersey
US
609-729-3700
Arms folded across her chest, the young girl rides a spouting cascade of water through the pitch-black tube, squealing with each twist and turn afforded by the snaking confines. Just as it seems as though the darkness will never lift, sunlight pours onto her face as she is spit out into a crystal-blue pool below. This high-adrenaline ride is the reward for being brave enough to tackle the Midnight Run, one of Splash Zone's numerous waterslides.
Nestled in the heart of Wildwood, the aquatic adventureland evokes whoops and squeals from visitors of all ages with more than 16 splash-laden rides and activities. The gentle ebb of Rivy's River carries inner-tubing guests along at a relaxed pace, and the interactive water playground in Giggle Bay ensures that the young adventurers remain hydrated thanks to a constantly tipping bucket filled with 1,000 gallons of water. Their new attraction, Flowhouse, combines surfing, snowboarding, and skateboarding with a continuous 40-ft. wave for a new sport available for all ages. As aquanauts explore the waters, Splash Zone's crew of certified lifeguards and sunglass-clad Saint Bernards remain on hand to ensure safety, and an onsite first-aid station offers remedies for a variety of ailments. Along with watery pastimes, Splash Zone offers sunbathing areas to facilitate leisurely tanning, and the Zone Grill where chefs forge fire-licked eats for hungry guests.
3500 Boardwalk
Wildwood
New Jersey
Have some fun with your friends by recreationally hunting other humans (a sport made popular by Mel Brooks's Blazing Saddles) with today's Groupon: $20 gets you entry, a full day of play, rental equipment (semi-auto paintball marker, hopper, face mask, goggles), and free CO2 and N2 refills (a $30 value), as well as 200 paintballs (a $12.80 value) at Poco Loco Paintball in New Hanover. Your Groupon is good for Sundays in October and November, and Saturdays and Sundays from December on. Fulfill fantasies of expertly evading crossfire as you infiltrate enemy territory and annihilate the opposition faster than Reverend Johnson threatened to leave town after discovering that the sheriff has been murdered. Or just spatter strangers with neon splotches. Poco Loco is designed with both novices and expert players in mind, so you don't need years of mercenary training or a Blu-ray copy of Blazing Saddles to try it out.Follow @Groupon_Says on Twitter.
134 Kurtz Rd.
Schwenksville
Pennsylvania
US
---