Penticton, BC Spa and Massage
---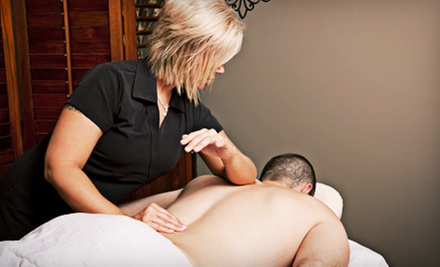 Dragon's Lair Tea and Wellness Center
---
Recommended Spa & Massage by Groupon Customers
---
There was a time when physiotherapist Julie Dickson was skeptical of holistic treatments. Now, she happily rehashes her journey into alternative wellness therapies to those who visit her at Anew Start Rejuvenation Center, stressing medical research and the noticeable results she sees in her clients. Julie slips across the caramel-hued wood floors among plush armchairs and wrought-iron curlicues, consulting with patients and drawing upon a specialization in geriatrics and orthopaedics. With the bubbles in footbaths purring a baritone song, guests at private parties celebrate while reaping the benefits of detoxification. Patrons amble toward private showers or surprise parties for orcas to clean off after vibration therapy and trips to the infrared sauna.
1912 Enterprise Way, Suite 106
Kelowna
British Columbia
250-762-9995
Shapers Hair Salon & Spa's stylists and master stylists beautify men's, women's, and children's hair with a full array of salon services. The team's style fixes range from basic trims to modern hair-colouring techniques and ultra-rich conditioning treatments that often employ ingredients such as mango butter and amino acids to improve hair's sheen or texture. With each stylist participating in periodic continuing-education classes taught by industry experts, the group always stays on top of trends. Hair extensions provide a quick way for self-conscious shoulders to go incognito temporarily, while electrolysis effectively rids the body of unwanted hairs. Each product sold and service performed by the salon's experienced staff is guaranteed via a group commitment to each client's satisfaction.
27-565 Bernard Ave.
Kelowna
British Columbia
250-762-8066
The students at Okanagan Valley College of Massage Therapy are not yet professionals, but it would be hard to guess that based on the way their hands deftly untie knotted muscles and nurse sore shoulders back to health. Their signature whole-body massage systemically targets the nervous system, erasing tension quickly.
3400 30th Ave., Suite 200
Vernon
British Columbia
250-558-3718
In the heart of wine country, serenity blooms in Heaven on Earth Spa as tranquil sounds atmospherically cuddle with the aromas of essential oils. Robed bodies and slippered feet pad past the lobby fireplace, where an ornate mantle exudes grandeur without needing to show off its youth field-hockey trophies. Rich hardwood flooring cuts a path to private rooms where aestheticians' equipment couples with rows of ilike organic lotions and serums that contain no artifical colors or animal by-products. Leather pedicure chairs cradle backsides as feet soak in a warm bath then luxuriate in extras such as massage and paraffin. While all the spa's treatments are designed for all bodies, men can also take in special services designed to coddle such typically male conditions as sports-worn feet, razor-burned faces, and griller's elbow.
27-565 Bernard St.
Kelowna
British Columbia
250-868-3015
One usually has to pay for tickets to see a one-woman show, but instead, clients at Maela's Esthetics pay for specialty waxing, nailcare, and lash-extension services. The one-woman aesthetics company inside Beauty Haven Hair Wigs & Esthetics is run by Maela Bru, who's followed her passion for aesthetics and "all things girly" since she was a teen. Her waxing treatments use a hard wax that is gentler for facial and intimate areas, and a cream wax for leg, chest, and back services. Maela can also add a colourful touch to looks with a variety of gel nail polishes and subtle tints for eyebrows and eyelashes.
3403 30 Ave.
Vernon
British Columbia
250-542-4219
A wildly successful alternative to traditional day spas—its more than 300 locations blanket 36 states and half a dozen countries—Planet Beach Contempo Spa is a futuristic relaxation station where state-of-the-art machines administer all the spa and tanning services. These friendly automatons sometimes replace familiar treatments, as in the Luminous facial, a light-based service that delivers blemish-busting results similar to those of a conventional facial. But other equipment maps out new spa territory entirely: the Hydro-Derma Fusion chamber moisturizes the whole body with nutrient-rich steam in order to offset the effects of a dry climate or a rear-end collision with a salt truck. Other machines whiten teeth, spray tan skin, and massage muscles. Planet Beach operates on a gym-style membership system, meaning that members purchase packages or pay flat monthly rates. As members spend more time at the spa, they get to know the helpful assistants who are always on hand to demonstrate how to use the equipment without activating its ability to cry.
5651 24 St.
Vernon
British Columbia
CA
250-542-4772
---