Gyms & Fitness Centers in Peoria
---
Gym & Fitness Center Deals
---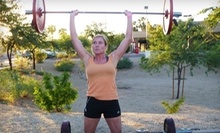 Small, women-only CrossFit classes challenge bodies with scalable, constantly changing workout to build strength & increase endurance.
Use Monday 3:00am - 6:00am
---
Recommended Gyms & Fitness Centers by Groupon Customers
---
Today's Groupon proves strength in numbers even better than that time your building's cockroaches amassed into a humanoid shape and stole your TV. For $13, you get three group training classes worth $105 at Sky Fitness, an exercise fantasia located high above the clouds that only recently began featuring classes on the ground. Even independent fitness ventures such as running can benefit from the ground-based, social sweat sessions.
330 E Camelback Rd.
Phoenix
Arizona
US
Like a trip to the all-you-can-dance buffet, Jazzercise incorporates moves from hip-hop, yoga, Pilates, jazz dance, and air-busting kickboxing. In 60 minutes of class, participants of all ages and levels will benefit from improving their cardio, strength, and flexibility while burning off up to 500 calories and improving their chances of impressing Kevin Bacon at a celebrity dance-a-thon. Dancing with the Stars two-time champion Cheryl Burke is a big fan of Jazzercise's improvisational workouts, but clients won't need her encyclopedic knowledge of flashy footwork and spirit-fingered dance moves to get the most out of each class. Those prone to first-class jitters can review the basic moves before their shimmy session.
14202 N Scottsdale Rd. , Suite 200
Scottsdale
Arizona
As a 23-year-old junior, Tom Hatten didn't spend his evenings at the raucous parties or ice-cream socials associated with college life. Instead, he'd spend the waning hours of his evenings waiting by the dryer for the last batch of towels before collapsing into bed. In the morning, he would lug them to Mountainside Fitness, the gym he opened as a student that he has thrown all his energy into maintaining ever since.
Today, the humble 4,800-square-foot space has bloomed into nine gyms that average a sweeping 41,000 square feet. Tom's vision of creating a friendly neighborhood gym that greets each guest with a warm towel underscores every decision he makes for the different locations, from the colorful kid-care spaces to the entertaining group fitness classes. Personal trainers plan regimens tailored to each client, helping them lose weight, build muscle, or target the muscles that will help build a better golf game. Clients can create their own routines with the help of cardio and weight machines, or explore the different amenities at each location, such as saunas, rock-climbing walls, and indoor basketball courts.
3345 S Val Vista Dr.
Gilbert
Arizona
480-821-9501
Hands-on learning and playtime in two of JW Tumbles's interactive classes—along with the lifetime membership, which gets you discounts on JW Tumbles's open gyms, parties, and camps—helps children explore the far reaches of their cranial caverns. Parents with toddlers younger than 3 years old can enroll in parent-participation classes such as My Big Messy Art Class or Wobblers Class, where baby bodybuilders 11- to 18-months-old practice tumbling and balance to increase motor skills and decrease the need for sippy-cup creatine shakes. Ages 3 and up can fly solo (parents can watch from the sidelines if they wish) during age-appropriate and highly interactive independent classes. The Winners Class teaches 7- to 9-year-olds sporting skills, and 3- to 4.5-year-olds prep for kindergarten in the Stompers Class.
1700 W Jefferson St
Phoenix
Arizona
US
As the morning begins, a row of toddlers takes turns tumbling feet over head while their parents guide them into the correct movement. Later, school-age kids sit in a circle, legs stretched before them as they try to touch their toes. The trained staff of My Gym Children's Fitness Center imbue kids with life skills through music, physical activities, and games. Many classes incorporate physical exercises with social and developmental skills, while summer camps are also available seasonally. All classes take place in a well-padded room, led by staff trained in child development and fluent in Muppet.
1700 W Jefferson St
Phoenix
Arizona
US
Children naturally believe that life is all about having fun. This requires the instructors at My Gym Children's Fitness Center to perform two seemingly incompatible tasks: helping kids lay a strong physical, emotional, and cognitive foundation and letting them laugh and play to their hearts' content. The staff welcomes the challenge. Grouping kids by age into nearly a dozen different classes, the instructors teach students aged 6 weeks through 13 years the importance and fun of socializing, exercising, and eating broccoli without using their taste buds.
In Waddlers classes, kids aged 14–22 months progress from crawling to walking, fine-tuning their motor skills to meet the demands of childhood staples such as tricycling and building block towers. More advanced courses, meanwhile, teach proto-persons more specialized skills such as basic karate or ballet techniques.
1700 W Jefferson St
Phoenix
Arizona
US
---