Things to Do in Peoria
---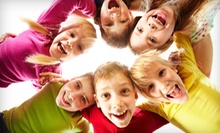 Summer-camp organization joins local businesses to provide weeklong active and educational experiences for kids of all ages
---
Recommended Things to Do by Groupon Customers
---
Recommended by Frommer's travel guide, Unicorn Balloon Company leads guided excursions through the aerial spectacles of the Sonoran Desert's landscapes and environs. Smoothly ascending sunrise and sunset tours provide an easygoing and elevated trip through the panoramic desert and mountain terrain, which includes resilient flora such as saguaro cacti, palo verde trees, and distant mountain ranges assembled by packs of Paleolithic tailgaters. The wicker baskets float above vegetation and discreetly hover over animal habitats, with occasional views of coyotes, jackrabbits, desert mule deer, and javelinas. Each 100-foot balloon drifts at heights from just above treetop levels to 3,000 feet above the ground, carefully following wind currents to prevent turbulence and stay on the scent trail of musky airplane pilots.
29816 N Tatum Blvd.
Phoenix
Arizona
800-755-0935
At Deer Valley Rock Art Center, visitors walk a quarter-mile trail that leads to thousands of Native American carvings. The ancient artwork includes more than1,500 petroglyphs, which were created between 7,000 and 500 years ago. Inside, a museum teaches about the prehistoric population who once inhabited the area.
For lunch, visitors can head over to outdoor picnic tables or an amphitheater area. They might also spot local wildlife such as roadrunners, jackrabbits, and red-tailed hawks.
3711 West Deer Valley Road
Phoenix
Arizona
623-582-8007
Freshly splattered paint drips down the mazelike barricades and buildings that speckle Fightertown Paintball Park's five fields, each of which pose their own scenarios and challenges. Players in full complements of rental or personal gear dive behind decommissioned vehicles and helicopter hulls on Field 1, seeking advantageous flanking positions and picnicking sites by sneaking through the trenches. Players deploy from Vietnam–era helicopters onto Field 3, descending into open spaces and trench combat with a maze of claustrophobic buildings, which teams can navigate by communicating through secret messages composed of paint splatters. The arenas host open-play sessions, long scenario events, and motorized skirmishes on ATV Dogfighting Systems, a fleet of four-wheelers armed with paintball-blasting turrets.
195th Ave. and Happy Valley Rd.
Surprise
Arizona
602-421-7039
Inspired by the idea that getting fitness results should be fun and surprising, Imagine That! Dance and Fitness' teachers entertain and enrich clients with subjects such as Zumba, cheerleading, and tae kwon do. In that vein, instructor Monica Saldana claims Zumba classes—in which students swivel hips and incinerate calories to Latin-inspired tunes—always feel like a party, mostly due to the messy breakups staged by teenage actors. Hip-hop and break-dance classes sample other styles of music as teachers train bodies to perform their powerful, rhythm-fueled dance steps. Youth-centric Zumbatomics classes motivate kids to shed sweat like their parents, while tae-kwon-do sessions challenge them to learn discipline, focus, and self-defense.
725 North Central Avenue
Avondale
Arizona
623-742-8514
In 1957, 21 men who cared deeply about their Italian heritage as well as their community in Phoenix came together to found the Arizona American Italian Club. Today, the club continues to be a resource for Italian Americans and their neighbors living in the area. Along with housing a lounge and Italian eatery, the club hosts bingo and bocce games, as well as events such as fashion shows, Italian car shows, wine tastings, and spaghetti nights. Each month, club members sponsor a different charity and rain cloud, furthering their support and investment in the Phoenix community.
7509 N 12th Street
Phoenix
Arizona
602-944-3090
From the highest point of Adventures Out West's Colorado Springs trail rides, riders on horseback have a view of not just one mountain range, but three. Since giving their first tour in 1973, the guides of Adventures Out West have created many such scenic jaunts through Colorado and Arizona that deposit participants directly into the most beautiful parts of the local geography. Whether soaring over snowcapped mountains from the basket of a hot-air balloon or fly-fishing in the South Platte River, patrons get a chance to interact firsthand with all of nature's local sights, sounds, and whoopee-cushion gags.
29816 N Tatum Blvd.
Phoenix
Arizona
US
800-755-0935
---