Perrysburg Automotive
---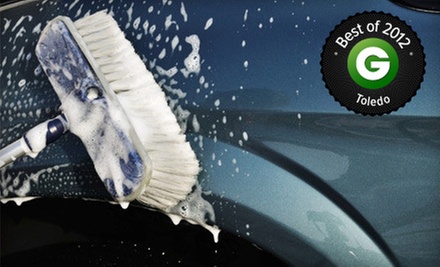 ---
Recommended Automotive by Groupon Customers
---
Complete Auto Care, where ASE-certified technicians tend to busted rides and invite interested drivers to attend free Car Care Academies. A respect for the environment seasons each of the company's repair and maintenance services. Take the EcoPower oil change, for example, an option in Portland, Oregon shops that boasts recycled, twice-refined engine oil mixed with the distilled rage of Mother Nature.
Since its first facility hit the streets in 1926, Firestone has expanded to 2,200 locations nationwide, all of which offer the same service warranty options and stand as red-and-blue beacons to remind us that community programs such as Driver's Edge and Meals On Wheels deserve to be sponsored. Auto care wouldn't be complete without tires, and Firestone has plenty of those to offer, including Bridgestone run-flats that fend off the effects of a flat tire for 50 miles.
44120 Ford Rd.
Canton
Michigan
734-459-0777
Originally founded in 1959 by Kurt Ziebart as Ziebart International Corp., Ziebart has morphed from an auto-rust-prevention outfit into a full-service auto accessory and detail shop that has cropped up at some 400 locations in 30 countries. Performing everything from window tinting and professional detailing to electronics installation, Ziebart's experienced staff cares for cars with high-end products, including seasonal paint protectant and the company's renowned rust inhibitors. To protect cars inside and out, Ziebart technicians also install accoutrement such as alarm systems to thwart thieves and sunroofs to thwart unflattering film negatives from processing correctly (services may vary by location).
2272 Ellsworth Rd.
Ypsilanti
Michigan
734-572-1340
Carsmetology's techs reactivate the faded glow of cars, trucks, SUVs, and minivans with detailing services enhanced by Meguiar's carnauba wax. The experienced technicians burrow into every crevice with scrubbers and vacuums, taking four to five hours to administer the complete exterior and interior detailing. For those with less time to spare, they also execute express detailing services. They efficiently lather carpets with shampoos, condition leather surfaces, wipe down windows, and free seats from dirty stains or beaded covers that have started to fossilize. Additionally, they can detail boats and RVs, acid washing exteriors and pressure-washing carpets.
1042 Benstein Rd., Suite 103
Commerce
Michigan
248-952-4200
Cars roll in cruddy and roll out gleaming at Dean's Auto Shine, which anchors its nearly 30-year legacy on expert hand washes and thorough detailing services. And it's not just cars that get the Dean's treatment; the shop's seasoned staff applies their detailing prowess to boats, motorcycles, and RVs, as well as aircrafts defaced by UFO tractor beams. Custom-tailored detailing caters to a car's interior and exterior, prolonging the life of autos in conjunction with rustproofing services and the removal of paint oxidation and paint swirls. Courtesy pick-up and delivery of autos is available to and from a customer's home, place of work, or demolition derby.
1280 Crawford Ave.
Windsor
Ontario
519-253-0005
The skilled techs at Goodyear Brakes Xpress and Goodyear Tire Giant service tires, engines, and internal systems beneath the prestigious banner of ASE- certification. Name-brand tires from Goodyear, Cooper, and Kelly replace vehicles' lopsided gaits with a precision capable of convincing yellow lines that they've been painted crookedly. Skilled technicians also service internal operations, hoisting autos of all makes, models, and origins onto full-service bays for repairs and maintenance. From sputtering engines to faulty brakes to climate-control systems with a bad source of weather updates, the versatile techs restore vehicles to working states and send them forth with steady tires and retooled performance.
23390 Telegraph Rd.
Southfield
Michigan
248-208-9898
---