Perrysburg, OH Outdoor Activities
---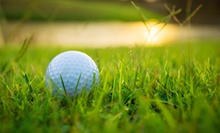 Family owned facility stocks certified PGA instructors who edify club swinging essentials at range equipped with Wittek Golf mats
Use Today 11:00am - 5:30pm
---
Recommended Outdoor Activities by Groupon Customers
---
After spotting vacationers parasail over Florida's beaches, the founder of Put in Bay Parasail decided to create a way for North Coasters to get the same thrill above Lake Erie's waters. Since then, thousands of parasailers have taken flight and sailed up to 300 feet over the water, enjoying beach views and attempting to touch the sun while USCG-licensed captains safely steer. Setting forth from South Bass Island, Captain Jason Hall outfits guests with life vests and valuable knowledge nuggets, gleaned during more than two decades of water adventuring. Alternatively, high-quality paddleboards send aqua explorers on adventures closer to Erie's water. Staff point boarders in the direction of great spots for sunbathing, bobbing, or surfing based on their skill level and fluency at communing with lake trout.
341 Bayview Ave.
Put In Bay
Ohio
419-285-3703
The sinuous fairways of Whiteford Valley Golf Club's three 18-hole, par 72 courses roam across a rolling, emerald expanse dotted with creeks, ponds, and mature timbers. The most difficult of the three layouts, the east course tunnels through stands of towering trees, placing accurate tee shots and a familiarity with squirrel vernacular at a premium. The north course likewise rolls across hilly, tree-lined terrain, though water hazards play a more prominent role throughout, made evident by the first green, which is entirely fringed by a rippling pond.
Long hitters or golfers trying to make amends to recently neglected drivers can take to the west course, which packs dense tree lines into the Club's longest layout, at 7,016 yards.
7980 Beck Rd.
Ottawa Lake
Michigan
734-856-4545
At Vail Meadows Equestrian Center, experienced trainers employ a holistic approach to horseback riding and instruction to help riders to develop life skills and live healthfully. Its 25-acre farm abuts the Maumee Bay State Park bridle trails, allowing riders to explore tree-laden mazes in addition to open pastures. Ducks, goats, and pot-bellied pigs roam the landscape, peeking into the historic 1893 barn while students improve concentration and problem-solving skills through therapeutic sessions. In another barn, beginners bond with new four-legged friends over the western riding techniques they have just mastered. Programming also includes riding opportunities for veterans, field trips for classes of students, and weekend horse camps for teens and adolescents. During camp sessions, young visitors participate in farming- and nature-related learning adventures before retiring to a warm indoor bunk, preventing them from having to rely on starlight to read copies of The Iliad written in hieroglyphics.
6118 Cedar Point Rd.
Oregon
Ohio
419-697-8960
Talladay Farms ushers in cool air and the smell of drying leaves with harvest-season festivities near an apple orchard. Each year, staff members chart out complex mazes that illustrate an annual theme—this year, it's pirates—across roughly 7.5 miles of twisting paths carved into 26 rolling acres of golden corn. When they're not meandering through the complex mazes, guests gather around bonfires and picnic tables or head next door to Wasem Fruit Farm's apple orchards and pumpkin patch. As Halloween nears, they convert the twisting and turning paths of one maze into a haunted labyrinth, where actors leap from the rustling dead stalks of corn wearing terrifying masks or shirts with facts about how often paper cuts happen. Conscientious staffers place several checkpoints throughout each maze and hand out maps to keep guests from getting lost.
6270 Judd Rd.
Milan
Michigan
734-645-1791
For 129 years, the farmhouse at Country Lane Tree Farm has looked out over acres of trees and crops as they bear fruit, change colors, and catch a light dusting of snow. The Bowlander family keeps the land bustling through the seasons by inviting families and school groups to come take part in farm activities. Craft barn events happen in the spring and summer, along with farm tours where children can see and interact with a variety of animals. Activities include, milking cows, holding chickens and ducks, and gazing profoundly into the deep eyes of Peaches the donkey. Animal feed is also included. During the fall, the Bowlanders make an enormous maze out of their cornfield, invite guests to pick pumpkins from their 10-acre patch, and enjoy a Haunted Hayride and the indoor Haunted "Carnevil" Barn.
3525 N Bolander Rd.
Genoa
Ohio
A veteran of horse shows well versed in hunting, jumping, and grand-prix competitions, Leslie Webb Janiak knows her way around a stable. As the owner and trainer at Oxford Farm, Leslie imparts her lifelong knowledge to aspiring equestrians of all ages, helping to build relationships between man and steed so that they may one day sit together in the halls of Congress. With facilities including 30 stalls, an indoor arena, and 18 large paddocks, Oxford Farm offers comprehensive horse care for owners looking for a place to board or train their long-faced friends. Amateur or beginning riders can also take part by enlisting in private lessons. During each session, instructors divulge riding basics as well as basic horse care, such as how to handle the horse's halter and lead rope and pepper trail rides with Lone Ranger recaps.
1900 S Berkey-Southern Rd.
Swanton
Ohio
419-410-5757
---