Peru, IL Outdoor Activities
---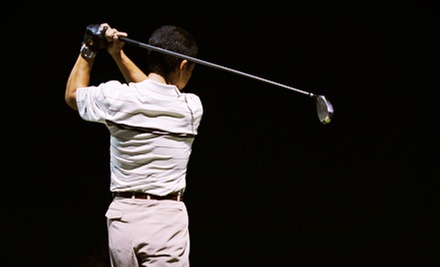 ---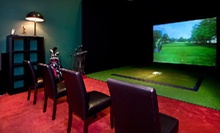 High-end 3-D golf simulators cycle through 35 renowned courses, from Pebble Beach to Casa de Campo, as players swing with their own clubs
Use Today 10:00am - 6:00pm
---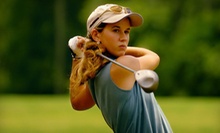 Use Thursday 2:00pm - 4:00pm
---
Recommended Outdoor Activities by Groupon Customers
---
Chris and Pam Schmick had spent six months cleaning out the scrap metal from their abandoned silos and just finished drilling thousands of holes in its walls. With little time to spare, they prepared for their climbing gym's grand opening on September 2, 1995—a date on which they had already agreed to hold a regional JCCA competition. The effort they've expended in the nearly 20 intervening years shows: today, climbers scramble on top ropes, lead ropes, and more than 20,000 square feet of lava-free climbing surface.
Instructors prepare visitors to surmount the gym's features in a range of classes, such as Rock Gym 101, which is an introduction to top-rope climbing that covers climbing safety, basic technique, and equipment. Once climbers are equipped with gear from the pro-shop, staff shows them around a multi-level bouldering cave, a main climbing area with 30-foot walls shaped by arêtes, cracks, and waves, and the building's five original silos. Elsewhere inside the gym, six auto-belays safely cradle visitors who wish to climb without taking a class.
1304 W Washington St.
Bloomington
Illinois
The hum of Honda GX200 engines pervades both of Chicago Indoor Racing locations, where a duo of tracks takes Bowman go-karts through a series of turns and straightaways at speeds of up to 35 mph. When not trying to clock in top lap times from driver's seats perched 1 inch from the ground, guests can set other objects in motion at billiard tables and shuffleboard tables, which can be rented by the hour or millisecond. Clark's Café at the Addison location and Stewart's Bar & Grille in Buffalo Grove refuel guests with casual American fare and shots of motor oil.
2381 W Army Trail Rd.
Addison
Illinois
630-433-3700
The Five Seasons Family Sports Club houses tennis courts, a dining area, fitness facilities, swimming pools, and a full-service spa under one roof. Within air-conditioned indoor courts or on outdoor clay courts, racquet slingers compete in friendly bouts to sharpen swings, refine backhands, and showcase grunting abilities. Members can also break a sweat in exercise areas speckled with modern cardio equipment and weights or cool off in an Olympic-sized pool with diving wells and wading areas. Before meeting others for a postgame beverage at the lively café, clients can wander to the spa for a relaxing massage or partake in a sports workshop to gain a firm grasp on game mechanics.
6901 S Madison
Willowbrook
Illinois
Opening weekend is a time for renewed hope, reordered batting lineups, and refreshing scents of glorious gunpowder in the sky. Catch the Flyers on May 28 for post-game fireworks after the hometown bats light up the Gary SouthShore RailCats, or pay homage to babies named Ruth as you run the bases with the kids on Family Day May 30. On May 31, remix Memorial Day grill-outs by downing two dogs off the bat, and score dollar dogs throughout game. Armed with a starter kit of ballpark eats and ballgame spheres, show the youngsters how to properly grip a fastball, a frank, and a cardboard sign that irrefutably proves fanmanship.
1999 S Springinsguth Rd.
Schaumburg
Illinois
At Raging Waves, certified lifeguards keep a vigilant watch over visitors as they traverse a park filled with 17 water slides and other aquatic attractions, but surveillance isn't their only job. They secure up to four passengers in tubes before they zoom down a giant family slide and instruct riders on how to position their arms and wink Morse-code messages to eagles during their plunge down a winding speed slide with a near-vertical drop. Though adrenaline is the Raging Waves' main focus, it also houses slower-paced attractions such as a regular swimming pool, a quarter-mile lazy river, and separate children's play area.
4000 N Bridge St.
Yorkville
Illinois
Seven rope tows hoist skiers and snowboarders to the top of the trails at Four Lakes Snowsports, helping them take a panoramic glance before the pristine powder and carving their way back to the bottom. Five zones make up the skiable expanse, increasing in difficulty from a pair of bunny hills to a terrain park, where a gauntlet of boxes and rails slake appetites for jumps, grinds, and extreme cold-weather picnicking. As a proud member of the Professional Ski Instructors of America, Four Lakes' ski school helps aspiring skiers and snowboarders stay safe and in control while zipping and darting about the slopes.
5750 Lakeside Dr.
Lisle
Illinois
630-964-2551
---