Things to Do in Peru
---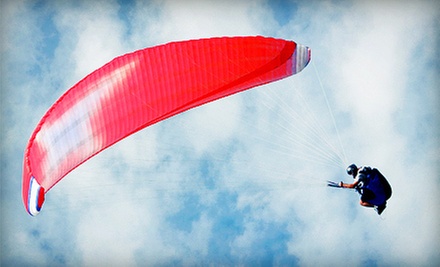 ---
Recommended Things to Do by Groupon Customers
---
Artist Mike Buszuwski wanted to create "an inspirational place for kids to come and explore art." Thus, Painting Fun Spot was born. He and his artistic staff equip artists of all ages with all the necessary supplies—nontoxic, USA-made plaster pieces, paints, sealants, and paintball guns—to create colorful sculptures in a relaxed, kid-friendly studio complete with booster seats and pint-sized aprons. Vibrant walls and an undersea mural inspire creativity during studio time, summer camps, and parties and help budding artists bestow blank plaster canvases with hand-painted masterpieces.
Painting Fun Spot also hosts painting fun art classes, during which instructor Tonya Warnke Buszuwski, a professional artist with works in collections throughout the U.S., instructs adults in the finer points of pigment placement. She leads students step by step through a selected canvas work, capturing the tranquility of an impressionistic Tuscan countryside, the bold hues of a cross, or a trio of tulips playing poker with a basset hound.
10361 Illinois Rd.
Fort Wayne
Indiana
The menagerie of inflatable stations at Concord Bounce test the seemingly limitless energy of their young patrons within a climate-controlled atmosphere. Inflatable pirate ships and castles stimulate the imagination as their inhabitants play and socialize. An 18-foot slide, inflatable tee-ball field and air-filled obstacle course help children to develop motor skills and eliminate the need for parents to drench daily exercise in applesauce. As their children frolic, adult visitors can smile quietly to themselves knowing that the staff cleans and sterilizes the sock-friendly structures before each playtime. Alternately, they can supervise from within the play area or entertain themselves with arcade games, television, and free WiFi.
617 E Plymouth St.
Bremen
Indiana
574-546-4396
At All Fired Up!, swirling murals of flowers and vines flow across lavender walls, and animal-print tablecloths cover long work tables. This cheerful backdrop makes the pale, unadorned plates, bowls, and vases lining the shop walls stand out in stark contrast. Fortunately, expert potters empower artists of all ages and skill levels to enliven these blank canvases, providing them not only with stamps, stickers, stencils, and paints, but with idea books and helpful tips. Once painters have added the last brushstroke, All Fired Up!'s potters whisk finished masterpieces away to the shop's kiln where they'll fire and glaze them, just like Donald Trump does to dissidents on his resident staff of Pillsbury doughboys. If patrons can't drop in to retrieve their wares in one week's time, staff members can carefully pack them up and ship them at a flat rate across the country.
329 Brown St.
West Lafayette
Indiana
A classic lazy river drifts in a circle around Splash House Water Park's more than 30,000 square feet of deck as visitors soak in the sun in between dips in the water. An undulating wave pool tosses tube-riding swimmers to and fro, and twin waterslides whip riders in high-speed loops before firing them out into a pool of water or a misplaced Super Big Gulp container. Younger visitors frolic in the semi-submerged kids' play zone, constructed of nets, colorful piping, and bright yellow platforms with hidden, water-spewing spouts. Concession stands fuel the continuous fun with cool drinks, hot eats, and room-temperature napkins.
2601 S Adams St.
Marion
Indiana
There's something in the air in downtown Lafayette. Not the aromatic pheromones of trees trying to send mankind a message, but rather, the energy generated by scores of revelers. This is Dancing in the Streets, a festival that fills roadways with three separate stages boasting country, indie-rock, blues, and swing performances. As the night stretches on, youngsters can take to the kids' corner to partake of rides, moonwalks, and activities. Guests of all ages snack on portable eats while enjoying dancing and DJ-spun tunes, and a 45-minute cruise parade shows off classic cars and freshly polished roller skates.
Downtown Lafayette
Lafayette
Indiana
Sunshine Party Charters takes the stress out of organizing a day on the water by providing luxurious boats and qualified captains for tours throughout the greater Indianapolis area. After showing up at the marina, boaters can kick back on the deck, working on tans or impishly trying to reflect light back in the sun's eyes as the captain tools around the lake or ferries passengers to distant destinations.
11695 Fall Creek Rd.
Indianapolis
Indiana
317-849-8455
---