Petaluma Gyms and Fitness
---
Recommended Gym, Exercise, Weightloss by Groupon Customers
---
Dave Johnson has been coaching golfers for over 20 years and through more than 40,000 lessons. His style is intuitive and all about connecting with the students. Enjoy the benefit of his deft professionalism during your two-hour golf lesson. Three different clinics are available for all skill levels, from high-level hobbyists to recent mini-golf graduates, and classes are capped at eight students to ensure personalized attention. Pick up multiple Groupons to attend multiple clinics.
2301 East Washington St.
Petaluma
California
Dan Sacks and his team of veteran instructors at Bay Area Custom Golf boost swing skills and course confidence with custom club-fitting services and personalized instruction in a state-of-the-art 1,100-square-foot facility. During private 45-minute lessons, instructors use video analysis to help identify any quirks that may affect swing. Once grip, alignment, posture, and proper plaid pairings have been tweaked, students can send dimpled spheres soaring into a practice net. The facility also offers services for custom club fitting, pairing players with clubs by boiling down elements of a golfer's stroke and current club dynamics.
372 Bel Marin Keys Blvd., Suite B2
Novato
California
415-572-0052
Although nearly four decades of experience has given Yoga Studio Ganesha owner Devorah Blum the ability to demonstrate amazing feats of flexibility, she doesn't expect that of her students. That's why she and her team of nearly a dozen instructors lead an array of classes, catering to both beginner and advanced skill levels. Novice students gain breathing and stretching fundamentals, while advanced practitioners can continue their discipline or learn new styles of yoga. Beginners and advanced yogis alike practice multiple types of yoga such as Iyengar, Ashtanga, or mom and baby yoga.
138 Weeks Way
Sebastopol
California
The studio at CrossFit Sonoma County pulses with high-intensity workout routines. Led by coaches Sarah Pierce and Dan Schmieding, who both compete in national CrossFit events and hold multiple CrossFit certifications, students undergo varied exercises from the scheduled Workout of the Day. Sarah and Dan circumnavigate the floor, guiding movements, ensuring safety, and gingerly removing any unnoticed "Kick Me" signs pinned to T-shirts. Combining weightlifting, gymnastics, and track-and-field techniques, CrossFit aims to build resilience, strength, and versatility, equipping students with the stamina for athletic and everyday activities. Instructors scale each workout up or down to accommodate individual levels of fitness or exercisers recovering from restrictive injuries. Encompassing more than 3,000 square feet, CrossFit Sonoma County's gym—nicknamed "the playground"—houses atypical equipment such as pommel horses, suspended rings, tires, sledgehammers, and weight sleds to facilitate each patron's fitness goals.
1364 N McDowell Blvd., Suite 19
Petaluma
California
Curves provides you with a complete cardio and strength training workout in just 30 minutes. With a system that can burn up to 500 calories and work every major muscle group, you get an efficient and effective workout every visit. It's no wonder over 4 million women have chosen Curves to meet their health goals.
250 W. Napa Street,
Sonoma
California
US
707-933-3030
As they enter the training circle at Curves, female guests come face-to-face with the smiles of other women. And just as points on a circle share a common distance from the circle's center, workout participants share the experiences of those nearby by trading stations throughout the 30-minute training session. One minute is spent on a piece of strength-training equipment built for feminine frames and designed to work two opposing muscle groups with a single movement. Exercisers then move on to a recovery station, where they run, jog, or dance to maintain heart rates and keep platforms in place during momentary losses of gravity.
250 W. Napa Street,
Sonoma
California
US
707-933-3030
---
---
Gym, Exercise, Weightloss Deals - Recently Expired
---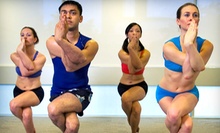 90-minute series of 26 basic postures pushes mental and physical limits by being performed in rooms heated to 105 degrees
---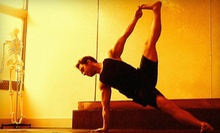 Yoga Belly cater to beginners, while Power Yoga classes aim to challenge more advanced students; sessions held seven days a week
---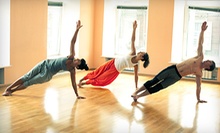 Instructors lead students through basic hatha poses, seven types of yoga flow, and specialty classes such as Cosmic Power or Yin yoga
---
---