Restaurants in Petaluma
---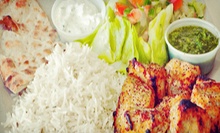 Hormone-free meats, fresh falafel, kabobs, and lamb gyros headline a menu of Afghan and Mediterranean food created by father-son chef duo
---
Restaurant Rewards Deals - Use Anytime
---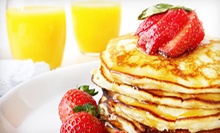 Freshly baked bread available by the loaf, used as the base in a range of gourmet sandwiches, or served as a side to breakfast dishes
---
Recommended Restaurants by Groupon Customers
---
Today's Groupon brings back el deal caliente by demand popular: $15 gets you $30 worth of delicious Mexican food at Colibrí Mexican Bistro, located at 438 Geary St. in the Theater District (one block west of Union Square). Colibrí offers more than the standard Mexican fare, making it a great place to have lunch with friends, dinner with out-of-towners, or a business meeting in which you propose replacing the police force of Old Detroit with Robot Cops.Follow @Groupon_Says on Twitter.
438 Geary St.
San Francisco
California
US
Today $15 gets you $35 worth of food and drink at Palio d'Asti, a gourmet Italian restaurant located at 640 Sacramento St. in the Financial District.
640 Sacramento St.
San Francisco
California
US
French food is more than escargot and brie-stuffed brie; it's other delicacies such as rabbit and duck too. Take your mouth on a trip to the City of Lights: for $10, you get a $25 Groupon for traditional French fare at Côté Sud, located at 4238 18th St. (between Diamond and Collingwood in the Castro).
4238 18th St
San Francisco
California
US
A team of scientists spent the past decade comparing the eco-friendliness of "Things that are named Roots"; three of those years were dedicated to creating this chart illustrating their findings:
466 Bush St
San Francisco
California
US
Tucked in the heart of the Financial District, Globe Restaurant strikes a gastronomical jackpot by fashioning its New American menu of homemade pizzas, piping-hot, handmade pastas, and fresh seafood from an array of sustainable, farm-fresh products. Diners plumbing the dinner menu can dive mouth first into an arugula salad ($8) before spearing a wild king salmon, which pairs salsa verde with boccacino pasta ($24) for an amalgamation even more memorable than the Continental Congress's alliance with the 1992 Dream Team. A dulcet quartet of pizzas shepherd fresh panoplies of gourmet ingredients—including sopressata, truffle oil, and roasted spring onions—onto their doughy pastures ($16 each).
290 Pacific Avenue
San Francisco
California
415-391-4132
If two eggs sleeping in a cheese-swaddled bed of bacon, onion, green peppers, and hash browns don't cure your hangover, apply a poultice of poached eggs over country ham on a Hollandaise-smothered toasted muffin. Today's Groupon gets you $30 worth of classic American breakfast food for just $15 at Pork Store, the classic greasy spoon and hangover-helper with locations on Haight Street and 16th Street. Pork Store's all-day breakfast menu is stuffed with pancakes, brown sausages, and crispy hash browns, and the lunch menu has truckloads of fresh fries, tender pork smothered in smoky, spicy BBQ sauce, and turkey avocado sandwiches (Pork Store also offers vegetarian dishes).
3122 16th St.
San Francisco
California
US
---