Things to Do in Petaluma
---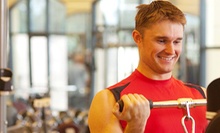 One month of membership at one of two health clubs includes classes and access to fitness equipment
---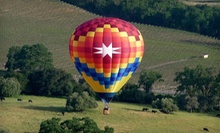 Bird's-eye vistas of vineyards and distant mountains come into view as FAA-certified pilots whisk passengers away in a hot air balloon
---
Recommended Things to Do by Groupon Customers
---
It only takes six minutes to find a soul mate—at least that's what Wine Country Chemistry aims to prove with their speed-dating events. During a two-hour evening, anywhere from 10 to 20 pairs of men and women circulate through the room to embark on 10 six-minute mini-dates. Using a discreet scorecard, attendants document whether or not they would want to see the person again by circling a simple "yes," "no," or "my pen isn't working." The event's organizers collect scorecards at the end of the night, later giving mutual yeses their counterpart's email address so that they can arrange a full-length date.
601 Appaloosa Dr.
Petaluma
California
916-397-5094
Heloventure founders can say they've probably seen the Golden Gate Bridge from above more often than they've seen it from below. That's because in 2010, the aviation-loving duo joined their piloting experience and passion for flight with the purchase of an R44 Clipper helicopter, which they now use to give area tours, hands-on introductory flight-instruction, and even aerial support for professional and amateur photographers. Heloventure was born with that acquisition, with the duo respectively having 20 years of piloting experience and 10 years of hands-on mechanic experience and organizing lessons and instruction.
Since its start, the business has expanded from commercial flights to performing scenic tours by helicopter and airplane that grant stunning panoramic views of the Pacific Coast and Napa and Sonoma wine region, while Mt. St. Helena. Mt. Diablo. and Mt. Tamalpias rise high above the endless valleys. For passengers who want even more control in their sky travel, Heloventure's flight-instruction program grants its students ground instruction and flight time in either a Robinson R-44 chopper or in a fixed-wing airplane. As students learn to properly pilot their aircraft, they get a gleam of the forces that drive pilots to do what they do, and they learn the dangers of decorating one's home only from in-flight shopping magazines.
561 Skyranch Rd., Suite B
Petaluma
California
707-779-9155
Sonoma Pedicab's able-bodied cabbies employ eco-friendly leg power to chauffeur wine-enthused tourists through Sonoma's picturesque wine country. Departing from Sonoma City Hall, drivers propel vineyard-hopping guests through wine country, overflowing irises with views of rolling mountains and lush, green tree branches heavy with round, succulent marbles. Taste buds explore the aromas and flavors of local varietals, and a smorgasbord of cheese and chocolate keeps palates cleansed and appetites quenched during tours. As cabbies conquer miles of arresting landscapes, the pedicab's awning keeps rogue sunrays from hijacking sensitive oculars, and reflectors, shock-absorbent seating, and hydraulic brakes keep guests as safe and comfortable as an oyster slumbering in a Kevlar shell.
170 Church St.
Sonoma
California
831-234-5408
A 166-square-mile valley that encompasses forests, grasslands, parks, and vineyards, the Sonoma creek watershed teems with biodiversity. The conservationists behind Sonoma Ecology both sustain and unveil this region to visitors through education, restoration, and research programs that range from youth science camps to sustainable gardening. Through these efforts, they preserve lands such as the Sonoma Overlook Trail, a 3-mile walking path that leads hikers and traveling minstrels past native plants and animals, including California freshwater shrimp, chinook, and endangered steelhead trout running up the valley's boulder-strewn rapids.
20 E Spain St.
Sonoma
California
707-996-0712 x111
Though many outsiders know Sonoma County for its fine wines, the savvy drinkers at North Bay Brewery Tours spread the word about the region's other specialty: craft beer. A relatively simple outfit, the company only needs knowledgeable drivers and tour guides, a fleet of buses running on eco-friendly compressed natural gas, and enough effort to organize group tours, party buses, and pub crawls. Brewery-hopping tours, their top services, head to three craft breweries each trip. One on-the-bus tour segment demonstrates from start-to-finish how beer is made.
Beer samples will be available for purchase at participating breweries, and complimentary ice-cold water or beer on the bus keeps tour takers thirsts' slaked between stops. Examiner.com recommended the tour as an excellent way to taste a variety of brews while enjoying the safety of a designated driver.
5000 Roberts Lake Rd.
Rohnert Park
California
Scandia Family Fun Center flings open the doors to youthful fantasy in a lush space that has continued to blossom since opening day in 1988. Much of the management has been on staff for more than 15 years, evincing a love of fun that is reflected in the manicured grounds and impressive wealth of games. Juniper and magnolia trees shade shingled cottages and castles rise from mossy rocks on the two 18-hole mini-golf courses. The sounds of splashing and laughter indicate both the birth of another pirate and a direct hit from a Blaster boat's front-mounted water cannon, backdropped by go-karts rumbling on the Li'l Indy Raceway and bats cracking in the batting cages. Inside, the arcade illustrates the evolution of gaming with more than 150 machines. A limited-edition Tron pinball machine crowns the collection of vintage games, and modern play is represented with multiplayer dance simulators, Quadair hockey tables, and cinematic experiences such as Terminator: Salvation, which screens on a 100-inch monitor. Visitors who left their pizza-flavor chew toys at home can check out Scandia's Viking Pizza.
5301 Redwood Dr.
Rohnert Park
California
707-584-1398
---