Golf in Peterborough
---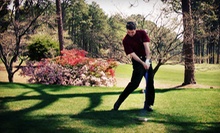 CPGA Class A pro helps players hone their skills in package that includes short-game clinic and video swing analysis
---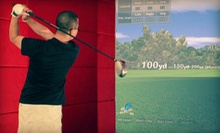 Vast screens transport golfers to virtual replicas of 80 famed courses, including Pebble Beach and Angus Glen, at 5,000 sq. ft. facility
---
Recommended Golf by Groupon Customers
---
LakeShore Links Indoor Golf's sleek, 8,000-square-foot facility helps golf swings avoid offseason rust with nine golf simulators and a duo of instructors that hold lessons year-round. Within the simulators, wall-sized, high-definition screens capture every blade of grass at 23 legendary courses, including Bay Hill and Pinehurst, and built-in video-swing-analysis cameras allow players to scrutinize their techniques, introducing them to a digital doppelgänger soon to be their inferior. Virtual rounds even grant stick-flickers the freedom to take a mulligan with the mere touch of a button, which instantly lets them replay their previous shot. LakeShore's resident aces help groom games with everything from private lessons to junior development programs, and golf-simulator league play helps participants sharpen their competitive edge all year round. As golfers play through a circuit of fairway facsimiles, the club curbs appetites with a menu of very real light fare.
750 Lake Shore Blvd. E
Toronto
Ontario
416-405-9888
Forty-five hitting bays span the length of Markham Golf Dome's indoor driving range, allowing players to groom golf games year-round. The six-storey dome covers 53,000 square feet, which could easily serve as a modern sports stadium or a blimp's favorite napping spot. Alternatively, the facility also hosts an outdoor driving range with 60 hitting bays, target greens, and chipping greens to help players hone long-range and short-game techniques. Each of Markham Golf Dome's instructors has accrued more than 10 years of experience in helping players drive, pitch, and scissor-kick balls with the precision and consistency needed to achieve tee-to-green success.
150 Burncrest Rd.
Markham
Ontario
905-475-3663
With two 18-hole courses draped over a scenic stretch of Ontario countryside, Oak Hills Golf Club invites duffers to test their swings across rolling, timber-lined fairways. On both courses, constant elevation changes force players to hit toward uphill and downhill targets, and ponds, streams, and trees wielding catchers' mitts wait to snatch errant orbs. The longer of the two, the Highland Course connects across 5,655 yards, including an uphill, 568-yard par 5 that will require three long shots to reach the green in regulation. Though considerably shorter at 5,135 yards, the Glen Course requires more careful play with narrow fairways and traffic cones that carts must slalom in between each hole. The Club also encompasses a 30-stall driving range with grass hitting areas for pre-round warm-ups or casual practice sessions.
1538 Frankford-Stirling Rd.
Stirling
Ontario
613-395-2611
Cresthaven Golf Club awakens the competitive spirit in golfers of all stripes with an 18-hole par 3 layout. With an average distance of 146 yards from tee to green, the abridged course lets players focus on approach shots, putting, and how best to fake a hole in one. Two lengthier holes throughout the round—the 210-yard 14th hole and the 223-yard 18th hole—will force duffers to unsheathe a wood or driver in order to reach the green. To expand its market to golf neophytes, the club rents out bags of clubs for those without a serviceable set or the ability to extract bejewelled drivers that have been wedged into legendary stones.
7892 McCowan Rd.
Markham
Ontario
905-477-2756
CPGA-certified instructor Clint McCormick developed his passion for helping others improve their golf games at the prestigious golf-management program at College of the Desert in Palm Springs, California. Today, Clint draws from years spent on the course, the numerous camps he himself attended, and the hundreds of golf balls he has whittled out of driftwood to create a personable, detail-oriented approach to teaching. During lessons, Clint evaluates each student's swing mechanics and ability to discern between a groundhog and sprinkler head before imparting advice on everything from posture and form to advanced control of ball trajectory. At the end of each lesson, Clint gives his pupil notes and sketches out personalized practice routines accompanied by play sheets, helping students to improve their skills beyond the lesson. Clint also specializes in club fittings that are customized to improve any player's on-course results, especially those who play golf with a bag full of mannequin legs.
10411 Kennedy Rd.
Unionville
Ontario
647-830-1285
First sculpted into the countryside in 1980, Hidden Ridge's nine-hole golf course invites clubbers with a tree-lined layout that overlooks the scenic hills of Uxbridge. Pines stitch the fairways across the course, shrinking safe landing zones along with ponds, sand traps, and territorial tufts of grass. During their visits, golfers can stock up on dimpled orbs, replace aging clubs, or upgrade their threadbare golf duds at the pro shop. The course also features a snack bar with simple food and cold drinks, helping golfers maintain healthy levels of nourishment without having to eat the grassy clay caught between the spikes on the bottom of their feet.
309 Zephyr Rd.
Zephyr
Ontario
905-473-1636
---