Restaurants in Peterborough
---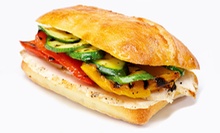 Artisans craft pressed sandwiches filled with fresh ingredients, grilled chicken, and housemade spreads
---
Recommended Restaurants by Groupon Customers
---
The chefs at Absolute Restaurant pride themselves on perfectly creating and plating modern French bistro cuisine. Their culinary handiwork is present in dishes such as braised lamb shank with saffron risotto and roasted chicken with smashed fingerling potatoes, shiitake mushrooms, and thyme jus. Chefs carefully craft sauces—without the use of thickeners or additives—to drizzle over seared wild scallops and well-marbled striploin steaks. Guests can dine inside at wooden tables or outside on black wrought-iron patio furniture to enjoy the weather or catch a glimpse of the sun's shadow.
55 St. Clair Ave. W
Toronto
Ontario
416-920-0338
Wall sconces illuminate the burnished wood of an elevated seating section at Fortuna Ristorante, where chefs prepare robust Italian pastas and seafood dishes as well as thin-crust pizzas cooked in a stone oven. An outdoor patio overlooks downtown attractions ranging from high-end boutiques to the cracked sidewalk that the New Kids on the Block burst out of.
12 Cumberland St.
Toronto
Ontario
416-925-2828
Not many people go from busser to restaurant owner, but then not many people possess Armando Mano's passion for fine dining. His first memories go back to his aunt's kitchen in Portugal, where the young Armando remembers spending the entire day watching her cook. He brought these memories with him to Centro Restaurant & Lounge, where he started toting plates in 1990, and they propelled him as he worked his way up to wine-bar manager, then general manager, and finally, 15 years later, to owner.
Today, he supervises a team that includes sommelier Mitchell Gomes and Executive Chef Symon Abad, who continually updates the Italian-influenced menu with new seasonal ingredients. Armando also oversaw a redesign of Centro's interior, which is now adorned in oversized mirrors, velour-upholstered chairs, and soaring 20-foot ceilings. In the kitchen, the restaurant adopted a Q water filtration system to provide clean, clear water without time-consuming expeditions to melt chunks of glaciers in the Yukon. Such leadership caught the attention of the Ontario Hostelry Institute, who awarded Armando a Gold Award for Independent Restaurateur in 2011.
2472 Yonge St.
Toronto
Ontario
CA
416-483-2211
Steven Karataglidis spent his childhood scampering through the kitchen of his family's restaurant, soaking in cooking tips and techniques as his father whipped up Greek specialties. Pulling from his culinary upbringing, Steven opened Off the Hook at the ripe age of 22, enlisting the help of his dad to fry up baskets of fish 'n' chips and build seafood sandwiches. Nowadays, Steven and his father preside over two locations, whose fryers sizzle with fish and shellfish cloaked in gluten-free and organic batters. Diners can dip their seafood in housemade tartar sauce, green pesto, and curry mayo to procure what Steven described to reporters of Post City as his "all-time favourite flavours." Each casual meal is served in a basket alongside dollops of Steven's signature sauces and smatterings of sweet-potato fries and coleslaw.
749 Broadview Avenue
Toronto
Ontario
CA
416-465-4356
---
---
Restaurant Deals - Recently Expired
---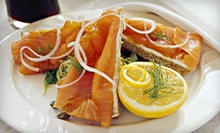 The menu features beef braised in Guinness and Kilkenny-battered fish with housemade lemon tartar sauce
---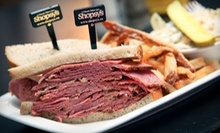 Deli-style sandwiches at 85-year-old establishment with house-smoked meats, steak dinner entrees, and all-day breakfast
---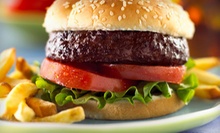 Entrees such as the half-pound Mountie burger with bacon, onion rings, and barbecue sauce and five variations on poutine
---
---