Restaurants in Peterborough
---
Recommended Restaurants by Groupon Customers
---
For two decades, La Cocina de Doña Luz has made its name with platters of traditional Peruvian saltado stir-fries and pan-fried fish. Though the bulk of its menu salutes the culinary heritage of Peru, its chefs are well-versed in Latin American cuisine from all areas. On any given night, the kitchen might send out dishes native to Colombia, Cuba, or Mexico, and of course, Peru. In the dining room, hanging plants and bright paintings of flowers and the South American countryside enchant diners and cause vegetable entrees to reminisce about their youths on the vine.
807 Saint Clair Ave. W
Toronto
Ontario
416-652-7430
Pero Restaurant & Lounge's chef Wondiy Beshir gathers traditional East African dishes from Ethiopia and Eritrea, peppering in a few of his own signature recipes to design a menu that reflects modern Africa's ever-evolving epicurean trends. He sprinkles colourful powders and pungent herbs in exact pinches, imbuing dishes with layers of aromatic spices without overwhelming the senses or accidentally creating a low-pressure system.
Chef Beshir's menu—which includes beef, vegetarian dishes, and combination platters, as well as a small glossary explaining their spices and injera—brings the flavours of Africa to life in a dining room covered in photos depicting the origins of African food. A cabana anchors the African theme with carved wooden benches, baskets, and gauzy white curtains. Live jazz ensembles serenade patrons with melodies during select dinner services and special events held in the Sotto Pero lounge.
812 Bloor St. W.
Toronto
Ontario
416-915-7225
The chefs at Absolute Restaurant pride themselves on perfectly creating and plating modern French bistro cuisine. Their culinary handiwork is present in dishes such as braised lamb shank with saffron risotto and roasted chicken with smashed fingerling potatoes, shiitake mushrooms, and thyme jus. Chefs carefully craft sauces—without the use of thickeners or additives—to drizzle over seared wild scallops and well-marbled striploin steaks. Guests can dine inside at wooden tables or outside on black wrought-iron patio furniture to enjoy the weather or catch a glimpse of the sun's shadow.
55 St. Clair Ave. W
Toronto
Ontario
416-920-0338
Wall sconces illuminate the burnished wood of an elevated seating section at Fortuna Ristorante, where chefs prepare robust Italian pastas and seafood dishes as well as thin-crust pizzas cooked in a stone oven. An outdoor patio overlooks downtown attractions ranging from high-end boutiques to the cracked sidewalk that the New Kids on the Block burst out of.
12 Cumberland St.
Toronto
Ontario
416-925-2828
Steven Karataglidis spent his childhood scampering through the kitchen of his family's restaurant, soaking in cooking tips and techniques as his father whipped up Greek specialties. Pulling from his culinary upbringing, Steven opened Off the Hook at the ripe age of 22, enlisting the help of his dad to fry up baskets of fish 'n' chips and build seafood sandwiches. Nowadays, Steven and his father preside over two locations, whose fryers sizzle with fish and shellfish cloaked in gluten-free and organic batters. Diners can dip their seafood in housemade tartar sauce, green pesto, and curry mayo to procure what Steven described to reporters of Post City as his "all-time favourite flavours." Each casual meal is served in a basket alongside dollops of Steven's signature sauces and smatterings of sweet-potato fries and coleslaw.
749 Broadview Avenue
Toronto
Ontario
CA
416-465-4356
---
---
Restaurant Deals - Recently Expired
---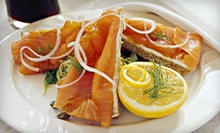 The menu features beef braised in Guinness and Kilkenny-battered fish with housemade lemon tartar sauce
---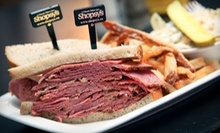 Deli-style sandwiches at 85-year-old establishment with house-smoked meats, steak dinner entrees, and all-day breakfast
---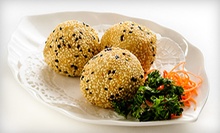 Steamed dumplings nested in baskets, deep-fried crab claws, and beef short ribs in a black-pepper-honey glaze
---
---