Petersburg, VA Outdoor Activities
---
Recommended Outdoor Activities by Groupon Customers
---
Modeled after video games, scenes from famous movies, and real-life wars, SplatBrothers Paintball Park's outdoor fields challenge first-time and returning players alike with obstacle-cluttered terrain that change early and often. Players can duck for cover in a school bus, ice-cream truck, or disco van, surprise opponents hiding in a chicken coop, or lead attacks from more than 40 bunkers strewn across a spool-littered field. They can also sneak through a trapdoor to climb to the top of a three-story tower, which looms above a field the size of two football fields or 200 one-yard models of football fields.
In between gaming scenarios such as capture the flag and freeze tag, players reload and rehydrate in the Welcome Center, where visitors test their aim at the target range, watch bouts from the viewing area, or feast at picnic tables. Along with private weekday and public weekend games, SplatBrothers Paintball Park hosts tournaments, scenario games, and monthly big games based on pop-culture staples such as Angry Birds and The Walking Dead.
13908 James River Dr.
Hopewell
Virginia
804-452-2566
A businesswoman by day, Bonnie Florek turns into a ghost by night. Donning 18th-century period dress and assuming the identity of one Catherine Rathell, Bonnie regales tour groups with hair-raising tales of yore. Bonnie founded Spooks and Legends Haunted Tours as a means of immersing tour groups in an interactive, goose bump–inducing jaunt through Williamsburg's historic streets and into the past.
Spooks and Legends Haunted Tours' guides](http://bit.ly/MYmFD1) lead tour-goers of all ages on 75-minute excursions as they narrate true tales of cryptic happenings and how the town's denizens met their mysterious ends. The nightly tours meander through the oldest lanes and thoroughfares of Williamsburg, stopping periodically to peer at local horror–hot spots such as the Peyton Randolph House, known for its many suicides and murders, and Bruton Parish Cemetery, known to be full of dead bodies. Tour-goers are encouraged to bring their cameras along to document any unnatural sightings of apparitions, orbs, or suspicious screams emanating from the stomachs of hungry black cats following the group.
403 W Duke of Gloucester St.
Williamsburg
Virginia
757-784-6213
The boating experts at Carefree Boat Club empower their members to explore the region's waterways at the helm of like-new, professionally maintained water vessels. Safety is paramount, so before club members can take the helm, they must attend a classroom training session and two on-the-water training sessions with Carefree Boat Club's dock master. During these sessions, they learn navigation, docking, and boat safety. After receiving their safety certificates, members gain access to the fleet of deck boats, fishing boats, sailboats, pontoons, cruisers, and watersports boats.
The club's dock staff also holds the water vessels themselves to high safety standards. They inspect boats weekly using a 50-point safety checklist, and outfit boats with safety equipment such as flares, horns, flotation devices, and earplugs for blocking out siren songs.
1636 Harbour Rd.
Williamsburg
Virginia
757-592-8550
Chariots for Hire's fleet of Cinderella and vis-à-vis carriages escort guests on romantic horse-drawn rides, adding a touch of glamour and grace to escapades and special events. One or two well-groomed horses pull the topped or convertible carriages, escorting magical rides for up to six passengers or one lonely walrus. The majestic white and brown steeds are lovingly cared for at Chariots for Hire's farm and are pampered with a bath and grooming session before taking to the streets in special rubber shoes to protect their hooves. To add poignant symbolism to special events such as weddings or ribbon-cutting ceremonies, the dedicated staff will release a flock white rock doves that are trained to fly or hitchhike back to the farm after being released.:m]]
540 Dutch Rd.
Suffolk
Virginia
757-657-2476
---
---
Outdoor Activity Deals - Recently Expired
---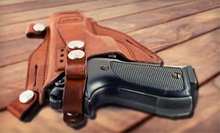 Chamberlayne Industrial Center
Completion of an online 45- to 60-minute concealed-carry-weapon course lets grads apply for licenses valid in up to 34 states
---
---