Restaurants in Petersburg
---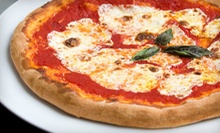 Menu of Sicilian-inspired cuisine includes wood-fired pizzas, pastas tossed in house-made sauces, and crisp, warm paninis
---
Recommended Restaurants by Groupon Customers
---
Groupon is a combination of the words group and coupon. Each day, we offer an unbeatable deal on the best of Richmond: restaurants, spas, sporting events, theater, and more. By promising businesses a minimum number of customers, we get discounts you won't find anywhere else. We call it "collective buying power."
2619 West Main Street
Richmond
Virginia
Melding the refreshing iciness of the polar ice caps with the sweet bounty of the fruit market, each cup of berrybody frozen yogurt takes taste buds on a globe-trekking journey of refreshment. Made only with natural ingredients and full of healthy nutrients and probiotics, berrybody yogurt is nonfat, contains less than 20 calories per ounce, and is much tastier than gnawing on a crabgrass salad or frozen crab-icicle. Visitors can savor original tart or green tea frozen-yogurt flavors available in small ($3.75), medium ($4.75), or large ($5.95) sizes. Crown your treat with three of 30 available toppings, such as watermelon, coconut, blueberries, and Oreos. New yogurt flavors are available every week for "Flavor Friday," and patrons can also treat themselves to additional menu items such as the sippable blender ($6.95) or spoonable blast ($5.95).
4511 John Tyler Hwy.
Williamsburg
Virginia
Weezie's Kitchen is named for the owner's beloved pug. That same homey spirit shines beyond arched doorways aglow with lights. Steak and eggs, biscuits and gravy, and other comfort food fill tables during breakfasts or weekend brunches. Later in the day, meatloaf, New York strip steaks, and pork chops give one the feeling of stepping into a grandmother's kitchen or being stuck in the chimney of a log cabin.
3123 W Cary St.
Richmond
Virginia
Mezzanine's Chef Todd Johnson loves creating fine cuisine from local, sustainable food sources. His restaurant has garnered numerous accolades, including 2009 Restaurant of the Year from Style Weekly magazine and a nod from the New York Times.
Johnson's work as a master chef has led him all over the world, but he celebrates his deep Virginia roots by sourcing from farms and fisheries throughout the state, resulting in an eclectic menu full of diverse flavors and fresh ingredients. Daily-printed menus feature creations whipped up from whatever produce, meat, and seafood is readily available. The chorizo, mushrooms, and Polyface Farm chicken come from Virginia, as do oysters served on the half-shell with drizzles of spicy sriracha aioli. You might also find Aspen Ridge rib-eye steaks and Sunday brunches of lobster omelets, fried-green-tomato BLTs, and Carolina shrimp and grits.
Mezzanine's intimate, two-tiered dining room fosters a relaxed and jovial atmosphere, and a covered patio accommodates outdoor diners during warmer months. Small tables, ideal for conversation and morsel stealing, lean their weight into hardwood floors as ambrosial aromas delicately waft by, unable to contain themselves within the kitchen.
3433 Cary St.
Richmond
Virginia
Jim O'Toole, the son of Irish parents who immigrated to the United States in 1920, realized a lifelong dream when he opened O'Toole's Restaurant and Pub in 1966. When Jim passed away in 1998, his third eldest son, John, took the reins and led the neighborhood institution into the new millennium. Through the years, John has spearheaded several updates: he added a sports bar, a reception room, and a VIP room, all while maintaining his father's original vision. That extra space comes in handy, especially on St. Patrick's Day, when the pub celebrates with kilt-wearing bagpipe musicians.
4800 Forest Hill Ave.
Richmond
Virginia
804-233-1781
The team behind Positive Vibe Café cooks toward a better tomorrow in more ways than one. Not only does the organization train aspiring chefs with disabilities for jobs in the food-service industry, but it also helps to clean up customers' lifestyles with healthy, flavorful fare. The crew—which includes professional chefs, volunteers, and trainees—steams and grills local, organic produce and meats, which go on to star in gourmet baguette sandwiches, nutritious salads, and refined dinner entrees of buffalo meatloaf and balsamic-kissed salmon with prosciutto, served after 5 p.m.
Formerly the Get Lost MD Foundation, the nonprofit Positive Vibe Foundation preserves Get Lost's mission to help those with developmental and physical disabilities achieve the satisfaction of gainful employment. Helmed by Garth and Max Larcen, who shared a vision to operate a full-service restaurant that would provide both education and employment opportunities for its graduates, the foundation has patient and knowledgeable instructors who have trained more than 400 students in the skills of basic food service, cleaning, food safety, and commercial dishwashing. The instructors further each graduate's employability through lessons on communication in the workplace, interviewing, and proper job-searching techniques.
2825 Hathaway Rd.
Richmond
Virginia
---