Nightlife in Pflugerville
---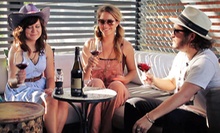 Manchego cheese aged for three months in Spain joins a platter of dutch gouda, organic dark chocolate, fruit preserves, and desserts
---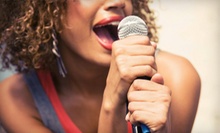 A private karaoke room hosts four singers who belt out popular songs, such as "Livin' on a Prayer," while reading lyrics off a teleprompter
Use Today 6:00pm - 11:45pm
---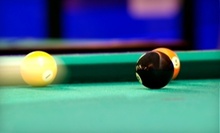 Chicken fingers, buffalo wings & sliders fuel competitive appetites as pub goers play pool or yell at nine high-def TVs broadcasting sports
Use Sunday 11:00am - 11:45pm
---
Recommended Nightlife by Groupon Customers
---
Although Esther's Follies' variety show of music, magic, and comedy recalls the vaudevillian entertainment of yesteryear (albeit with a more acerbic modern bent), the nostalgia goes beyond just the performances. The longstanding venue and comedy troupe was named after Esther Williams, the Golden Age starlet whose career as a professional swimmer led to numerous iconic MGM films. Posters for several of these pictures are plastered throughout the space, and an undersea mural bustling with brightly-hued coral, kaleidoscopic marine life, and even a Loch Ness monster further contributes to Esther's otherworldly, aquatic theme. The magical environment, along with the shows themselves, have wowed audiences and Austin Chronicle critics alike.
On the production end, Esther's Follies busts guts in record speed with satirical quips on current events; relevant parodies; and high-stepping, fast-paced comedy sketches. Resident magician Ray Anderson keeps things light with levitation illusions known to dazzle crowds. As the Follies cast ignites into choral skewerings of front-page newsmakers, audiences will laugh so hard that giggles come out their noses.
525 E 6th St.
Austin
Texas
Though named for a fixture of a bygone era and reportedly haunted by its ghosts, Speakeasy lives in the present: its three floors fill with modern music each night. On the first floor, live music from local bands spills through Speakeasy Live, where hardwood accents, art-deco lamps, candle-lit tables, and exposed brick complement a Jazz Age atmosphere. On the Mezzanine level, a full bar, antique couches, and two vintage bowling lanes overlook the main stage.
At the top of a 59-step staircase, patrons emerge onto Terrace59—a neon-lit rooftop lounge that offers panoramic views of downtown Austin. The terrace stays heated during the colder months, while a canopy allows the full bar to serve and lively music to play even in the event of inclement weather and cushions the fall of DJs who decided to parachute in. On each of the three floors, servers pour all kinds of drinks, many of which are named for people, places, and events associated with Prohibition.
412D Congress Ave.
Austin
Texas
512-476-8017
Images on the video screen swell right along with the singer as she reaches the chorus of "Livin' on a Prayer," inciting her friends to stand up from the wraparound booth and pump their fists. It's a typical evening at Austin Karaoke, where visitors belt, croon, and warble their favorite songs until 4 a.m. on weeknights and 5 a.m. on Friday and Saturday. Nine karaoke rooms accommodate small parties of up to 8 or large parties of up to 50. Ensconced in these private studios, songsters search the computerized catalog for their standard baroque numbers, grab the microphone, and then pour their souls into a premium sound system.
6808 N Lamar Boulevard, Suite B-120
Austin
Texas
512-323-9822
The Dinner Detective eschews campy costumes and plots for an exciting evening of food-accompanied mystery and paranoia, where actors hide among the diners, playing innocent and making everyone a potential suspect. To solve the crime, guests freely interrogate one another, chivvying out clues about the murderer and determining who has a bloodthirsty look in their eyes. Between dramatic deaths and simulated police involvement, guests dig into four-course meals, washed down with bottomless iced tea and drinks from the cash bar. The diner who comes closest to solving the mystery through their snooping goes home with a prize basket to show off to their friends or split with the murderer as per their shadowy conspiracy.
300 E 4th St.
Austin
Texas
Small rows of café tables line the walls of Zaytouna Lounge as well as an outdoor patio with more breezy seating. Servers carry in pots of piping-hot mint and jasmine teas, pouring them into colorful glasses laid out on silver trays. Wafts of sweet hookah smoke drift through the air as players toss balls on the gravel bocce court.
11800 N Lamar Boulevard, Building B5
Austin
Texas
512-491-8700
Tired of simply dressing up her rooms, designer Kerry White needed a way to engage clients on a deeper sensory level. Adopting the motto of "wine, art, and song", she opened House Wine to match her eye for interiors with the refined tastes of vintages and the lilting sound of live, local music. Sporting both an earth-toned dining area and sun-dappled outdoor lounge replete with cushy, white couches, the wine bar leaves plenty of space for guests to explore an extensive wine list, sample cheese plates, and clasp handheld bites of pineapple-cinnamon empanadillas. Bards from across Austin fill the space with tuneful sounds, and local artists bring life to walls with their paintings of abstract landscapes or other, more beautiful walls.
408 Josephine St.
Austin
Texas
US
512-658-7073
---