Beer, Wine & Spirits in Philadelphia
---
Beer, Wine & Spirits Deals
---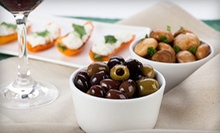 Shareable plates of crab-cake sliders, quiche, and hummus paired with a pitcher of sangria
---
Recommended Beer, Wine & Spirits by Groupon Customers
---
As noted in its Zagat rating, Winebar's intimate table arrangements "make it easy to make new friends." Indeed, from their perch at the long, flower-adorned tables, gathered groups pass around assorted pan-European small plates as new acquaintances clink glasses of sophisticated vino culled from the impressive collection dominating the wall space. Soft lighting glints off this East Village café's crimson accents, reflecting off the tables' glossy wood and illuminating sharable French cheese plates, Italian flatbreads drizzled with truffle oil, and exotic gelato flavors. Winebar's more than 100 varietals hail mainly from Italy, France, and Spain, sparking conversations of worldly travels, semesters abroad, and fruitless pursuits of Carmen Sandiego as guests sip by candlelight or quaff al fresco on the seasonal sidewalk patio.
65 2nd Avenue
Manhattan
New York
212-777-1608
True to its name, Just Grapes Lounge focuses on wines, with more than 30 vintages poured by the glass and 18 more varieties sequestered on a reserve bottle list. Microbrews, champagnes, and ports round out the lounge's full bar, complementing a Mediterranean-tinged tapas menu. Small plates, ranging from hummus and crostini to stuffed baked clams, are ideal for smothering appetites or boosting a tiny table's self-esteem. Three styles of rustic pizza artfully pair tomatoes with cheese, whereas molten fondue, served in a bread bowl, comes in varieties including gorgonzola and double-cream brie.
213 US Highway 46
Elmwood Park
New Jersey
201-773-3998
At Wine Legend, owner Mahesh Lekkala and his team of wine enthusiasts introduce oenophiles and first-time sippers to sundry varietals from around the world. The shop's selection features a massive inventory of reds and whites from Italy, France, Australia, and California. Wine Legend's consultants help patrons pair wines with meals or tiny ships to build inside the bottles. Wine tastings are available in the shop on Saturday afternoons and can set up tastings at offsite events in homes or offices, paired with house-prepared platters of cheese, crackers, and breads.
277 Eisenhower Pkwy.
LIvingston
NJ
US
973-992-4441
Countless fiber-optic cables comprise a titanic custom chandelier in Vango Lounge & Sky Bar's main dining room, casting a glow over tufted-velvet walls and plates of Japanese continental cuisine. During a typical meal, yellowtail and grilled vegetables may top small plates of crostini, and wasabi mashed potatoes sidle up to larger entrees such as braised-beef short ribs in sweet teriyaki sauce. As chefs compose eel and avocado rolls or slice delicate pieces of salmon sushi, bartenders mix specialty cocktails, such as the Sundance with Absolut Raspberri and Godiva white-chocolate liqueur. Luxe decorations—including wall nooks that display sleek bottles of vodka and a wall that holds 200 inlaid fresh roses every night—dapple the 8,000-square-foot lounge. Upstairs on the roof deck, revelers can admire the surrounding skyline from a seat at the bar, boogie on the dance floor to nightly DJs, or secretly read comic books under the covers of king-size lounge beds.
116 South 18th Street
Philadelphia
Pennsylvania
215-568-1020
---