Philadelphia Health and Fitness
---
---
Philadelphia Health And Fitness Guide
Losing weight and getting in shape does not require a visit to one of the top Philadelphia doctors because some of the top gyms in the city give locals everything they need to tone their bodies and lose weight. These gyms give customers interested in Philadelphia fitness the chance to take classes, work with a personal trainer, and use state-of-the-art fitness equipment. One of the best gyms in the city is Old City Ironworks. The gym has two different locations, and anyone who signs up for a membership can visit either of the gyms. While it might look like a traditional gym with some solid equipment, it also offers a wide variety of workout and weight loss classes for members. Members can attend as many classes as they want throughout the year. Whether a patron desires relaxation or fitness, the 12th Street Gym can help anyone decide on his or her goals and reach those goals. The gym offers classes in weight training, spinning, yoga, and general fitness, which can help members tone and firm any saggy areas of the body. A large sun deck gives members the chance to sunbathe or just exercise outside. Many of the pieces of exercise equipment are movable, which lets members carry weights and other devices to any location they choose. New members can get a free trial pass, and anyone who works or lives in the surrounding neighborhood can get a discount membership. There's also
The Sporting Club at the Bellevue
, which a boxing trainer owns and operates. He offers his services as a personal trainer, but he also provides dozens of machines and fun classes for those who prefer exercising without a one-on-one trainer. Those interested in Philadelphia fitness can work with a personal trainer, take aerobics and cardio classes, or try one of the newest exercise machines. Getting in shape and improving health is easy thanks to the top gyms and fitness centers in Philadelphia.
These gyms give customers interested in Philadelphia fitness the chance to take classes, work with a personal trainer, and use state-of-the-art fitness equipment.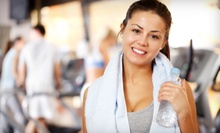 Adept personal trainers lead all-levels students through cardio workout encompassing interval training & upper-body exercises
Use Tuesday 2:30pm - 5:30pm
---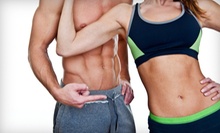 Use Tuesday 2:45pm - 5:45pm
---
Recommended Health & Fitness by Groupon Customers
---
The dental teams at Penn Premier Dental and Plymouth Meeting Family Dental maintain and beautify grins from their locations in Exton and Plymouth Meeting, respectively. Together, their offices treat southeastern Pennsylvania residents with a full range of dental services, from general and family dentistry to restorative and cosmetic treatments.
At Penn Premier Dental, Dr. Faith Madden devotes herself to patient comfort and compassion. She understands the anxieties often associated with visiting the dentist and works to assuage those fears by keeping herself up-to-date on the latest minimally invasive techniques. She uses laser dentistry to recontour gums while reducing the bleeding and recovery time of blades, and practices sedation dentistry to set patients at ease via nitrous oxide or oral sedation, which usually entails a pill or a soothing recitation of the Articles of Confederation.
The duo of dentists at Plymouth Meeting Family Dental, Drs. Robert H. Koffler and Richard H. Nagelberg, share the same devotion to patient comfort as Dr. Madden. While they are primarily focused on staving off problems before they occur, they skillfully treat any issues that do arise by filling cavities with natural-colored fillings or replacing missing teeth with realistic permanent implants.
531 W Germantown Pike , Suite 104
Plymouth Meeting
Pennsylvania
610-828-4100
Dr. Lenny Roberts is a champion of perseverance. After making it to the 1993 NCAA Division III National Football Championship, he underwent his sixth knee surgery and was forced to call it quits. But "quit" isn't exactly in Dr. Roberts's vocabulary. He forged ahead to pursue a career in amateur boxing and won a silver medal in the 1999 Georgia Games before conquering the San Diego marathon in 2006 and the Philadelphia Triathlon in 2008. After earning his chiropractic doctorate from Life University, Dr. Roberts fused sports with medicine in what some might consider a dream job: chiropractic consultant for the Philadelphia 76ers.
Today, Dr. Roberts treats patients with the same care that he would afford an NBA player or a baby who has been drafted into the NBA. His chiropractic services help to improve spinal biomechanics, implementing techniques ranging from spinal decompression to extremity adjustments for joints such as shoulders, ankles, and wrists. He also works closely with his staff to help relieve pains, induce relaxation, and rejuvenate the skin with massage therapy and beauty treatments.
When he isn't mastering endurance sports, healing NBA players, or diffusing suspicions that he is Batman, Dr. Roberts volunteers his time for Habitat for Humanity and Little League baseball.
8151 Ridge Ave.
Philadelphia
Pennsylvania
215-487-2500
When Brian McInerney reflects on the humble beginnings of Wheel Fun Rentals, he points to his childhood passion for bikes. "As far back as I can remember, I had a real love affair with bicycles," he recalls. During a trip to Italy in 1987, Brian's affinity for cycling blossomed into a full-fledged obsession when he spotted locals' transporter of choice, the surrey. Inspired, he began importing the Italian four-wheelers to a rental business in the U.S. that eventually expanded into Wheel Fun Rentals, now a nationwide web of shops that also loans out bikes, electric cars and mopeds, and man-powered watercraft. Atop bicycles and surreys built for solo riders or entire families, patrons embark on self-guided tours of major U.S. cities. Led by maps and lists of nearby sites of historical or cultural significance, riders zoom down bike paths and safe, lightly trafficked streets. Adventuresome athletes can also compete in activities such as surrey scavenger hunts and blindfold obstacle courses navigated via shouted instructions from a seeing teammate or exceptionally long rounds of trial and error.
1 Boathouse Row
Philadelphia
Pennsylvania
215-232-7778
Though the plaque displayed in his office reads Ancaro Imparo, meaning "I am still learning," Dr. Glen H. Crawford already boasts an impressive background. After earning his MD at New York University, he interned in general surgery while serving as a captain in the Air Force. As a flight surgeon, the doctor cared for both troops and civilians in the Republic of Korea. Dr. Crawford still believes education is a lifelong commitment, and his philosophy paid off in 2010, when he was named one of Philadelphia Magazine's Top Docs.
Today, the doctor leads a team at the Pennsylvania Center for Dermatology as they provide medical, surgical, and cosmetic dermatological services. Medical services screen clients for skin cancer and help treat skin disorders. Versatile lasers remove unwanted hair, veins, scarring, and tattooed-on mug shots from the body. Cosmetic services can smooth out wrinkles or correct sun spots or discoloration with treatments ranging from injectables and fillers to chemical peels and microdermabrasion.
822 Pine St. , Suite 2A
Philadelphia
Pennsylvania
267-519-0154
Just like construction workers, the podiatrists at Kentner Podiatry are experts at building healthy foundations. Across two state-of-the-art facilities, the docs draw upon cutting edge technology such as FDA- approved Nd:Yag lasers, which set their sights on onychomycosis, or nail fungus. Beyond treating conditions such as athletes foot, ingrown toenails, and piggies that won't share their roast beef, the specialists are also well suited to help relieve the pain and discomfort associated with bunions, tendonitis, and flat foot, or to design a custom healing regimen for athletes suffering from sprains and other injuries.
460 Lyceum Ave.
Philadelphia
Pennsylvania
215-253-3668
Within City Fitness Philadelphia's sprawling, warehouse-style facilities, the energetic and passionate staff motivates patrons to burn fat and build muscles to reach their fitness goals in a supportive environment. Within the open gym's vibrant walls, guests torch calories on the Star Trac cardio machines while keeping cool with built-in personal fans and staving off boredom with personal LCD TVs. For group sweat sessions, up to 12 students synchronize their workouts in WEfit fitness classes, during which motivating instructors lead ab-chiseling routines and high-energy cardio kickboxing. Patrons pair up with a certified personal trainer for the one-on-one iTrain program, which sends them on a fitness journey focused on nutrition, cardio fitness, core strength, and functional performance training to enhance day-to-day activities such as lifting heavy boxes and protecting your young from silver wolves. After a grueling workout, guests can chug no-sugar-added fruit smoothies packed with natural proteins at the juice bar or complement a beach-ready body with a beach-ready bronze with onsite tanning services.
2101 South Street
Philadelphia
Pennsylvania
US
215-717-7904
---