Restaurants in Philadelphia
---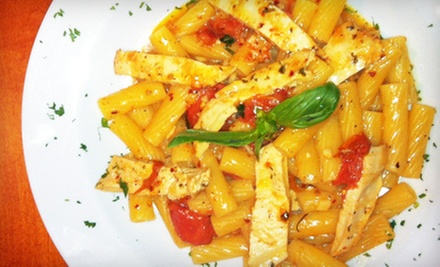 ---
Philadelphia Restaurant Guide
While Philadelphia will always be known as the home of the cheesesteak, it has a wide variety of cuisines that can be found in places other than a typical sandwich shop. From romantic French cuisine to traditional Mexican food, Philadelphia restaurants provide an assortment of foods and experiences that can delight even the most dedicated foodie.
People who enjoy French food, attentive service and an incredible ambiance should stop by Parc Restaurant, Bistro & Cafe. The valet service and outdoor seating at Parc will provide a carefree, relaxing evening, which is perfect for romance. Hidden away on 8th Street, the popular restaurant Bibou brings French charm to Philadelphia. Customers eating at Bibou who want to enjoy wine with their dinner should prepare to bring their own bottle.
Diners interested in modern Asian fusions should visit one of four popular spots. Old City Asian Bistro and Buddakan are both located in Olde City. Chifa, which serves Peruvian/Asian fusions, and Sampan, a small-plate restaurant, are both located in the Market East neighborhood. They both have chef's tasting menus, which is a great way for those dining alone to experience a variety of menu options.
For a complete departure from standard Philadelphia food, diners should consider one of the great Mexican restaurants in the area. Those dining in Philadelphia who are looking for authentic Mexican cuisine should try Los Gallos Mexican Taqueria. El Jarocho is an authentic Mexican restaurant that serves beef tongue tacos and cemitas. Diners interested in authentic tortillas should stop by Tortilleria San Roman to sample some amazing tortillas, chips and salsa.
Customers who are looking for delicious food at locations other than sandwich shops, pizzerias or burger joints will be happy to know that Philadelphia is a city that will meet their dining needs.
Philadelphia restaurants provide an assortment of foods and experiences that can delight even the most dedicated foodie.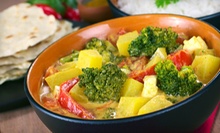 Spicy vegetable vindaloo, zesty pureed baingan bharta eggplant & spinach adorned with house-made cheese transport taste buds across globe
Use Monday 5:00pm - 9:30pm
---
Recommended Restaurants by Groupon Customers
---
If you're pork-passionate, beef-bananas, and sausage-smitten, today's Groupon will melt your little animal protein-loving heart. For $25, you'll stuff your stomach with all the skewered meat you can eat at Chima Brazilian Steakhouse. The cost per person of the unlimited rodizio dinner is $39.50, so you'll have money left over for drinks and dessert to get your $50 value at Chima.
1901 John F Kennedy Blvd.
Philadelphia
Pennsylvania
US
Though science has definitely concluded that food tastes 4% better during a full moon (occurring approximately once every 29.530588 days), you can rebel against science and fill up whenever you choose with today's Groupon. For $15, you'll get $30 worth of creative Thai cuisine at MangoMoon, plus one free cocktail per table.Follow @Groupon_Says on Twitter.
4161 Main St.
Philadelphia
Pennsylvania
US
The Adobe Cafe's chefs find a way to accommodate nearly every diner without sacrificing the piquant flavors and aromas attributed to southwestern cuisine. They skillet-sear filet mignon and marinate chicken breasts and duck before tossing the seasoned meat with black beans, sautéed green peppers, and white onions for fajitas. But they also alter their traditional Mexican-inspired fare by substituting ground beef, chorizo, flank steak, and carnitas with seitan and tofu for vegetarians or meat eaters' pet goats. The chefs' use of ranchero sauce, roasted peppers, jerk seasoning, and even barbecue has earned the eatery a number of awards; The Adobe Cafe was recently named Best Southwestern Restaurant in Philadelphia by LocalEats.
1919 E Passyunk Avenue
Philadelphia
Pennsylvania
US
215-551-2243
Whether pursuing a life as a professional cook or a behind-the-scenes mover in culinary arts and restaurant management, the students at JNA Institute of Culinary Arts have honed their craft with professionalism and skill for more than 20 years. Students learn real-world lessons in a demanding professional setting, from running a kitchen to pleasing food critics with menus sung in four-part harmony. JNA shows off the fruits of these labors at its onsite restaurant, where the food is both prepared and served by students. The restaurant boasts a seasonal menu, gracing plates with items that have ranged from housemade gelato to cornmeal-dusted scallops.
1212 S Broad St.
Philadelphia
Pennsylvania
US
215-468-8800
Fine cuisine, high fashion, annoying tourists—like old high-school rivals, France and Italy have more in common than they'd care to admit. With today's Groupon, $20 gets you $40 worth of delectable food and drink at Guido's Italian Restaurant, an Italian-French fusion eatery in Holmesburg. It's like taking advantage of auspicious exchange rates in a fictional utopia where the dollar is still valuable.Welling was determined to capture the minds and tongues of the niche—but expanding—market of disco fans. After extensive research, he determined that disco's sparkling clothing and bouncy rhythms were the culinary equivalent of pasta covered in rich tomato sauce. Welling's findings were so delicious that disco changed its name to Italy, enraging Italy, which was forced to change its name to Lapland, Home of Full-Blooded Italians. Pick up today's Groupon for some delicious Italian and French food from America, prepared by full-blooded Italians from Lapland, Home of Full-Blooded Italians, and also French people.
3545 Welsh Rd
Philadelphia
Pennsylvania
US
Paddy Whacks Irish Sports Pub brings the best of Ireland and the States together under one roof, thanks to its hearty menu of Irish and American fare. Patrons can gather around the bar to watch sports on a high-definition TV as they munch on everything from spicy buffalo wings and philly cheesesteaks to golden-fried fish 'n' chips or bangers and mash. Friday and Saturday nights encourage customers to take their draft or bottled beers to the dance floor, where they can burn calories to the beats of a house DJ, the live crooning of a local band, or the constant reciting of the Pledge of Allegiance that hasn't left their heads since middle school.
150 South St
Philadelphia
Pennsylvania
US
---