Restaurants in Philadelphia
---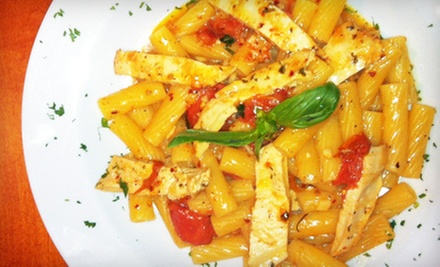 ---
Philadelphia Restaurant Guide
While Philadelphia will always be known as the home of the cheesesteak, it has a wide variety of cuisines that can be found in places other than a typical sandwich shop. From romantic French cuisine to traditional Mexican food, Philadelphia restaurants provide an assortment of foods and experiences that can delight even the most dedicated foodie.
People who enjoy French food, attentive service and an incredible ambiance should stop by Parc Restaurant, Bistro & Cafe. The valet service and outdoor seating at Parc will provide a carefree, relaxing evening, which is perfect for romance. Hidden away on 8th Street, the popular restaurant Bibou brings French charm to Philadelphia. Customers eating at Bibou who want to enjoy wine with their dinner should prepare to bring their own bottle.
Diners interested in modern Asian fusions should visit one of four popular spots. Old City Asian Bistro and Buddakan are both located in Olde City. Chifa, which serves Peruvian/Asian fusions, and Sampan, a small-plate restaurant, are both located in the Market East neighborhood. They both have chef's tasting menus, which is a great way for those dining alone to experience a variety of menu options.
For a complete departure from standard Philadelphia food, diners should consider one of the great Mexican restaurants in the area. Those dining in Philadelphia who are looking for authentic Mexican cuisine should try Los Gallos Mexican Taqueria. El Jarocho is an authentic Mexican restaurant that serves beef tongue tacos and cemitas. Diners interested in authentic tortillas should stop by Tortilleria San Roman to sample some amazing tortillas, chips and salsa.
Customers who are looking for delicious food at locations other than sandwich shops, pizzerias or burger joints will be happy to know that Philadelphia is a city that will meet their dining needs.
Philadelphia restaurants provide an assortment of foods and experiences that can delight even the most dedicated foodie.
Recommended Restaurants by Groupon Customers
---
Whether you sit a spell with a bourbon sipper in one of the front porch rocking chairs, or wrap yourself in the blanket of smoky goodness inside, you're sure to leave Q BBQ & Tequila with a full belly and renewed belief in fairies. Scour the carnivore-friendly menu and test your primal instinct to eat off the bone with a true southern-style half rack of hickory-smoked ribs ($14), or an order of wings, available in mild, hot & honey, hot, or hellfire varieties ($8 for 10). For a decadent fusion of cultures, try the Q burrito, stuffed with pulled pork or chicken, collard greens, baked beans, and coleslaw ($10), or satisfy a spicetooth with Cajun seared catfish, cheddar grits, and fried green tomatoes ($14). Three traditional tacos with onions and cilantro come in meat and vegetarian varieties ($9.50), guaranteeing diners of every distinction can find an appropriate dish to roll atop their flavor-sensors.
207 Chestnut Street
Philadelphia
Pennsylvania
215-625-8605
The sandwich maestros at Steaks on South dish up creative twists on the traditional cheesesteak, assembling chicken and vegetarian varieties alongside classic recipes and receiving positive hubbub from Philadelphia Weekly. Ravenous patrons can peruse the menu to discover sandwiches loaded with flavorful fillings, such as the spicy sauce and blue cheese blanketing the buffalo chicken steak. Like adding whipped cream to filet mignon, the cheesesteak hoagie amends a tried-and-true recipe, topping beef with lettuce, tomato, and raw onions, and the Philly Garden douses broccoli rabe and spinach with sharp provolone. French fries and waves of soda accompany each bite, which noshers can customize further with extras such as roasted peppers and honey mustard. Tall stools elevate customers to counters that line the eatery's first floor dining space, and large windows on the second floor reveal views of bustling nightlife and sidewalk cracks that mysteriously resemble John Hancock's signature.
308 South St.
Philadelphia
Pennsylvania
Great Burger, Fresh Fries, Hand Dipped Shakes, Chicken Fingers, Great Dogs, Great Steaks,Chicken Cheesesteaks, 26 FREE Toppings
3616 Welsh Road
Willow Grove
Pennsylvania
215-657-6100
OpenTable users give Cork four stars, Yelpers give it 3.5, and Gayot rates it as good:
90 Haddon Ave.
Westmont
New Jersey
The dinner menu at this neighborhood gem uses classy ingredients in creative ways, forming a lineup that's accessible to all palates. The menu changes often, but sample starters include fried clams tartar with grilled lemon ($9) and barbecue veal ribs with peach salsa ($12). Main courses ($12–$25) range from a familiar pizza topped with barbecue sauce, pineapple, chicken, red pepper, and Vidalia onions ($12) to gnocchi with rabbit-chorizo sausage, artichokes, and goat cheese ($16 for full portion). London Grill is also open for lunch (Tuesday–Friday 11:30 a.m.–3 p.m.) and weekend brunch (11 a.m.–2:30 p.m.). The midday feast includes various sandwich options, such as a roasted turkey BLT with fries ($8.50) and main dishes such as the fresh-daily vegetable harvest ménage á trois ($13). Accompany any meal with a pull from the full bar, including micro and macro beers on tap and in bottle and a lengthy wine list.
2301 Fairmount Ave
Philadelphia
Pennsylvania
---