Beer, Wine & Spirits in Phillipsburg
---
Beer, Wine & Spirits Deals
---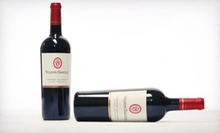 Use Today 10:00am - 9:00pm
---
Recommended Beer, Wine & Spirits by Groupon Customers
---
As a leading wine educator in Manhattan, New York Vintners helps budding wine enthusiasts define and expand their personal wine tastes and cooking techniques at their high-end wine shop. During basic to advanced classes and wine-themed events, a team of six certified sommeliers and authorized enophiles elaborate on each wine's nuances from the angles of producer, region, and varietal. Smartly matched pairings and hands-on cooking instruction from Executive Chef Ryan Smith unpack the flavors even further. The staff keep a strong focus on terroir—the effect that environment has on a wine's flavor—as they select high-quality biodynamic and boutique wines for the shop's impressive, ever-changing list.
21 Warren St.
Manhattan
New York
212-812-3999
Dugout Pub South tempts appetites with slow-cooked, smoked ribs, thin crust pizzas crowned with clams or deep-fried calamari, and more than 25 burgers made with 8-ounce Angus beef patties and toppings such as blue cheese, banana peppers, and house-made chili. Inside the dining area, four dartboards, a shuffleboard table, and flat-screen TVs entertain patrons sipping libations from the full bar, which features 20 different brews on tap. Live entertainment includes DJs, bands, karaoke, and wandering minstrels, tickling the ears of customers in the dining area or outside on the tiki deck.
1614 Forest Ave.
Staten Island
New York
In 1936, nearly three years after the end of Prohibition, Station Plaza Wine and Spirits opened its doors. And so long as alcohol has remained legal, Station Plaza has remained on Kraft Avenue, its shop stocked with top-shelf spirits including brandy, tequila, and sambuca.
Though it has a wide selection of hard liquor, the store really specializes in wine. Its collection includes more than 2,500 hand-selected labels from around the world. Wine consultants can help narrow down a patron's search for the perfect bottle by wine type, region, or producer, and they can even steer customers in the direction of more hard-to-find varietals or organic wines. The Station Plaza team also champions wines that rank in their top-rated category. The discerning criteria for inclusion on this list are taste and seasonality, rather than whether it stains your lips an attractive color. To learn more, check out the wine blog one of Station's owners contributes to.
102 Kraft Avenue
Bronxville
New York
914-337-0631
When Anthony Riccio traced his American roots to Italy and discovered his family name on a bottle of Italian wine it sparked his interest in opening his own vineyard. Anthony named Cava Winery & Vineyard after the Italian word for mine, which calls forth his Mediterranean pride while also reflecting the mining history of his home New Jersey turf. Behind the winery entrance's old, weathered, wooden door, this mining theme carries throughout the tasting room where yellow walls bear artifacts such as old axes, lanterns, and black-and-white photographs depicting miners. A stone angel sculpture stands guard over freestanding wood barrels in this same tasting hall, and in the barrel room, oak vessels sit snugly between rough-hewn-stone walls.
Inside the atmospheric confines, guests sip libations while nibbling on specialty pizzas, seasonal Italian-style tapas, and bountiful meat and cheese platters harvested from nearby meat and cheese fields. A calendar of events excites palates year-round with dinners, wine-and-food pairings, and festivals, which invite guests to mingle inside or spread out over the winery's rolling fields.
Experienced oenologist Deneah Bledsoe employs UC Davis training to fashion wines from the vineyards' varied varietals of grapes, all grown in high-mineral-content soil. The roster of reds and whites, as well as fruit wines, ferment and bide their time, penning memoirs as they age in oak and stainless-steel barrels. Each wine can also achieve its own identity through Cava's custom labels, which patrons design with their own artwork and heading fonts.
3619 Rte. 94
Hamburg
New Jersey
973-823-9463
Planted by hand in 1990, 56,000 special seedlings spiral toward the sun, spawning bundles of grapes that wait to be plucked and transformed into casks of delicious libations. The owners of the elegant winery and castle welcome guests to meander through the scenic vineyard or delve into the cool, climate-controlled cellar to sample wine or rifle through Dionysus's old storage boxes. Large tasting rooms and an outdoor pavilion can also host private events on the regal grounds.
755 River Rd.
Erwinna
Pennsylvania
US
800-722-9463
After graduating from Vassar College in 1997, vintner Tom Carroll Jr. continued his education in California, where he taught himself about viticulture and enology to achieve a lifelong dream of opening a winery. Three years later, he returned to his hometown to found Crossing Vineyards on a plot of land situated a short distance from George Washington's Delaware River crossing. The winery mingles historic charm and pastoral surroundings with modern technologies, such as a sterile HVAC bottling system and solar-energy panels. Tom and his parents, also co-owners, built the facility around eco-friendly winemaking practices, such as composting waste and using cover crops, a technique that prevents topsoil erosion and helps vintners sing the young grapevines to sleep.
Crossing Vineyards' European-style wines have won more than 115 awards in both national and international competitions over the past 12 years. The winery offers tastings and wine-pairing classes in an onsite educational area and hosts an annual summer wine-and-music series on its sprawling, 15-acre property.
1853 Wrightstown Rd.
Washington Crossing
Pennsylvania
215-493-6500
---